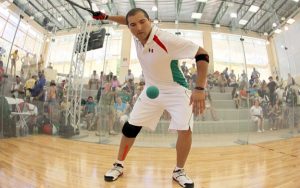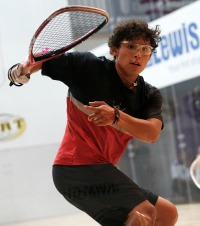 Congrats to Alvaro Beltran and Daniel De La Rosa on their US Open Title.
Here's the match report for the tourney: https://bit.ly/2C188Lc
Here's a review of the event.
——————–
First off… for racquetball fans of top-level tournament play, you cannot ask for more out of this doubles draw. Out of the 22 matches in this draw, 14 went to tiebreaker.  13 of the first 19 went tiebreaker, including two 11-10 matches. Every time we run another top-end doubles tourney, we seem to get more and more great play. I love this new focus on doubles in the Men's Pro game.
An opinion from this observer: I wish the doubles qualified into the 16s and not the quarters: if there's 23 teams entered it does seem unfair to give byes to four teams and force everyone else to play 2 or even 3 qualifiers.  I'm not sure how this decision was arrived at, if its driven by court availability (possibly) or just attempting to protect the top seeds (also a distinct possibility), but the 5th seeds really have a massive disadvantage as compared to the 4th seeds.
Here's some notable 1st and 2nd round events for me:
– First, we have to start with the unbelievable match we saw in the round of 32; The 5th overall seeds Jake Bredenbeck and Jose Diaz, who together as a team have made 3 finals in the last year, faced off against a team of 17-yr old phenoms in Sebastian Fernandez and Diego Garcia Quispe. Fernandez and Garcia had the 5th seeds completely flummoxed in the tie-breaker, running out to a 10-0 lead. However, Jake and Jose fought back, and saved off at least 8 attempts at match point across several trades of serves and came completely back to win 11-10. An amazing come-back that I can't quite say i've ever seen in the pro game before. A quick note about the two juniors; they played top-level pro rball in this match and made a bunch of statement wins all weekend on the singles side.
– Andres Acuña and Felipe Camacho got a solid win over a tough doubles team of Charlie Pratt and Dylan Reid.
– Semi-regular IRT players Maurice Miller and DC-area native Troy Warigon teamed up to take out two accomplished IRT pros in Andree Parrilla and Gerardo Franco Gonzalez.
– College buddies from Baldwin-Wallace Thomas Carter and Kyle Ulliman shocked the team of Jansen Allen and Nick Montalbano in the first round.
—————–
The round of 16 had all four "seeded" teams end up winning to qualify to the main draw … but all four matches went tiebreaker.
– David Horn and Mauro Daniel Rojas were stretched to 11-9 by the Miller/Warigon team.
– Bredenbeck/Diaz went 11-8 to advance past the Costa Rican team Acuna/Camacho.
– Top Bolivian team Luis Conrrado Moscoso Serrudo and Roland Keller (the 2018 South American Games champs and 2018 Pan Am Games finalists) took out the Baldwin Wallace alumni team 11-0 in the breaker.
– Lastly, the tough Mexican team of Rodrigo Montoya Solís and Javier Mar had to go to extras to top the Denver duo of Adam Manilla and Nick Riffel.
—————–
The Main draw featured some immediate upsets.
– Jose and Jake kept living on the edge, advancing again 11-10 over the Colombian pairing of Sebastian Franco and Mario Mercado.
– the Mexican team of Montoya & Mar took out the #3 seeds Alejandro Alex Landa and Samuel Murray in a tiebreaker.
– The #2 seeds and reigning IRF doubles champs Alvaro Beltran and Daniel De la Rosa ousted the Bolivian pairing of Moscoso/Keller in a rematch of the 2018 IRF Worlds semi final.
– Lastly, the #1 team of Kane Waselenchuk and Ben Croft, who havn't lost a doubles match together since 2016, advanced over Horn and Rojas.
——————–
In the semis:
– #1 Croft/Waselenchuk ended the Jake/Jose run, advancing 13,6
– #2 Beltran/DLR were pushed to the edge by country-mates Montoya/Mar, advancing with an 11-8 tiebreaker win.
——————-
The Final represented a rematch of several notable pro doubles matches over the past year: this was the final of last year's US Open, which resulted in an epic match some called "the greatest match ever played." This was also the final of the World Doubles event in Denver last May, which ended in a controversial call/walking off the court.
On this night in 2018 in Minneapolis though, the Mexicans could do no wrong and took the doubles title by the surprising score of 11 and 6. It has been quite a year so far for Beltran and DLR; they won the Mexican Nationals, tnen won the world doubles title in Costa Rica, then took the 3-wall WOR doubles crown in Vegas just two weeks ago.
---
Facebook tags: International Racquetball Tour UnitedHealthcare US OPEN Racquetball Championships US Open Racquetball UnitedHealthcare