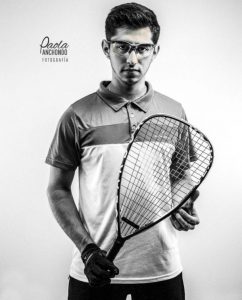 Another Thanksgiving weekend event happened south of the border; the San Luis Potosi Open in San Luis Potosi, Mexico. An excellent draw of the top Mexican players were there and battled it out. Thanks to Pro Kennex' Mike Michael Martinez for getting me the draw and keeping me up to date on this event, which was one of the few non-R2sports.com driven tourneys we see these days.
Picking it up at the round of 16, here's how the event went:
-#1 seed Rodrigo Montoya Solis over a qualifier (I can't quite read his name on the draw sheet) 11,10.
– Current 18U Junior World champion and #8 seed Eduardo Portillo Rendon over #9 Seed Eduardo Garay Rodriguez 14,13 (this one is available on Facebook if you follow Portillo: he live streamed it).
– #5 seed Javier Estrada over #12 seeded IRT semi-regular Jordy Alonso 3,4
– #4 Seed Christian Longoria (brother of Paola Longoria) over #13 Alan Palomino 1,2
– #3 Javier Mar, who we last saw giving Kane Waselenchuk a heck of a game in the round of 16 at the US Open, downed #14 Rodrigo Nino Loma 1,3
– #6 Edson Martinez beat #11 Carlos Bacmeister 4,11
– #7 Ernesto Ochoa, who has had a great year and has really shot up my personal rankings, beat semi regular IRT touring vet Erick Cuevas Fernandez.
– #2 Andree Parrilla downed qualifier Elias Nieto 9,11.
In the Quarters, some upsets by seeds:
– Montoya easily beat Portillo 2,2; the 2015 Junior World 18U Champ showed the 2018 Junior World 18U champ where he needs to be.
– Estrada upset Longoria 4,11. Estrada has had a number of excellent wins so far this year and continues his rise up the Mexican ranks.
– Mar downed Martinez 6,12.
– Ochoa beat Parrilla for the second time this year 10,14. A pretty big upset by seeds and by world ranking, but Ochoa has more than proven he's on-fire in 2018. Parrilla made the semis of the US Open, the quarters of the IRT season opener, and pretty much is a threat to make the quarters or better now at every pro event he enters, but Ochoa was better this day.
In the Semis:
– Montoya went tiebreaker to beat Estrada (13),2,6.
– Mar ended Ochoa's run 9,3. These two met in the quarters of the Sonora Open earlier this year, with Ochoa winning en route to the title.
A Great final; a re-match of the Gran Torneo Del San Isidro tourney from earlier this fall. There, Montoya got a walk-over win. Today thought Montoya won in two 9,11.
Next up in Mexico should be the Abierto Mexicano de Raquetbol 2018 the second weekend of December. It was set to be an IRT-affiliated event but the two organizing bodies broke off the agreement a few weeks ago. The poster in the r2sports site shows Montoya, Waselenchuk and Longoria so i'm curious to see who shows up.