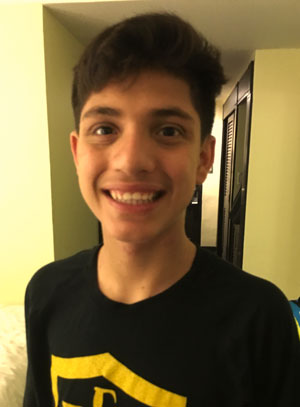 Congrats to your 2019 High School Gold/#1 division singles champions:
– Boys Gold Singles Champion: Antonio Rojas
– Girls Gold Singles Champion: Annie Roberts
They also played doubles; here's the doubles titlists:
– Boys #1 Doubles: Vedant Chauhan & Eric Liu
– Girls #1 Doubles: Annie Roberts & Kelsey Klinger
– Mixed #1 Doubles: Vedant & Nikita Chauhan.
A special shout-out to Vedant Chauhan; two titles and a final on the weekend. His sister Nikita Chauhan had a win and a final, and Roberts was a double-winner.
————————–
r2sports link for the event: http://www.r2sports.com/tourney/home.asp?TID=30309
The also played doubles and had team competitions; see the R2sports link for all the results.
420 entrants this year, a great number and a great job to all those organizers and sponsors who really worked to make this a fantastic event. Congrats to all.
A quick reminder: we do not currently have High Schools or Intercollegiates in the database. This is just a wrap up as a fan of the game.
Quick wrap-up of the Two Singles events:
———————
In the Boys Gold #1:
The semis comprised the #1, #2, #5 and #6 seeds.
– #5 seeded Lucas Shoemaker got a Injury win over #4 Andrew Gleason, the World runnerup in 14-U this past summer. Shoemaker made the quarters of US 18U this past summer before losing to the now-graduated Dane Elkins.
– #6 Vedant Chauhan, who owns 3 USA junior titles and is playing in his 14U season, advanced over #35 seed Robert Arellano, who had previously topped the #3 seed Cody Boucher in an earlier round.
In those semis:
– Seven-time junior USA champ #1 Antonio Rojas topped #5 Shoemaker, in a rematch of last year's USA 16U quarters, 6,13.
– #6 Chauhan easily downed #2 seed Cayden Aikens 8,6. Aikens made the finals of USA 16U and the quarters of 16U worlds last year. Chauhan is having an excellent tournament and will be a tough out in the final.
In the final, #1 Rojas ran away from Chauhan in game one and held on in game two for a two-game championship win 2,12. Rojas' win means that the last six HS National boys champions hailed from California schools, a list that includes Rojas' brother Mauro Rojas, and means that California prep players have now won 8 of the 32 historical HS national titles.
——————-
In the Girls Gold #1:
The semis were the #1, #2, #4 and #6 Seeds.
– #6 Arya Cyril upset #3 seeded Erin Slutzky, the finalist at 2018 16U, in an 11-9 tiebreaker.
In those Semis:
– #1 seed Annie Roberts, the reigning USA 16U champ and also the defending High School champ, topped #4 seed Alondra Canchola in a rematch of the 2018 16U quarters 3,8.
– #2 seed Nikita Chauhan, who owns two US junior titles and who made the 18U final in 2018, topped #6 Cyril by the skin of her teeth: 14,(8),10.
In the Final, #1 Seed Roberts defending her title, downing Chauhan 6,9 in the final. Robert's titles continues dominance of this event by Oregon-based prep players: 11 of the 32 National HS titles have been won by players from Oregon. Roberts also becomes the first player to repeat as HS National champion since 4-time HS champ Lexi York held the title between 2012-2015.