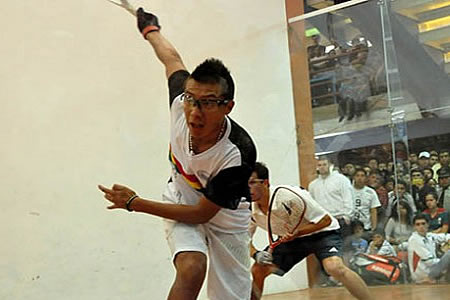 The final sanctioned IRT event of the season is this coming weekend, the 2019 International Black Gold Racquetball Cup, held at the Club Campestre in Chihuahua, CH Mexico.
r2sports link: https://www.r2sports.com/tourney/home.asp?TID=30578
There is a massive, fabulous Men's pro draw this weekend, with 46 players entered into Singles and no less than 22 pro doubles teams. The draw features 4 of the top 8 IRT pros, nearly the full contingent of Mexican pro players, all the top Ecuadorians, Guatemalans and Costa Ricans, and the top three Bolivian players who have made the flight up to make what should be a fantastic draw.
What's at stake: from an IRT rankings perspective there shouldn't be any change to the top 8-10 rankings on the IRT tour based on where things stood at the finish of the last tier 1 in Syosset. More likely is that we'll see some movement (with solid results) with the players ranked in the 11-30 range.
Play runs from Tues to Saturday, starting this afternoon 6/11/19.
——————————
Here's a preview of the draw;
In the round of 64, there's some good play-in matches to watch, especially:
– Bolivian Roland Keller takes on top Mexican pro Jaime Martell Neri in a tough first rounder for both. Keller is more known for his doubles play (he is currently the reigning 2019 Pan American Racquetball Championships double champ with Moscoso), while Martell is one of the top WRT players.
– #30 Jordy Alonso takes on #35 Ruben Estrada, a long time player who has a couple of quarter final Nationals appearances in the last few years.
– Long-time IRT touring pro Javier Moreno, whose first pro tour appearance was in Dec 1995, takes on youngster Erick Cuevas, who was born in 1997. 
– Erik Garcia plays David Ortega, one of the most decorated Junior players ever but who stopped playing pro matches more than a decade ago. Ortega won 11 junior world titles, including one in every age group from 8 to 18, during his junior career.
– Top Ecuadorians Esteban de Janon, Juan Flores, Juan Francisco Cueva and Jose Daniel Ugalde all have made the flight and have entered. Ugalde in particular faces Alex Cardona in what could be a great first rounder.
– Guatemalans entered include long-time player Edwin Galicia, Javier Martinez, Juan Salvatierra and Christian Wer. Its great to see such a solid international draw.
In the 32s, matches to watch out for:
– Bolivan Carlos Keller Vargas, the two-time reigning PARC singles champion, takes on IRT regular Justus Benson for a shot at the #1 in the 16s.
– #5 Rodrigo Montoya Solis takes on the Roland Keller/Martell winner in a tough opener for the top seed.
– #12 seeded Javier Mar likely takes on NCAA intercollegiate reigning champ Erik Garcia. Mar as a 12 seed is a tough one; he's more than capable of running to the finals from the top of this draw.
– #13 Charlie Pratt likely takes on giant-killer Alan Natera Chavez. Natera has made the semis of the last two Mexican Nationals events and played his first ever IRT event in Syosset last month. 
– #14 Sebastian Fernandez likely takes on Javier Estrada, fresh off a finals appearance last week at the Copa RKT event. I've got them neck and neck in my personal power rankings and i'm not sure who i favor here. I like Fernandez's game lately, but Estrada is a serious player.
– #7 Luis Conrrado Moscoso Serrudo, a player who most everyone is looking forward to seeing, gets a fun opener against the criminally -and hard-hitting Alex Cardona. Cardona is the 2-time WRT tour champ who has gone to part-time pro playing lately, but is still a tough out.
– In the 15/18 match, Eduardo Garay Rodriguez takes on Ernesto Ochoa … which we know is close b/c they just played last week in Monterrey, with Ochoa advancing in an 11-10 win.
Projecting the 16s:
– #1 Andree Parrilla vs Keller Vargas. Great round of 16 match-up; the #4 player on the IRT, who's knocking on the door to move higher, versus one of the best international players out there. I like Parrilla, but just barely and wouldn't be surprised at all to see Keller Vargas win here.
– In the 8/9 match, two old adversaries go at it; #8 Lalo Portillo versus #9 Gerardo Franco Gonzalez. Franco was upset last weekend early while Portillo lost a tough one to Cardona. These two have played a number of times in the past few years, and mostly Franco has had Portillo's number. But, Lalo beat him the last time they played in Mar19 and is trending higher. I'm going with Lalo here.
– #5 Montoya vs #12 Mar. A rematch of the brutal round of 32 in Syosset. They have faced each other more than a few times in WRT and Mexican local events. Its a back and forth affair, with the frequent doubles partners trading wins when they face each other. Mar won last weekend, beat Montoya in Syosset, and i'll favor him to advance here.
– #4 Sebastian Franco vs #13 Pratt; assuming Pratt gets by Natera, he stands a good chance of upsetting Franco here. They've played 4 times in the past three years and Pratt has never lost.
– #3 Daniel De La Rosa vs Fernandez/Estrada winner. I like DLR in the opener here, even though it'll be a tough match.
– #6 Mario Mercado likely faces #11 Andres Acuña. An interesting potential match-up; Mercado has struggled this season on tour while Acuna has gotten some solid wins. They met once in juniors in 2014 (an Acuna win). I'll give Acuna the win here.
– #7 Moscoso vs #10 Felipe Camacho; assuming Moscoso powers his way past Cardona, he has a much easier path into the quarters facing Camacho.
– #2 Alvaro Beltran vs the Garay/Ochoa winner: Either way, Beltran faces some trouble here. Ochoa beat Beltran in the 2018 Mexican nationals event. Don't be surprised if there's an upset here.
Interestingly, it wouldn't be too shocking to see a majority of the top 8 seeds lose in the round of 16 here. That's how deep this draw is, and how many good non-regular IRT pros there are out there.
Possible Qtrs:
– Parrilla vs Portillo; advantage Parrilla over the increasingly tough Portillo.
– Mar vs Pratt: Pratt beat him in the 2017 PARC semis, but I feel like Mar is in a better spot right now. These two play a very similar game style, so expect a close tiebreaker nonetheless.
– DLR vs Acuna: DLR advances easily, even if Mercado holds serve to advance here.
– Moscoso vs Beltran: Moscoso beat Beltran pretty handily in the Bolivian Open earlier this year and has the kind of game that gives Beltran fits. Advantage to the hard-hitting Bolivian no matter who advances here.
Semis:
– Parrilla vs Mar: advantage Mar; he's won their last two meetings, though its usually a tiebreaker.
– Moscoso vs DLR; they played twice internationally in 2015, splitting wins but with Moscoso getting the better of DLR in a knockout setting en route to his run to the PARC semis. Which DLR shows up? The one who can handle the kind of power that Conrrado brings and offset it with his touch shots? Or will Moscoso bring his A-game, which is good enough to beat nearly anyone in the world? I like Moscoso here.
Final: Moscoso over Mar, as Moscoso overpowers the touch game of Mar.
——————————-

Doubles preview: 20 teams, a massive doubles draw, that features some of the top teams in the world. The seeded teams include the (IMHO) top doubles team in the world in Beltran/DLR, the Colombian na'tl team of Mercado/Franco, the 2nd best Mexican pairing (who's been nipping on the heels of #1) in Montoya/Mar, and the Costa Rican nat'l team of Acuna/Camacho.
Also present are the likely favorites; the reigning PARC champs Bolvian pairing of Moscoso/Keller and the likely Pan Am Games representative teams from Ecuador and Guatemala.
Fun Quarter final matches to watch for: Montoya/Mar and Moscoso/Keller in a rematch of the PARc semis. And, Pratt/Garcia taking on Franco/Mercado; could be an upset.
Semis prediction: Beltran/DLR and Portillo/Parrilla on the top, Moscoso/Keller and Franco/Mercado from the bottom.
Finals prediction: Beltran/DLR beat the bolivians for the 3rd time in a year.
——————————-
Follow along on facebook; the irt's broadcast team including Dean DeAngelo Baer is heading down to watch and broadcast.
Can't wait to see how this event turns out!
International Racquetball Tour Federación Mexicana de Raquetbol RKTInternational Racquetball Federation – IRF