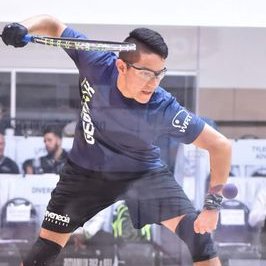 Congrats to Andree Parrilla, who wins the Costa Rica Open on the weekend. He took both the Pro and the Open draw, defeating a slew of touring players along the way.
r2sports link:https://www.r2sports.com/tourney/home.asp?TID=30427
It may have only been a tier 2, but there were a slew of great matches in San Jose this past weekend.
—————
Lets recap the Pro Singles draw, highlight key match-ups.
In the play-ins:
– Cuban #1 Maikel Mollet beat #12 Alan Natera Chavez 11-8 in the breaker, a signature win for the Cuban.
In the 16s:
– #9 Andres Acuña crushed doubles partner and country-man #8 Felipe Camacho 3,3. He's had a great season and will get a great test going against #1 seed and #2 ranked Carson next.
– #11 Ernesto Ochoa got a great win over #6 Mario Mercado 11-9. Ochoa has multiple wins over IRT top 10 players in the last year and probably has moved into the world top 20 at this point.
– #10 Javier Mar beat #7 David Horn 13,7 to advance to face Landa in a juicy quarter final.
In the Qtrs:
– #1 seed Rocky Carson made fast work over Acuna 6,4 in his opener.
– #4 Alvaro Beltran got his first win over #5 Rodrigo Montoya Solís since Mexicali 2017 … and just like in 2017 he won 11-10. Montoya still has a career winning h2h record over Alvaro but missed an opportunity here.
– #3 Andree Parrilla was stretched to a tiebreaker but took out #11 Ochoa 11-7. Hope to see more of Ochoa on tour going forward.
– #2 Alex Landa took out #10 Mar in two close games 14,13. Definitely an indication of just how close these two guys are despite their seeds.
So, we're chalk into the semis, top four seeds competing, despite some really close matches in the quarters.
In the Semis … we had two upsets.
– #4 Beltran topped #1 Carson in a tie-breaker, continuing their current back-and-forth rivalry. The two veterans have played more than 50 times and have split their last 6 meetings.
– #3 Parrilla beat #2 Landa in two game 8,11 to advance to the final, where he's likely favored, having beaten Beltran their last three times on the court.
In the final, Parrilla came from a game down to trounce Beltran 11-2 in the tie-breaker for the win.
—————-
There was an even larger Men's Open draw, with essentially the full Pro draw of participants but with completely different seeding, resulting in semis-quality early round match-ups. Here's a review of the notable matches in Men's Open singles.
In the 16s:
– Parrilla took out Montoya in two close games 14,12. These two have been playing forever; they're the same year in juniors and traded back and forth junior Mexico and World titles. This is the first time they've met since Mexico Nationals in 2018, and it had been more than 2 years since Andree got a win over Rodrigo.
– Camacho got wiped out by Ochoa 5,4.
– Mollet got a rematch against Natera and lost in two 12,8.
– Mercado beat Landa 11-8 in a match that I wonder how seriously Landa was playing (given that he's into the pro semis, the doubles semis and was coming off a draining match over Mar).
In the Quarters:
– #1 Parrilla advanced easily over #25 Felipe Alonso
– #4 Horn beat #21 Ochoa by the slimmest of margins 14,14.
– #6 Mercado took out upset-minded #19 Natera in a tie-breaker
– #2 Acuna got a walkover from #7 Costa Rican Gabriel Garcia.
In the semis:
– Parrilla beat Horn handily to make the final … putting him in both singles finals Pro and Open.
– Mercado had a come-back tiebreaker win over Acuna to advance to the final.
In the final, Parrilla cruised past Mercado 8,7 for the double win.
—————-
Lastly, they did play doubles, with some good pro teams playing. The draw went chalk to the semis, with 4 good teams of tour regulars playing.
– Mar/Montoya topped #1 seeds Beltran/Landa in the top semi.
– the CRC national doubles team of Camacho/Acuna beat two IRT vets Horn/Mercado in the other.
In what looked like an awesome final, the home-town team came from a game down and saved match points against to win 11-10 over the Mexican team of Mar/Montoya for the win.
—————-
Points Implications of the Event: very little.
Here's a quick points impact summary of these results:
– top 14 remain unchanged.
– Parrilla and Beltran each replaced missed results/0 point weekends with 120 and 90 points respectively, moving them up slightly but not enough to overtake Landa.
– Carson and Landa did not earn enough points to replace any lower result weekends, so their seasonal point totals remain the same.
– There was some slight movement up/down in the 15-20 range, as some players lost and gained points thanks to expiring/gained points on the weekend, but nothing major.
—————-
If you missed any of the matches, they streamed on youtube all weekend. Go to Youtube.com and search for "10a edición Costa Rica Open Racquetball" to find the streams.
Next up: All the major countries are holding National events this coming weekend: USA Adult National singles, Canada national singles and doubles, and Mexican Junior Nationals. I believe Ecuador has some nationals next weekend as well. We'll do previews of all events in what should be a busy weekend.
Next up for IRT: another lower tier event in Garden City, KS in two weeks time.
International Racquetball Tour USA Racquetball Racquetball CanadaFederación Mexicana de Raquetbol