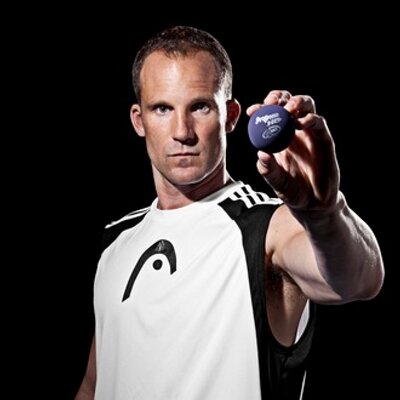 The IRT returns to Laurel, MD for the second year in a row for the 2019 Valentine Open, named after its tournament director Tracie D Valentine and her daughter Imanii Valentine. The tour is back at one of the legendary east coast venues of Sportfit Laurel for this event.
r2sports link: https://www.r2sports.com/website/event-website.asp?TID=30994
Lets preview the draw. there's 33 players entered this year including a ton of internationals and some MD/VA/PA locals. As noted last week, there's some movement in the top 8, notably Parrilla taking over 3rd and Montoya moving into 7th … but the "flip" seeding is in place here so the 5-8 seeds are jumbled from their normal spots.
Missing top players: The biggest name missing is #6 Daniel De La Rosa who misses the event sandwiched in between 3-wall in Vegas and a major pickleball event, so he may have had to take a schedule break. We're also missing a lot of tour regulars from last season in the 11-20 range, including #11 Jose Diaz, #13 David " Bobby" Horn, and #18-20 Charlie Pratt, Jansen Allen and Felipe Camacho. Two tourneys missed in a row for these guys: it look like maybe there's a changing of the guard on tour.
Here's some round of 64 matches to watch for:
– MoMo Zelada versus Kyle Ulliman: Zelada plays on his home courts and gets the traveling Ulliman, who returns to Laurel for the 2nd year in a row. Could be a tight one.
– MD native Jamal Harris takes on The Ref, Scott McClellan in an opener. Hopefully McClellan doesn't have any avoidables taken away from him… (inside joke on a FB discussion after last event).
– Veteran Bolivian Kadim Carrasco takes on 18U local player Dylan Pruitt also playing on his home courts.
– Justus Benson takes on a tough lefty from Pennsylvania Geoff Heskett.
Projecting the 32s:
– #16 Eduardo Garay Rodriguez vs #17 Carlos Keller Vargas; 16/17 matches are always tough, and this South American battle will be no different. Garay was just crowned Colombian Champ, while Keller is the 2-time reigning Pan American Racquetball Championships winner. I like Garay in a tie-breaker and I like seeing him make a push on tour early.
– #9 Mario Mercado vs #24 Zelada: just another night at the club for these two native Bolivians, who both lived in the DC area for a while and got more than a few local tournament match-ups. Mercado has been playing solid lately and will look to advance.
– #14 Andres Acuña vs #19 Carrasco: another international flavor match between two guys who have never managed to meet.
– #15 Thomas Carter vs #18 Benson: Just like the 16/17, the 15/18 meeting will be tight as well. I like Carter here to return to the 16s in Laurel.
Projecting the Main draw: assuming seeds hold in the qualifiers, here's some fun 16s to look for:
– #1 Kane Waselenchuk vs #16 Garay: I can't wait to see Kane taking on a good young hard hitting player like Garay. If its Keller instead, we're talking about a solid tactician unmoved by power play given how much he plays @Luis Luis Conrrado Moscoso Serrudo back home. Either way, a great round of 16 that's likely on the show/streaming court.
– #8 Rodrigo Montoya Solis vs #9 Mercado; Montoya missed a chance in the 8/9 match last tourney … now he gets a match against a guy who beat him in Lima just a few weeks ago. Look for a solid match but Montoya to advance.
– #6 Samuel Murray vs #11 Lalo Portillo; upset warning: Portillo beat Murray in California in Jan 2019 and has done nothing but improve since. Portillo continues his push for the top 10.
– #7 Alvaro Beltran vs #10 Jake Bredenbeck; A nice match-up; Bredenbeck was nursing an injury earlier this summer that reportedly kept him out of the season opener; if he's not 100% he'll struggle to beat Beltran, who continues to impress even as he approaches his 41st birthday.
Projected Quarters:
– #1 Kane vs #8 Montoya: would love to see this one; power v power. Montoya has just two meeting with Kane, both pretty dominant wins for the World #1.
– #4 Alex Landa vs #5 Sebastian Franco; Franco gets Landa on his (Franco's) home courts. Franco made the semis last year and will be looking for an upset; these two always seem to play tight, and Franco beat Landa to win his sole pro title. Watch out for the upset here.
– #3 Andree Parrilla vs #6 Murray; if Murray gets past Portillo, he runs into a tough one in Parrilla, who lost 11-10 in the quarters last year in Laurel and won't want to lose his #3 ranking at this juncture.
– #2 Rocky Carson vs #7 Beltran. These two have met no less than 49 times on tour; they're more than familiar with each other and played a rather testy tiebreaker in their last meeting in January. This is no cakewalk for Carson. Combined age: more than 81 years between the two of them.
Semis:
– Kane over Landa: these two seem to play the same way each time: Landa keeps it close up to about 10-10, then Kane breaks away for a 15-10 win. Look for a two game victory with the scores like 10,8
– Carson over Parrilla: So here's the interesting match up. These two met in the quarters of this event last year, and Parrilla had match point on his racquet and blew a simple cross court into the ground before losing 11-10. Then they didn't play again until last weekend's Atlanta final (a 13,8 win for Rocky). I like Andree's chances here of pushing for a tie-breaker on these slower courts but won't predict a win.
Final: Kane over Rocky, yet again.
———————–
That's how I see it for this weekend. I'll be at the club all day thursday to take in the 64s and 32s before jetting back home. Hope to see you out there, and maybe we'll do some test broadcasting later thursday night.
———————-
International Racquetball Tour
International Racquetball Federation – IRF
USA Racquetball
R2 Sports App
Federación Mexicana de Raquetbol
Fecoracquet Fecoracquet
ProKennex Racquetball