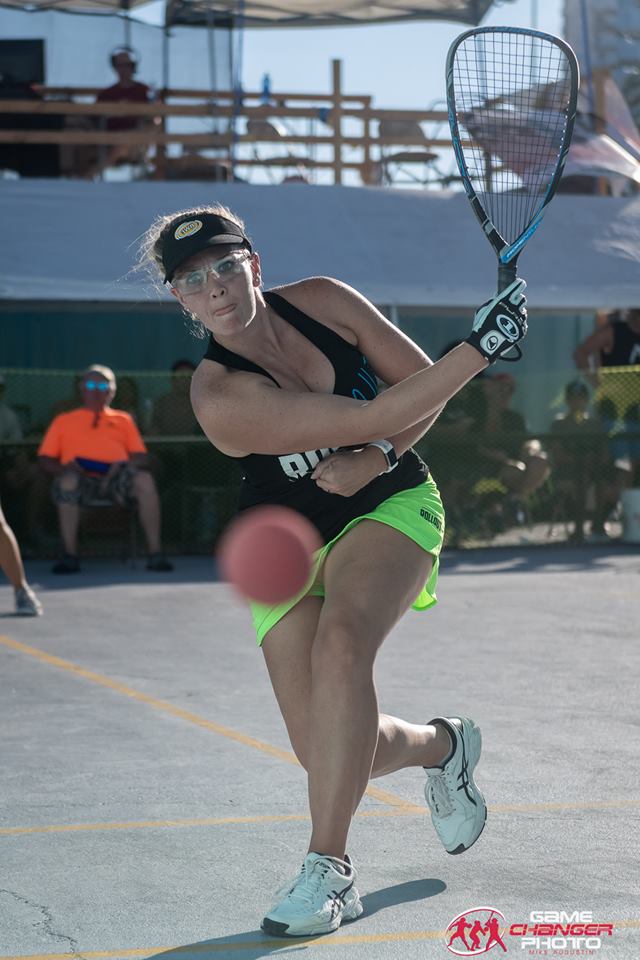 After by the finish of WOR – World Outdoor Racquetball]'s 3Wall Ball] tournament, there was a great conversation in the Keep Racquetball Great forum (which was founded by outdoor enthusiast Norm McNutt and which has a heavy outdoor racquetball focus) about whether anyone has won the "Triple Crown" of the three major outdoor events. Florida outdoor player and big event sponsor Jeff Wright posted all the winners of all the events going back to start the discussions.
Well, I thought that was a great report idea. So I created it. I also put in placeholders for all the winners of the pro events to make the report work, leveraging Wright's work and backfilling from R2 Sports App as needed.
Outdoor Nationals is the original "major," having started in 1974. Vic Leibofsky's Beach Bash started in 2007, following on from a huge Scott Hirsch-run event on the same courts in 2004, and of course MC Vegas has spearheaded the 3WallBall event that has run in Las Vegas since 2010. So the triple crown report starts in 2007 to show the winners of all the events alongside each other to the best extent possible.
So here they are. The Outdoor "Triple Crown Reports."
– Men's Singles: http://rball.pro/74BC5A

The grand-daddy event of them all has never seen a player take all three titles. Rocky Carson did five "doubles" winning both Outdoor Nats and Vegas, and missed out on a 6th in 2013 when the Vegas final was cancelled due to wind. The dominance of Robert Sostre on one-wall in Florida has made it hard for others to break through. Best chance of a triple-crown winner going forward probably is Nick Montalbano, who has made the Beach Bash finals and has a 3-wall singles win, but he is not known for traveling to the California event.
—-
Women's Singles: http://rball.pro/7A730A

Future outdoor hall of famer Janel Tisinger-Ledkins is the only person to hold a singles "Triple Crown," having won the singles titles in all three events in 2016. Rhonda Rajsich has a double, having won Beach Bash one-wall and outdoor nats 3-wall in the same 2015 season. The women's singles event has been lagging at Marina Park the last few years, making it hard to see a pathway forward for any one to make a new run at the crown. Hollie Scott might be my choice to do this in the future, having shown her quals on the one-wall and being young enough to have years of competition in her future.
—
Doubles technically have four "majors" each year, since Vegas now offers both one-wall and three-wall. All four of these events are shown in the doubles reports below:
—-
Men's Doubles: http://rball.pro/5A37EA

We've had some men win the "double," meaning two of the majors in a year:
– Rocky Carson in 2014 won Outdoor Nats and Vegas 3-wall.
– Daniel De La Rosa and Alvaro Beltran did the same double in 2019 as a team.
– Beltran also did the California/Vegas double in 2011 with two different partners.
– Robert Sostre did an interesting double in 2016, winning both doubles competitions in Vegas in the same year.
– Joe Young did the double in 2015, winning both Beach Bash and Outdoor Nationals, quite an achievement.
—-
Women's Doubles: http://rball.pro/70C819

Again, Tisinger did the triple crown in 2016 (the same year she won all three singles titles). That's a hell of a year. Six major outdoor titles in one season.

Meanwhile, Michelle De La Rosa has done the triple crown twice; in 2014 and 2015. Players who have done the double:
– Carla Muñoz Montesinos took Outdoor Nats and Vegas 3-wall in 2019
– Anita Maldonado won both 1-wall majors in 2019 as well.
– Rajsich did the double in 2014 along with mDLR
– Jasmine Suarez took both 1-wall majors in 2013
– Aimee Roehler Ruiz did the double with Tisinger in 2016
– Michbo Herbert did a unique double in 2018; winning one-wall Beach bash as well as Vegas 3-wall.
—-
Mixed Doubles: http://rball.pro/AB9D4B

The DLR husband/wife team pulled off the triple in 2019. The pair also pulled off double wins in 2014, 2016 and 2017. All told, they have won 11 mixed double major titles together since 2014 and are an amazingly dominant team.

Players who have done doubles:
– Rajsich and Rick Koll did the double at Vegas in 2018, winning the mixed 1-wall and 3-wall titles.
– Sostre in 2013
– Ruiz did a one-wall major double in 2016, winning both Beach Bash and 1-wall Vegas.
– Greg Solis did the double with Tisinger in 2011
———-
Hope you enjoyed this as much as I did putting it together!
TagsInternational Racquetball TourLPRTUSA RacquetballFederación Mexicana de RaquetbolHashtags #racquetball#proracquetball#outdoorracquetball#irt#lprt#wor