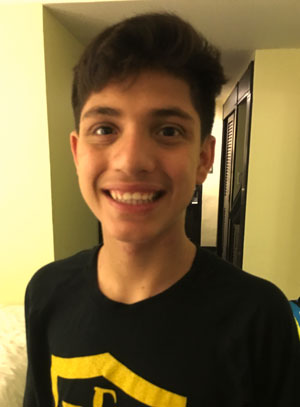 Congrats to all the winners from this past weekend's 46th Junior Nationals in Portland.
Boys:
– 18U: Antonio Rojas 
– 16U: Antonio Rojas 
– 14U: Nikhil Prasad
– 12U: Joseph Marshall 
– 10U: Nathan Rykhus
– 10Udb: Alejandro Robles Picon
– 8U: Alejandro Robles Picon
– 8Umb; Kabir Sethi
Girls:
– 18U: Briana Jacquet 
– 16U: Annie Roberts 
– 14U: Heather Mahoney
– 12U: Sonya Shetty
– 10U: Andrea Perez-Picon 
– 10Udb: Addison Thomas 
– 8U: Natalia Canchola
– 8Umb: Natalia Canchola
We currently load full draws for 14,16 and 18s, just winners for the younger draws. Here's links to the match reports for the three oldest divisions:
Boys:
– 18U: http://rball.pro/383AFC
– 16U: http://rball.pro/F824DC
– 14U: http://rball.pro/7B90DA
Girls:
– 18U: http://rball.pro/B9FF39
– 16U: http://rball.pro/FADF97
– 14U: http://rball.pro/2C7CC4
And lastly, here's a direct link to the "Matrix report" for every junior winner in every category across time. These are my "go to" reports for seeing all junior champs very quickly.
Boys USA Junior Champs Matrix: http://rball.pro/A48C21
Girls USA Junior champs Matrix: http://rball.pro/61FFEC
These reports are available for USA, Mexico, Canada and World Juniors throughout the history we have loaded up (which is complete for USA and IRF, not so much for Canada and Mexico).
—————————
Here's some observations/highlights about some of the draws:
– Boys 18U: Antonio Rojas takes the 18U title as the #2 seed over #4 seed Micah Farmer. Farmer survived match-point against in the qtrs to cruise past #1 seed Cayden Akins to make the final, while Rojas topped #3 seed Ben Baron in the semis en route to the final.
– Boys 16U: Antonio Rojas takes the 16U title without dropping a game. The draw went chalk from the quarters on, with Rojas topping Krish Thakur in one semi and finalist Timmy Hansen topping #3 seed Andrew Gleason in the other.
Antonio Rojas becomes just the 3rd ever junior boy to hold both 16U and 18U titles simultaneously; previously done by Jack Huczek in 2000 and Antonio's cousin Jose Rojas in 2007. Rojas also secures his 7th and 8th junior national titles, tying him for 4th all time for USA boys. He adds to his 2019 haul, having won HS nationals earlier this year.
Top winner in history for US Jr titles? Huczek, who won 13 titles (two each in every available jr category from 8 to 18 plus an extra18U title).
– Boys 14U: Nikhil Prasad took the 14U title as the #1 seed over #3 seeded Vedant Chauhan. Prasad topped Gatlin Sutherland in one semi, Chauhan upset #2 seeded Josh Shea in the other. This is Prasad's 5th US junior title.
– Girls 18U: #1 Seed Briana Jacquet cruised to the title, defending her 2018 18U championship and representing her 5th career junior title. She missed 2018 jr worlds, and probably looks forward to competing at worlds one last time. She topped #2 Nikita Chauhan in the final, with #3 Graciano Wargo and #5 seed Shane Diaz comprising the semi-finalists.
– Girls 16U; #1 seed Annie Roberts earned her 3rd jr title and added to her earlier 2019 High School Nationals title by defending her 16U title. The draw went mostly chalk the entire way, with Roberts topping #4 Shane Diaz in the semis, while finalist #3 Heather Mahoney topped #2 Erin Slutzky in the sole upset-by-seed in this draw. Roberts came from a game down in both the semis and finals to win.
– Girls 14U: #1 Seed Heather Mahoney defended her 14U champ and won her 8th career US junior title, topping #3 Ava Kaiser in a tie-breaker final. #4 Karina Matthew and #2 Arya Cyril to the semis. She stands a chance to beat Adrienne Fisher Haynes's record for most ever female junior titles if she can continue to win year over year.
————————–
A reminder; we don't load Junior doubles results. But doubles winners are an important part of the Jr National teams.
Singles and Doubles winners on the weekend qualify to represent hte US at this year's World Juniors event. 2019's World Juniors event is going to be in mid-November in San Jose, Costa Rica.
Congrats to all the winners, thanks to Leo Ray Vasquez for traveling and broadcasting all weekend.
Next on the schedule? We have a couple of RKT/Mexican summer tournaments, which sometimes get solid draws. Mid July features WOR outdoor nationals in Huntington Beach, and then Mexican Junior Nationals.
————————–
USA Racquetball Federación Mexicana de Raquetbol WOR – World Outdoor Racquetball International Racquetball Federation – IRF