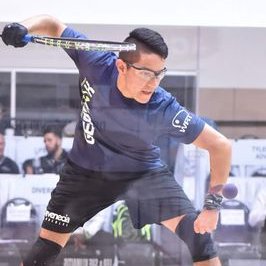 Here's a fun one to discuss during this slight break in the rball tourney schedule; what's the best Father/Son combo in our sports' history? How about Husband/Wife or Brother/Sister?
Here's some opinions on each category from yours truly, with others that I considered. Did I forget someone? Am I totally wrong? Feel free to chime in.
———————————
1. Best Husband/Wife combo: Jack Huczek and Christie Van Hees
Only husband-wife team where both sides have won tour championships. Both retired way too soon; I would bet money Jack in particular could still be making the back end of pro tournaments if he was still playing (he was born in 1983, so hes younger right now than Kane/Rocky/Alvaro).
Honorable Mentions:
– Kane Waselenchuk and Kim Waselenchuk
– Sudsy Monchik and Vero Sotomayor
– Daniel De La Rosa and Michelle De La Rosa
There's actually a slew of Racquetball playing couples with pro experience on both sides … i limited this to just the best and the top 3 honorable mentions. If you want to include the Pratts, Fowlers, Wachtels, Kirches, Hawthornes, or others, I wouldn't blame you.
———————————
2. Best Brother/Sister combo: Jessica Leona Parrilla and Andree Parrilla
Honorable Mentions:
– Paola Longoria and Christian Longoria
– Coby Iwaasa and Alexis Iwaasa
– Adam Manilla and Erika Manilla
Another category where there's lots of honorable mentions; I left out the Paraisos, the Doyles, Kerrs, and Odegards in particular. I sense there's a lot of younger players in the junior ranks that could qualify here too.
———————————
3. Best Brother/Brother: has to be the Pecks: Dave Peck and Gregg Peck
Honorable mentions:
– Jose Rojas and Marco Rojas
–  Armando Landa (or Roman) and Alex Landa
– Tim Landeryou & James Landeryou
Lots of good examples of brothers playing right now. Bredenbecks, Murrays, Kurzbards, Garays, Kellers, Acunas, etc. And there might be more in the Latin Americas that i'm not aware of, since there's so many players with common surnames.
———————————
4. Best Sister/Sister: Jacqueline Paraiso-Larsson and Joy MacKenzie
Honorable mention:
– Michelle (Key) De La Rosa & Danielle (Key) Danielle Maddux.
Am i missing any good sister acts? I could only really come up with a couple here.
From here on, its slimmer pickings…
———————————
5. Best Father/Son: Fabian Parrilla and son Andree Parrilla
Honorable Mention:
– ?
I thought of a few other father/son combos where at least we knew both sides played at a high level (examples: Schopiearys, Ullimans, Elkins). But I couldn't think of a single instance of a top pro from our entire sport's history who has a son playing at a high level right now.
———————————
6. Best Mother/Daughter: Malia Kamahoahoa Bailey and daughter Kelani Lawrence.
Honorable mentions:
– Gerry & Kerri Stoffregen Wachtel
– Debbie & Janel Tisinger-Ledkins
Could also include the Keys here. Karen-Darold Key entered the very first US Open ladies pro draw when her daughters were just 8 and 5.
———————————
7. Father/Daughter: The Parrillas again: Fabian and Jessica.
Honorable Mention:
– Dennis Rajsich & Rhonda Rajsich
Father/Daughter combos are hard to come by … but not as hard as the last category.
———————————
8. Mother/Son: literally the only example I could find where a mother and son both had pro experience is … Goldie Hogan and Marty Hogan.
That's right: Marty's mother entered a number of the very earliest Ladies pro draws in the early 70s at the same time her precocious son Marty was starting to win events as a teen-ager.
———————————
So, did I miss anyone? Do we have any top pros with younger kids making their way up the junior ranks?
Editor note: I mistakenly thought that Armando Landa was Alex's father; they are brothers. This post has been edited following corrections.