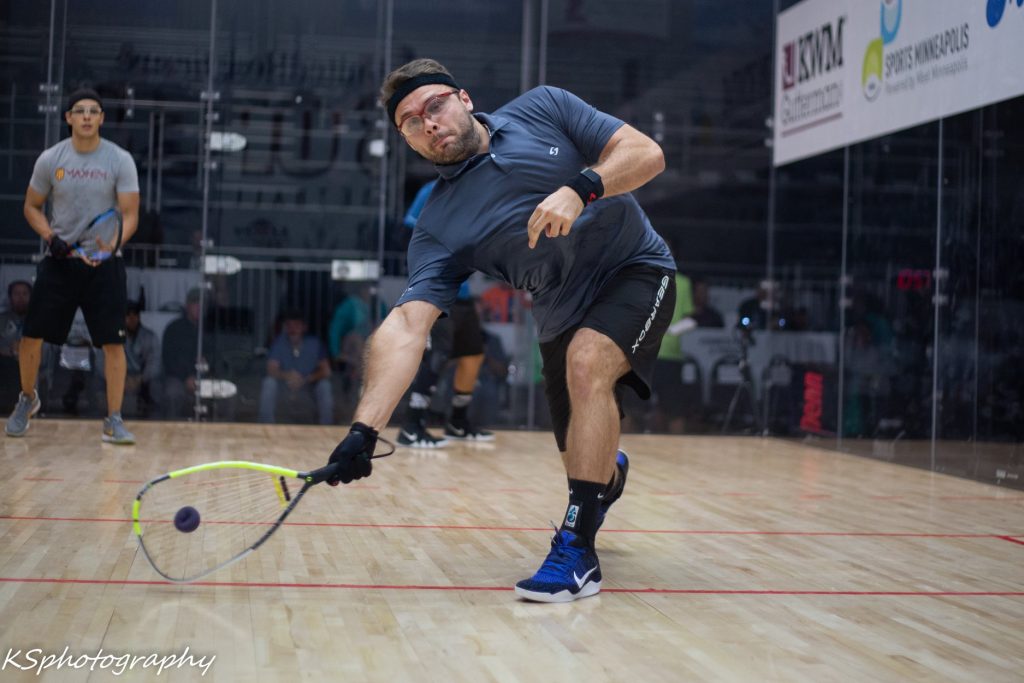 In conjunction with the 46th annual Keystone Classic in Winnipeg last weekend, Racquetball Canada had the second of its three National team qualification events of the season. Here's a quick wrap-up of the event:
Congrats to your winners on the weekend:
– Men's Singles: Samuel Murray
– Women's Singles: Michele Morisette
Reminder: we don't currently load federation qualifying events into the database, therefore there's no PRS links.
R2 Sports App home page for event: https://www.r2sports.com/website/event-website.asp?TID=32066
——————
Lets review the notable matches in the Men's Singles draw.
—————-
In the Quarters
– The top 3 seeds easily advanced; #1 Samuel Murray over #8 Michael Leduc #2 The Official Coby Iwaasa Fan Club over #7 Ian Frattinger and #3 Tim Landeryou over #6 Tanner Prentice.
– We got an upset in the 4/5 match: #5 Kurtis Cullen took out #4 veteran Lee Connell in two games 4,13 to move into the quarters.
—————
In the Semis
– #1 Murray dominated Cullen to move on.
– #2 Iwaasa was stretched at times but advanced over Landeryou
In the Finals, Iwaasa took the first game from the long-time Canadian #1, but Murray rebounded to win (8),7,1.
Murray (if i'm reading my records correctly) has not lost a Canadian Men's national event (qualifier or nationals) since the May 2017 final (Mike Green's last match before retiring).
—————
Women's Singles review:
Just four women in this draw, so they played Round Robin. Notable results from RR play:
#1 seed Christine Richardson was stretched to a breaker by #4 seed Cassie Prentice before winning, which was a precursor perhaps to the eventual face off with #2 seed Michèle Morissette, who topped Richardson 6,11 to win the RR group.
Morissette wins her first top-level Canadian national event since graduating from the juniors in 2015.
——————
Next up? This is the 2nd of two qualifiers leading up to Canadian Nationals in late May, so next up is Canadian Nationals.
In general, the Rball calendar gets a break until the first week of march for the next major event.
——————-
Racquetball Canada
International Racquetball Tour
International Racquetball Federation – IRF