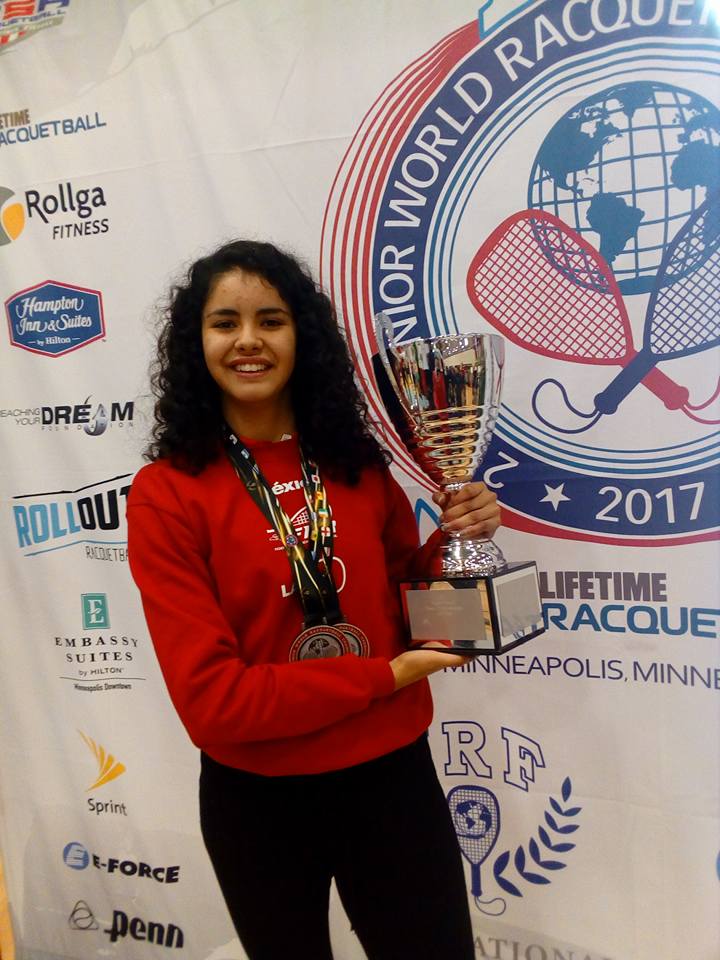 The Campeonato Nacional de Raquetbol Infantil y Juvenil 2019 event was this past weekend, with the Junior National teams named for this coming November's World Juniors.
r2sports link:https://www.r2sports.com/tourney/home.asp?TID=30780
Congrats to the top finishers by division:
Boys 18U: Sebastian Fernandez, Emir Martinez
Boys 16U: Sebastian Longoria, Erick Trujillo
Boys 14U: Luis Renteria, Jorge Gutierrez Ortiz
Boys 12U: Eder Renteria, Ricardo Velarde
Boys 10U: Luis Carlos Ochoa, Santiago Castillo
Boys 8U: Rene Palomino, Arturo Gonzalez
Girls 18U: Ana Laura Flores, Maria Gutierrez
Girls 16U: Guadalupe Griffen, Ximena Martinez
Girls 14U: Ivanna Balderrama, Angela Veronica Ortega
Girls 12U: Mariafernanda Trujillo, Yanna Salazar
Girls 10U: Ximena Barraza, Mariajose Franco
Girls 8U: Maria Malo uncontested
I *believe* this list is also the Mexican Junior team for Junior Worlds in November. However, some of the younger divisions saw different players advancing out of the loser's bracket and may be the actual 2nd place finishers. The results above show the finals of the winner's bracket throughout.
——————————–
Here's the updated Mexican Junior Nationals Matrix of all winners, now that we've updated the 2019 winners:
Mexican Boy's Winner Matrix: http://rball.pro/E1C550
Mexican Girls Winner Matrix: http://rball.pro/A267D1
These results are very sparse when compared to USA, Canada and Worlds. I have some past r2sports links and will do an update, but any results prior to 2013 will require help from the Mexican National organization.
————————————–
Here's some wrap-ups of the divisions. From a database perspective, I have put in just the winner's bracket matches from the 14U, 16U and 18U divisions on both sides. i've just put in winners for younger divisions.
Boys 18U: PRS match report: http://rball.pro/F11B26
In the 18U, #1 seed Sebastian Fernandez dominated the weekend, dropping just one game en route to a repeat 18U title. He beat #11 seeded Emir Martinez 1,3 in the final, who came out of a lower-side of the bracket clearly seeded poorly (the #2, #3 and #6 seeds all lost in the first round). The winner of the loser's bracket/3rd place winner turned out to be #9 seeded Jose Ramos, who topped #4 seed Manuel Moncada (the only person to take a game off of Fernandez).
Boys 16U: PRS match report: http://rball.pro/B9A6AB
In the 16U, the seeds held to the final, where #2 Sebastian Longoria took out #1 Erick Trujillo 12,6. #12 seed Aldo Caraveo recovered from his semi finals loss to win the loser's bracket/take 3rd place.
Boys 14U: PRS match report: http://rball.pro/68878C
In the 14U, #2 seed Luis Renteria took out #4 seeded Jorge Gutierrez Ortiz in the final. #1 seed Christhian Sanchez recovered to take 3rd.
————————————-
Girls 18U: PRS match report: http://rball.pro/81EC3C
In the 18U, #2 seed Ana Laura Flores Saavedra blitzed her way to the title, winning the final 1,1 over 9th seeded Maria Gutierrez. #1 seed Ana Kristin Rivera recovered to take the loser's bracket final and 3rd place, keeping her in play for a Junior World spot.
Girls 16U: PRS match report: http://rball.pro/533E1D
In the 16U, #1 seed Guadalupe Griffen topped #6 seed Ximena Martinez in the final 6,8. #2 seed Daniela Rico recovered from an upset qtrs loss to take the losers's bracket and 3rd place.
Girls 14U: PRS match report: http://rball.pro/25A4A2
In the 14U, #2 Ivanna Balderrama topped #4 Angela Veronica Ortega in the final 13,8. #1 seed Naomi Ros recovered to take 3rd.
————————————–
That's a wrap.
The next major tournament is Pan Ams in early-to-mid August. I'll do a reaction piece to the ridiculousness of the Mexican Adult national team selection this week. I'll also post some IRT season wrap-up content that i've had ready to go for a few weeks.
————————————–
Federación Mexicana de Raquetbol
International Racquetball Federation – IRF