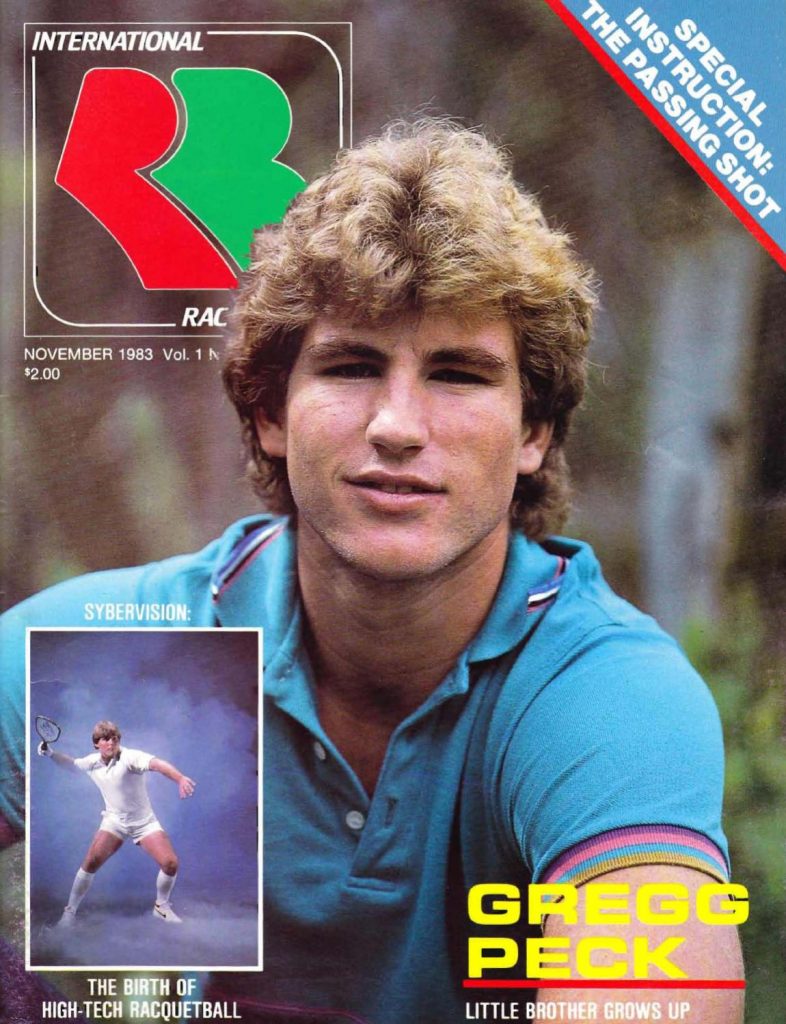 (Editor note: this was a post I published straight to the "Keep Racquetball Great" Facebook group on 9/25/19, in response to a groundswell of discussion related to his re-nomination to the USAR hall of fame. I'll back-date it and copy/paste the content from that time).
I'm a bit late to the Gregg Peck for the Hall of Fame conversations from a couple weeks ago, but wanted to put up some stats to help spread awareness. Here's a quick summary of Gregg's rball career in support of his nomination:
Junior Career Accomplishments:
Multiple USRA State and Regional Championships
Multiple IRA state and Regional Championships
1980 USRA Junior National champion (17U)
Won title as a 16yr old, defeating Brett Harnett in final
Professional Career Accomplishments:

20th all-time in professional Tournament Wins
18th all-time in career W/L Percentage, all rounds
Held career winning Head-to-Head records against Hall of Fame pro players Ed Andrews, Ruben Gonzalez, Brian Hawkes, Mike Ray and Davey Bledsoe.
Retired with multiple victories over 5-time pro tour champ Yellen and Hogan.
Youngest pro player ever to make a Semi-final (oct 1980 Coors Grand Prix I)
1981 NRC Rookie of the year
1983 International Racquetball Most Improved Player
1985 DP Nationals Champion (defeated Mike Yellen in the final).
1985 Pro Male Athlete Player of the Year
Finalist, 1985 Ektelon Nationals (losing to Cliff Swain in a nationally televised match)
Semifinalist, 1983 DP Leach Nationals
Semifinalist, 1983 Catalina Pro Nationals
Amateur/Age Career Accomplishments:
1981 USRA National Singles Men's Open finalist (losing to Ed Andrews)
1996 USRA 30+ Men's Doubles champion (with Brett Harnett)
1997 USRA 30+ Men's Singles champion
1997 USRA 30+ Men's Doubles champion (with Brett Harnett)
2002 USRA 25+ Men's Doubles champion (with Mike Guidry)
2003 USRA 35+ Mixed Doubles champion (with ?)
2004 USRA 25+ Men's Doubles champion (with Mike Guidry)
Coaching and Mentoring Accomplishments:
Peck Racquetball Camp Instructor, 1978-1986
14 Junior National titles won by participants in El Paso Junior program
Coached future pro tour champs Swain, Monchik and Huczek.
Head Coach, US Junior National Team, 1999-2000.
2-time Gold winning Junior national team coach
USA won 24 junior world titles under his guidance
———-
Peck's contributions to the sport span many facets; he was an accomplished player at the Junior, Professional and Adult/Age level. He was an accomplished coach/mentor who served the USRA national team. He's well liked and well advocated for in the racquetball community. He is a worthy candidate for the Hall of Fame.