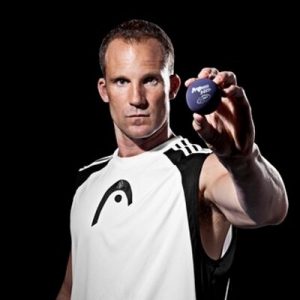 The first event of the new International Racquetball Tour is in the books; lets recap the event. Great turn-out to watch matches Thursday night; we thought there might have been 150 people present at peak capacity watching matches.
R2sports link for the tourney.
The draw was impacted late in the game, when a points shuffle resulted in Alejandro Landa overtaking Kane Waselenchuk for #2 on tour, and then Kane withdrawing after the draws had been finalized due to a car accident. This meant 3 of the top 8 players were out … but 16 of the top 20 and 22 of the top 30 were present, representing a very solid draw.
Match Report here for this event at www.proracquetballstats.com
Congrats to Rocky Carson on his win. This is his 26th IRT tier 1/GS win; he is now just 3 titles behind Jack Huczek for 5th all-time on tour. Click here for a list of most titles won on tour.
Here's a review of the matches I found notable per round, highlighting upsets and tough wins.
In the 64s:
Gerardo Franco got a solid win over country-man Jordy Alonso, a player he hadn't beaten on the professional ranks before.
Atlanta native Maurice Miller got a good win over veteran Colombian Set Cubillos.
Adam Manilla outlasted the 16-yr old Bolivian phenom Diego Garcia in a tie-breaker; Garcia played quite well for his pro debut and went on to make the Open finals in a very deep draw, taking Acuna to a tiebreaker.
Felipe Camacho beat home town favorite Dan Fowler despite the local rooting interest.
Legendary New Jersey player Mitch Posner managed to score a point, losing to Andres Acuna 1,0.
Playing on his home court, Troy Warigon took a tight match 14,14 over Costa Rican Sergio Acuna.
Robert Collins took out another local favorite, North Carolina's Brent Walters 14,12.
Long Island's Nick Montalbano beat "the Ref" Scott McClellan in two.
In the 32s:
Gerardo Franco continued his run, topping Nick Riffel to qualify for the main draw.
Andree Parrilla won the last match of the night Thursday night, ending at nearly 11pm, topping Miller in a solid 11,8 win featuring back and forth action.
Andres Acuña topped fellow veteran IRF player Camacho 11,6 to advance to the main draw.
In one of the best matches of the night, Jake Bredenbeck topped Stocktonian Mauro Rojas in two tight games 14,11. These two big hitters blasted balls at each other all match and Jake came out on top. Look out for Rojas, who just graduated from 18U; he has every much the power as Jake and could surprise a top 8 player soon.
The longest match of the 32s may have been Thomas Carter outlasting Texan Justus Benson in a tie-breaker that lasted an hour and a half. His prize? A walk-over into his first career quarter-final.
Jose Diaz took out local favorite Warigon in two games … and had to do it despite the largest crowd of the night rooting against him the whole way.
Montalbano continued his good run, topping another IRT touring vet in Collins to advance to the main draw. Montalbano becomes the only non-touring pro/local player to advance to the main draw at this event.
In the 16s:
#1 Rocky Carson advanced with ease over G. Franco.
#9 Parrilla surprised #8 David Horn, showing no signs of fatigue from his two-match qualifying late into the previous night, winning in 2 to force a Carson showdown.
Manilla earned his third ever quarter, topping DC-area resident and #5 seed Mario Mercado 11-10. Great tourney for Manilla, who I thought was a candidate to get upset in the 64s … serves me right for picking against him; now he's in the 8s.
#4 Sebastian Franco cruised into the quarters, topping Acuna.
#14 Carter got his walk-over over #3 Waselenchuk and his first career quarter finals appearance.
#6 Samuel Murray had a solid win over Bredenbeck, advancing in two games 13,7. I thought this had upset potential, especially after Murray's struggles at Worlds, but this was a solid win.
#7 Jansen Allen held off Jose Diaz's upset attempt to get to the quarters.
#2 Landa advanced easily over Montalbano, ending the local player's run.
In the Quarters…
#9 seed Parrilla had the match on his racquet at 10-10 in the breaker, and blew a game-winning pass into the ground. #1 Carson took advantage and won the ensuing rally to advance by the skin of his teeth.
#4 Franco ended Manilla's excellent tourney 9,4.
#6 Murray outclassed Carter 2,11 to advance to the semis.
#2 Landa overcame a big 1st game deficit to the cruise over #7 Allen.
The semis thus represent a "chalk" draw of remaining pros, featuring #1, #2, #6 and #4 seeds.
In the upper semi, #1 Carson rebounded from his near defeat in the quarters to trounce home-town favorite #4 Sebastian Franco in two.
In the other semi, #6 Murray secured his first pro win over #2 Landa, and also his first ever pro Tier 1 final, with a solid tiebreaker victory over his frequent doubles partner.
In the final, Carson and Murray met for the 6th time professionally …. and Carson made it 6-6 with a solid 2-game victory to claim the season's first title and extend his grip on the #1 ranking on tour.
---
Next up for the tour is the US Open. I had a great time Thursday night meeting players and talking stats with the IRT staff. I got some great, great suggestions for site augmentation and hope to spare some time coming up to develop and add some awesome new functionality. Stay tuned for announcements here to that end.