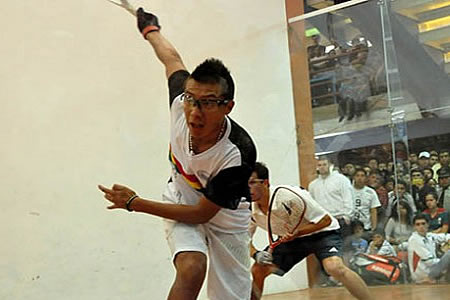 International Racquetball Tour Open Bolivia American Iris
Congrats to the winners on the weekend:
– Pro Singles: Conrrado Moscoso
– Pro doubles: Conrrado Moscoso & Roland Keller
R2sports link for tourney: https://www.r2sports.com/tourney/home.asp?TID=30507
The altitude really played into these matches; normal kill shots were way up, rallies extended, lots of ceiling balls off the back wall. And, the size of the venue and the size of the crowds made it really seem like a major international event, especially when home town players were playing.
Here's the notable Singles results by round to me:
Singles Match Report: http://rball.pro/273997
In the 64s:
– Carlos Keller Vargas pounded 18U Junior team member Gerson Miranda 9,0, showing the gulf between Bolivia's adult and junior champs.
– Similarly pre-tournament favorite Luis Conrrado Moscoso Serrudo blasted 18U junior team member Fernando Ruiz Michel 6,2.
– Several local Bolivian players took out seeded/traveling players: Sebastian Oata surprised #22 Christian Wer 6,14, Franco Gutierrez beat #21 Edwin Galicia 11,5, Jairo Perez took out #20 Hanzel Martinez Perez and Fabian Gutierrez beat #14 Set Cubillos.
In the 32s:
– #16 Kadim Carrasco topped #17 MoMo Zelada in two, the only real surprise to me of this round. Carrasco really took it to Zelada, who has been playing solid ball lately, winning 1,9 to advance to the main draw.
– #24 Carlos Keller Vargas took out #9 touring pro Thomas Carter 11-7. I thought Keller (a former PARC champ) would win here, but kudos to Carter for stretching him to the breaker. 
– #23 Moscoso blasted #10 Felipe Camacho 3,4 to make the main draw. Again, an expected result based on both players' past international results, but surprised by the lop-sidedness of the win.
– #15 Diego Garcia Quispe beat Guatemalan veteran #18 Juan Salvatierra 10,10 to advance to the main draw, an excellent result for the 17yr old.
In the 16s:
– #1 Rocky Carson took it to Carrasco and won 2,4. Carson took advantage of the high altitude and really ramped up his drive-serve game. 
– #8 Jake Bredenbeck couldn't convert on game point in the first game, opening a path for home town favorite Keller Vargas to advance 14,6. A loud, partisan crowd cheered Keller to victory.
– #5 Mario Mercado took care of business against #12 Robert Collins 10,11.
– #4 Andree Parrilla saved game point in the first game and then battled to a close two-game win over Eduardo Lalo Portillo 14,9. A back and forth match went Andree's way on this day, but Portillo continues to improve and show that he will soon be among the elite on tour.
– #3 Alvaro Beltran outlasted upset-minded Eduardo Garay Rodriguez 10 and 13. Garay dove all over the court and came at Beltran with significant pace, but Alvi made shots when he had to and put balls away when it counted.
– The biggest upset of the tournament: #11 Gerardo Franco Gonzalez took out #6 Rodrigo Montoya Solis 11-10. Montoya reportedly arrived at the tournament just the morning of this match and it may have cost him against a player he should have beaten. Franco earned this win though, saving off match point against and diving all over the court. 
– #23 Moscoso blitzed by #7 seed David Horn to setup a fantastic quarter final against Landa.
– #2 Alex Landa let the youngster Garcia get way up in game one, came back, then blew him away in game 2 to advance 13,2.
In the Qtrs:
– #1 Carson left no doubt as to who the #1 seed was, advancing past home-town favorite Keller 8,11. Before the tournament I thought perhaps Carson would be at a disadvantage in this event thanks to his match load last weekend and the travel, but his fitness and his game has elevated here this weekend.
– #5 Mercado, Bolivian native who now lives in the DC area and represents Colombia, really controlled #4 seed Parrilla throughout and advanced 7,11. I thought Parrilla was a dark-horse to make the final before this tournament, and was really surprised by how solid Mercado played here.
– #3 Beltran left little doubt about his quality, downing upset-minded #11 Franco 11,5 to move on and ensure that the two oldest players in the draw made the semis.
– In the most anticipated match of the event, #2 seed Landa was beaten by Bolivian #1 Moscoso in a scintillating match 9,(11),0. Moscoso drove the action with blistering drive serves, fantastic kill shots from all over the court and with knee-sliding re-kills that perpetually caught Landa off-guard. After losing steam in the middle of the second game, Conrrado caught fire in the tie-breaker and ran away to the 11-0 defeat. Its not often a former #1 player in the world gets donuted, and indeed this match elevates Moscoso to near the top of the world game.
In the semis…
– #1 Carson fought back the upset-minded #5 Mercado, advancing in a tie-breaker win.
– #23 Moscoso dominated #3 Beltran 10,6.
In the final, Rocky ran of 15 unanswered points to cruise to a game one win and was well on his way towards and embarrassing 2-game crushing when suddenly Conrrado made it a game, saved a couple of match points, and got a fluky rally win to take game 2 15-14 and get it to the tiebreaker. There, Rocky had no answers for Moscoso's confident shot-making and the game got away from Carson quickly … Conrrado re-killed shots from absurd angles and frustrated Carson over and again and took the breaker 11-2 in dominant fashion. Moscoso found a serve that Carson struggled with, and Rocky couldn't adjust in time to stay in the game.
Moscoso becomes the 40th ever IRT pro tour champ and earned it on the weekend, downing the #1, #2 and #3 seeds en route to victory.
————————
On the doubles side:
Match Report: http://rball.pro/CA8C9A
The Bolivian #1 pair of Moscoso & Roland Keller took the doubles title against Carson & Camacho 9,9, giving Moscoso the double on the weekend.
————————
Wrap: An amazing tournament that saw the surprise winner and the expected "what if" questions about the absence of Kane Waselenchuk. Rocky should ascend to #1 with the finals appearance, while Conrrado's points total should put him just outside the top 10 (not that it matters; we likely won't see him again until the US Open). Post publishing update: I guess the 2018 points expired earlier than I thought; Rocky remains at #2 while Moscoso rises to #17 based on irt-tour.com points standings updated as of 4/1/19.
I think I now agree with Sudsy Monchik, who has been extolling Conrrado's skills for a while. I think you have to start thinking about Moscoso as being at the top of the tier of players just past Kane and Rocky, and we can only hope as fans of the sport that he finds more ways to play the tour and give us what we want; regular match ups against Kane, Rocky, Landa, DLR, Montoya and the rest of the world's best.