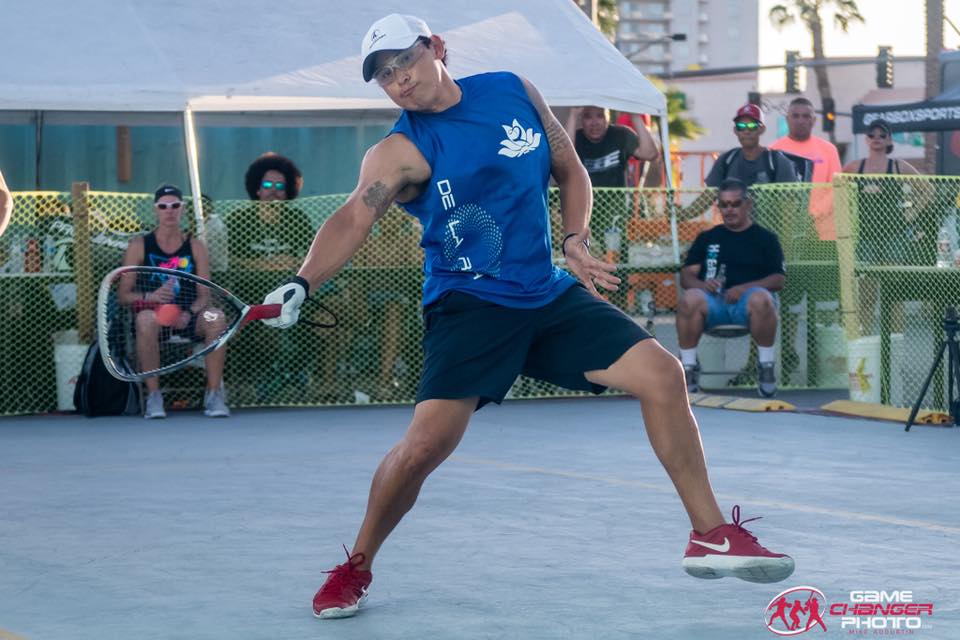 The time has come for the event we've been talking about for months now. The largest event of 2020; its the 11th annual 3WallBall event on the grounds of the STRAT hotel in Las Vegas.
600 players among three racquet sport disciplines are signed up, with play set to start Thursday Morning. More than 330 racquetball players are entered,
I'm bummed; I have been planning on attending for months but had to pull out of traveling last minute, so i'll be listening in on the streams all weekend with the rest of you.
This is set to be quite the unique event; a number of top touring pros on both the Men's and Women's side are set to make their outdoor debuts, which will make for a highly entertaining draw and fantastic matches all weekend.
——
R2 Sports App link: https://www.r2sports.com/website/event-website.asp?TID=34945
Your defending champs are as follows:
– Men's 3-wall Doubles: De La Rosa/Beltran
– Women's 3-wall Doubles: De La Rosa/Munoz
– Mixed 3-wall Doubles: the De La Rosa husband/wife combo
– Men's 1-wall Doubles: Sostre/Rolon
– Women's 1-wall Doubles: Maldonado/Stephen
– Mixed 1-wall Doubles: Montalbano/Munoz
– Men's 3-wall Singles: Montalbano
– Women's 3-wall Singles: Rajsich
Not all of these teams are back together this year, and the talent depth in all the draws should make it tough for repeats this year.
——————————
Lets preview the draws. 3-Wall Doubles first.
First up, the Mens Pro 3-wall doubles draw, which has had the most "buzz" associated with it thanks to the influx of top players from the IRT playing outdoor competitively for the first time ever. And what a draw we have. 23 teams that include 8 of the top 10 indoor players and a large slate of the best outdoor players in the world.
The big pre-tournament buzz was where to seed, in particular, #1 player in the world Kane Waselenchuk and his regular doubles partner Ben Croft, neither of whom have a ton of outdoor experience. True to form, WOR has stayed true to their own ranking system and gave the two (along with the Alex Landa / Sudsy Monchik pairing) bottom seeds, which will make for some pretty interesting round of 16 matches.
here's some matches to watch for in the 32s
– #21 Jake Bredenbeck / Brian Pineda vs #12 Sergio Rivera/ Dylan Pruitt ; shoutout to some of my DC-area local players, who go up against the basher in Jake and a long-time outdoor aficionado in Pineda.
– #13 Wayne Antone Racquetball / Andree Parrilla vs #20 Tim Hermann / Mike Myers: an interesting match-up between a long-time doubles partnership in Herman/Myers and the two up and coming players in Antone/Parrilla, who have little experience playing with each other. How much does outdoor experience and team chemistry play into a match-up? Look for the upset here.
– Long-time buds and IRT touring regulars Adam Manilla and Nick Riffel team up to take on #10 MoMo Zelada and Danny Lavely in what could be a tight opener.
– And of course, the Kane/Croft and Sudsy/Landa openers, both of which are happening later in the afternoon Thursday.
Projected 16s; and we have some doozies. We're highlighting three potential match-ups in particular:
– #1 Daniel De La Rosa / Alvaro Beltran versus #17 Landa/Monchik. Well, the defending champs get a test right out of the gate. I'd have rather seen this match-up in the quarters, but I think DLR/Beltran move on.
– #5 Rocky Carson / Jesus Ustarroz, who have two Outdoor national titles playing together, return to action as a pairing and likely face off against the Jake/Pineda pairing.
– #2 Robert Sostre and David " Bobby" Horn projected to face the King Kane/Croft partnership. What a match, and what a bummer for the #2 seeds right out of the gate. The hall of famer Sostre is better known for his one-wall prowess, but he's accomplished in all outdoor disciplines as well. Look for this to be tight, but for Kane/Croft to move on.
Projected Quarters: they could be awesome
– #1 DLR/Beltran over #8 Gerhardt / Jordan Walters
– #5 Carson/Jay over #4 Emmett Coe / Rick Koll ; this is a tough one, featuring four accomplished outdoor players and a player in Koll who is frequently in the semis and finals of pro draws in these major outdoor tournaments.
– #3 Marcos Gravier / Roy Hernandez over #6 Brandon Davis / Alejandro Barcelo . This is a great match-up of outdoor specialists who may not be well known names to the "indoor racquetball" fan, but who are all among the best of their trade in the outdoor game. I like the top Florida pair to move on here, topping a team that includes one of the best up and coming outdoor singles players out there in Davis.
– #15 Kane/Croft over #7 Mike Peters / Patrick Allin ; the hall of famer Peters will certainly make this an entertaining match to watch for the neutrals, but the firepower of Kane/Croft should persevere.
My semis:
– #1 DLR/Beltran over #5 Carson/Ustarroz; this was the outdoor nationals final in both 2016 and 2017, but the #1 team has stepped up their game and has proved to be very difficult to beat, indoors or outdoors. I think the #1 team moves on to the final.
– #15 Kane/Croft over #3 Gravier/Hernandez: if there's a spot where the indoor specialists get tripped up, its here. It will not be a surprise to any outdoor player if the talented Florida duo shock the world here. That being said, I don't think Kane is to be stopped and the pair will have worked out all the outdoor adjustments they need by this point.
Finals: DLR/Beltran over Kane/Croft; this is the match-up everyone wants to see, and I'm glad it doesn't happen til the final. It would be a fitting final for this event, for the size of it and for the buzz. These two teams have faced off in multiple major events: this was the 2017 US Open final (what many call the best ever racquetball match), the 2018 World Doubles final, the 2018 US Open final, and the 2019 US Open final. DLR and Beltran took the 2018 final in dominant fashion but have otherwise fallen to Kane/Croft.
Not this time; their outdoor experience leads them to a win over Kane/Croft in a fantastic match.
——————————
Women's 3-wall doubles preview
There's 7 teams here, and a possible draw change for the #2 seeds, which list Rhonda Rajsich and Samantha Salas Solis playing together. Salas recently underwent shoulder surgery and is not attending, so its hard to predict out this draw. Is Rhonda replacing her partner? Or is there to be a forfeit?
All 7 teams are filled with top LPRT players and there should be great competition all around.
I like the #3 seeds Paola Longoria and Janel Tisinger-Ledkins, returning to competition after a forced layoff, to advance to the final irrespective of who Rhonda might pickup as a partner, set to face the #1 seeds and defending champs Carla Muñoz Montesinos and Michelle De La Rosa.
In what should be a fantastic final, the four players (two of whom are basically outdoor specialists) should put on a great display of talent. In the end, I like Longoria/Tisinger to take the crown.
——————————
Mixed 3-wall doubles preview
A robust 15-team Mixed draw should make for amazing watching, especially in the top half of the draw, which is stacked.
Here's some round of 16 matches to watch for:
– #13 Landa/ Kelani Lawrence take on #4 Gerhardt/ Aime Brewer in a match filled with players with Virginia connections. Its an interesting pairing for Landa and it should be interesting to see how this match goes, especially given that both Gerhardt and Brewer are huge outdoor specialists.
– #3 Sostre/Munoz take on #14 brother/sister combo Andree and jessica Parrilla: i cannot say that i've seen these two play before as a team; how well will they play together? They face off against an incredibly accomplished duo in Sostre/Munoz; a great match.
Projected qtrs:
– #1 and defending champs DLR/DLR possibly take on Jake Bredenbeck and Hollie Scott
– #12 Alvaro Beltran playing with Longoria likely set to take on Landa/Lawrence in a great matchup of regular pros.
– #3 Sostre/Munoz vs #6 Tisinger/ Majeed Shahin; an excellent display of outdoor play, with one of the best females ever to play outdoor in Tisinger against the hall of famer Sostre.
– #2 Rajsich and Soda Man taking on the winners of a fascinating play-in involving two all South American teams.
My semis:
– DLRs over Beltran/Longoria; but expect it to go the distance.
– Sostre/Munoz over Rajsich/Koll
Final: DLRs repeat.
——————————
Lets run through the one-wall doubles events.
Men's One-wall doubles Pro has 9 teams, head lined by the Sostre/Rolon team that will be hard to beat. But look for an interesting dark horse team in Jose Diaz and David Horn in the upper bracket looking to make noise. On the bottom side of the draw look out for one-wall florida outdoor specialist Ignacio Espinal and his partner Servando Daniels to make the final. I like Sostre and Rolon to repeat.
There isn't an official One-Wall "pro" division for Women, but there is a good 3-team RR to determine the title. Look for Virginia outdoor player Aime Brewer, teamed up with Kelly Gremley to take the title as the #1 seeds.
Mixed One-Wall doubles: 6 teams here; i like the #2 seeds of defending ch amp Munuz teamed with one-wall specialist Rolon to top the Rajsich/Koll team in the final.
———————————
Lets look at the 3-wall Singles draws:
On the Men's side: a 13-man draw is set to play out that will guarantee a new champ, as both of last year's finalists are missing. #1 seed William Rolon projects to have a tough quarter final match against IRT tour regular Adam Manilla, and #2 seed Thomas Gerhardt will be the unlucky quarter finals opponent of #4 ranked touring IRT pro Andree Parrilla.
There's also a slew of solid outdoor-capable players in this draw from all over the country who could make noise. Derek Izzi, Nick Riffel, Dan Lavely and Majeed Shahin all are threats to make the semis. A last minute withdrawal of the unknown #3 seed gives the dark horse outdoor specialist Marco Antonio Mijares a bye into the quarters and a clean path to the semis.
I'm predicting Rolon advances to the final, Parrilla upsets Gerhardt and also advances to the final, but Rolon takes the title.
On the Women's side, four top LPRT touring pros are entered and should all advance to make for some great semi final action. #1 seed and defending champ Rhonda Rajsich should advance over #4 munoz, while in the bottom half world #1 Longoria returns to outdoor for the first time in years and should advance past #2 seed Jessica Parrilla.
In the final, I'll favor Longoria over the outdoor legend Rajsich, despite Rhonda's experience. Longoria is no stranger to outdoor and will play away any sense of rust in the discipline by the time she reaches the final.
———————————
Phew! that might be the longest preview i've ever written.
———————————
Look for Streaming in the regular places; both the LPRT and the IRT are streaming. Follow both organizations on facebook and sign up to get notifications when they go Live.
Look for Dean DeAngelo Baer, Favio Soto, Pablo Fajre and the IRTLive crew all weekend on the mike streaming one court, and look for Timothy Baghurst, JP Edwards and Tj Baumbaugh on the mike, calling the shots!
—————-
Tags
International Racquetball Tour
LPRT
International Racquetball Federation – IRF
Pan American Racquetball Confederation – PARC
UnitedHealthcare US OPEN Racquetball Championships
WOR – World Outdoor Racquetball
USA Racquetball
Racquetball Canada
Federación Mexicana de Raquetbol
RKT
Federación Boliviana De Raquetbol – Febora
Federación Boliviana de Racquetball
Racquetball Colombia
Federacion Colombiana de Racquetball
Federación Costarricense de Racquetball
Asociación Argentina de Racquetball
Federación Chilena Racquetball
Racquetball Rancagua, Chile
Jugadores Racquetbol Guatemala
Ferac Racquet
Federación Ecuatoriana de Racquetball – FERAC
India racquetball
Reaching Your Dream Foundation
FormulaFlow
Beastmade Clothing
Rollout
Racquetball Warehouse
Splatit
Hashtags #racquetball #proracquetball #outdoorracquetball #irt #lprt