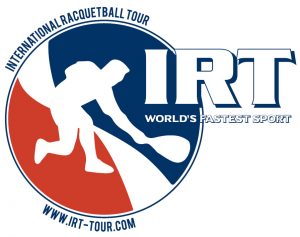 (Editor's Note! I've modified this post in the predictions section: after its publication Kane withdrew and the rankings/seedings flipped Kane and Landa, so I've corrected the text to account for this).
Welcome to the 2018-19 International Racquetball Tour season!
The draw is up for the first event so lets talk about it. Click here for the r2sports.com Tournament link. Or, if you cannot read this link, go to www.irt-tour.com and click on the link directly from the home page. Or wait til Thursday when the brackets for the whole tourney are released in full on r2sports.com.
After a summer of angst over the status of 12-time champ Kane Waselenchuk, the sports most dominant player is in the first draw of the season and will be looking to extend his current on-court winning streak of 61 matches, which was interrupted for months last season by a knee injury that eventually cost him the year end title. However, after the draws were posted; Kane reportedly suffered injuries in a car accident and withdrew. He'll remain in the draw and a lucky qualifier will get a bye into the quarters.
This is the first ever Men's pro event held at the well-known (to Mid-Atlantic tournament players anyway) Sportfit Laurel club, which currently also hosts the annual LPRT Christmas classic and which has hosted an annual event called the Wintergreen Classic in Jan/February for more than 30 years. This is also the first time the Men's pro tour has played in Maryland since the early 1990s, when the Merritt Security club outside of Baltimore used to host one of the VCI challenger series events every year. It is also the first time the Men's tour has returned to the Washington DC area since 2003, and as a DC-area resident i'm obviously excited to be able to *drive* to see the Men's pros for the first time in 15 years.
The Laurel club is unique for its court construction. They are panel courts, but a construction design choice spaced out the support beams a bit too far, leaving the courts being quite "slow," even for panel courts. I wonder if this will be a source of frustration for players, especially those who are used to playing faster, concrete courts or who are used to playing at elevation.
One other personal note about the club: Sportfit Laurel was the first racquetball club where I ever played. I joined in early 1994 and played there until moving to Northern Virginia in December 1997. It has long held a large, vibrant racquetball community and was an awesome place to learn how to play.
I'll be at the club Thursday night (Hurricane willing) for all of qualifying and look forward to catching up with the community.
———————————–
Enough about the club and my personal history there; Lets take a quick look at the draw: There's 40 players entered, a healthy draw that is the largest non-US Open draw since Sept 2014 and portends well for the depth on tour this year.
Top 20 IRT players missing: three: #4 Daniel De La Rosa, #5 Alvaro Beltran, and #12 Charlie Pratt. Beltran and Pratt were in the draw as of Monday but were late withdrawals (Beltran to injury, Pratt to the Hurricane). These two missing top 8 players gives Sebastian Franco a #4 seed, a career best and a potential semi against Rocky Carson, a good early test for the defending champ.
Interesting international players attending: Andres Acuña and Sergio Acuna from Costa Rica, Jordy Alonso, Set Cubillos Ruiz, Erick Cuevas Fernandez, and lastly Bolivian Diego Garcia, a 16U player who made the semis of worlds this year who is coming up on a RYDF sponsorship to get a taste of the IRT in person. He could be the next best thing from the racquetball-mad country of Bolivia and he could be an interesting watch.
East coast top players entered who we don't normally see elsewhere: David Austin, Geoff Heskett, Maurice Miller, Nick Montalbano, Troy Moore, Pedro Meruvia, Jamal Harris, Brent Walters and semi-regular IRT tour player Troy Warigon, who is the only pro entered who plays out of the Laurel club (that technically may not be totally true; I think Sebastian Franco also plays out of Laurel but don't quote me on that).
Special Mention in the draw; former top-10 touring pro Dan Fowler is entered into the draw, looking to appear in a Men's pro event for the first time in nearly 10 years. His last on-court pro appearance was in January 2009, and he stopped touring professionally in Oct 2004. Fowler and his wife Doreen Fowler (herself a former touring ladies pro) are both DC-area residents, have a long history of giving lessons and clinics in the Suburban Maryland area, and currently own and run a health club in Suburban MD. Its great to see Fowler back on tour even if its just for one event.
One other Special Mention: New Jersey legend Mitch "Captain Charisma" Posner is attending … he's entered into Pros … and 60+. I'm sure he'll be decked out in his trademark all-Red for his pro match.
——————————————
Lets get to previewing the draw:
Qualifying match-ups: here's the Thursday night matches to look forward to:
– Gerardo Franco v Alonso: tough opener for both Mexicans, who fly an awful long way to play each other. Alonso owns a 2-0 h2h lead over Franco on the WRT, but it was Franco who had two top-10 wins on the IRT last season to leave an impression. could be pretty close.
– Garcia-Adam Manilla; this could be a shocker; Garcia is an unknown junior from Bolivia who could be a sleeper. Possibly a tough opener for Manilla, or perhaps a cake-walk facing a youngster who is an awful long way from home.
– Felipe Camacho – Fowler: an interesting match between the veteran IRT player Camacho and the former top-10 player Fowler. Can the retired veteran return to his top 10 form for a night? If so Camacho may be in trouble.
– Heskett – Thomas Carter: its a cross-state match-up of PIttsburgh area-based Heskett and Philadelphia area-native Carter. And its a golden ticket into the quarters so expect a heavily contested match.
– Robert Collins – Walters; a tough match up of regional top player Walters and IRT veteran Collins; could be an upset here.
Round of 32 interesting potential match-ups
– b vs Mauro Daniel Rojas; a tough round of 32 for both players; Rojas has been touring regularly since graduating from Juniors and has had a number of really tough early round match-ups
– Garcia-Cuevas Fernandez: an intriguing match=up of younger international players … which may not happen since both face tough first rounders against regular touring vets; this could easily be Manilla-Wolfe instead.
Round of 16 projections:
– Carson over Alonso
– Bobby Horn vs Andree Parrilla; 8/9 is always tight; Horn owns h2h 3-1 across IRT, WRT and IRF. Advantage Horn.
– Mario Mercado – Garcia: Mercado ends the cinderella run of the 16 yr old.
– S. Franco over Acuna: this IRF-style match between two veteran int'l players should be an easy victory for the "home town" Franco.
– Carter over Kane in a walkover
– Bredenbeck over Samuel Murray; first big upset; Bredenbeck has beaten Murray before and has the power to keep up with him. Jake is better than his seeding and ranking and will take a big step forward this tourney towards improving both.
– Jose Diaz over Jansen Allen ; Diaz beat Allen in two in April but they're 2-2 h2h on the IRT: I expect a close Diaz win for the upset.
– Alejandro Landa over Walters: Landa's been given a clear path to the finals and may not be stopped.
Quarters projections
– Carson-Horn: Horn has never beaten Carson, but Horn has also never been better. He'll look to draw upon his international summer and his increased training to topple the 2017-18 champ.
– Franco over Mercado: these two country-men have never met officially in any capacity that I track, though i'm certain they've played a thousand times both hailing from Cali, Colombia. I'll go with Franco.
– Bredenbeck over Carter: Jake's string of unlucky draws ends here.
– Landa- Diaz: Landa handles the Stocktonian
Semis and Finals predictions: I've gone pretty much chalk: 1-4 versus 3-2.
– Carson over Franco; he's 8-0 lifetime over Sebastian and has had the summer to recover from his knee operation.
– Landa-Bredenbeck; wow, interesting match of contrasting styles here. Landa is 5-0 lifetime over Jake and has historically done a good job of mitigating Jake's power game. I'll predict he makes it 6-0 here.
Final: Carson over Alex Landa
————–
Welcome to the new season! Can't wait to see some racquetball!