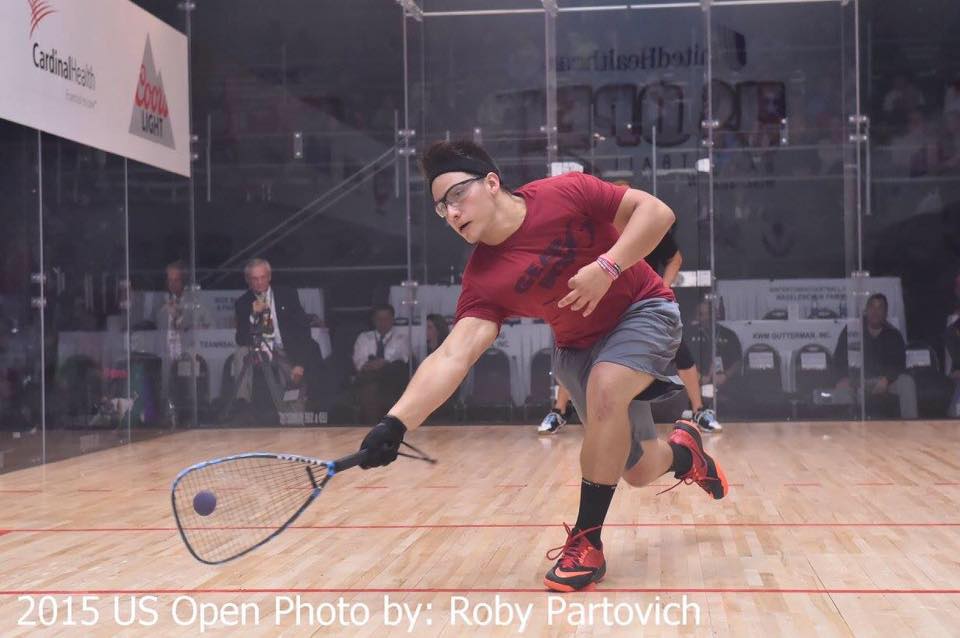 We're down to the top 32, having played 2-3 rounds of qualifiers Wednesday to whittle the field from 94.
here's the matches I found notable or upset-worthy from Wednesday's marathon qualifying.
In the 256s:
– fellow Virginian Rich Benderoth took a tiebreaker win over Erik Solter. Shout out to Rich, who regularly spanked me a decade ago when I used to actually play this sport. Unfortunately he injured himself in the process and forfeited his next round.
– USA 18U junior Lucas Shoemaker gets a win in his professional debut, downing Bolivian Vladimir Fernando Salas in a tie-breaker.
– Colorado native Jacob Kingsford gets a win in his debut pro/national level event over Ecuadorian Fabian Cuesta].
– An intra-Dallas inter-generational battle was taken by the veteran; Diana-Shai Manzuri took out Lukas Le 5,6 to advance.
—————
In the 128s:
– Andrew Gale took out IRT regular Nick Riffel in a tie-breaker; very solid win for the veteran player Gale, who first played in the US Open in 2006.
– Francisco Reyes took out IRT touring regular Justus Benson 6,12.
– Erik Garcia took out the tough Mexican Christian Longoria by the scores of 10,2.
– Troy Warigon dominated rematch of a qualifier in Laurel two weeks ago against Yacouba Keita, advancing by the dominant scores of 3,1.
– Sam Bredenbeck took out Colombian international Andres Gomez in two solid games.
– Sebastian Fernandez himself still an 18U junior, was stretched to a tiebreaker by a fellow Mexican junior (albeit a younger one) in Guillermo Ortega before advancing.
– Pennsylvania amateur Joe Kelley stretched Alan Natera Chavez to a tiebreaker before the Mexican advanced.
– Former top WRT pro Jaime Martell Neri took out 20th ranked Costa Rican Felipe Camacho.
– In a battle of two IRT veterans, Colombian Alejandro Herrera Azcarate took out Japanese legend Hiroshi Shimizu in two close games to advance.
———————-
In the 64s.
– Kansas amateur Bradley Rogers upset the highest ranked player in qualifying, 17th seeded Robert Collins 12,8 to earn a main draw berth. Rogers gets his best win on tour in four years.
– Javier Estrada advanced over Bolivian junior phenom Diego Garcia Quispe, who had to retire mid-game2 with injury. The two were playing close though, with the score 13-14 at the point of injury.
– Javier Mar dominated Ernesto Ochoa 13,5 to advance to the main draw and a meeting with his doubles partner. Tough draw for Ochoa, who was making his IRT Tier 1 debut here after putting up some very impressive results in 2019.
– Bolivian vet Kadim Carrasco was pushed to a tiebreaker by Colombian Set Cubillos Ruiz before advancing.
– Big upset of a dark horse candidate for me: Colombian Francisco Reyes Gomez upset Natera in a tiebreaker to advance. We don't know much about Reyes; he's got a few US Open appearances in the past but this is probably his best career win.
– Martel gets a great win to advance into the main draw, topping Garcia 14,6.
– Eduardo Garay Rodriguez held serve and topped MoMo Zelada 11,9 to advance into the main draw.
– Maurice Miller ended Gale's upset run to qualify.
———————–
now for the 32s. And there's some amazing matches today. Here's what i'm looking for:
– #1 Kane Waselenchuk vs #33 Estrada: Estrada made a statement at the Black Gold cup, topping 4 top 10 players to take the title. Well, now he can measure up against the worlds best for a status check.
– #9 Rodrigo Montoya Solis vs #24 Mar: these two ran into each other in the round of 32 at the Syosset open as well; just a function of unlucky seeding. Mar took that last meeting en route to a quarter final appearance. Expect a close match between these doubles partners that know each other's game pretty well.
– #8 Samuel Murray vs #25 Keller: pay no attention to the seedings here: this is a battle of two evenly matched players. They met in the 16s of the Pan Am Games in Lima, a tie-breaker win for the Canadian. But Keller is no easy out; he's an experienced, accomplished international player with two PARC titles on his resume
#13 David Horn​ vs #77 Martell; This is an interesting matchup between two long stalwards of the WRT. These two met 9 times on the old WRT, with Horn leading 5-4 h2h but Jaime Martell Racquetball​ taking the most recent meeting (May 2018 in Atlanta). This could go either way; Horn has missed time with an injury this season; is he 100%? He'll need to be to beat his long time rival. (post-publishing correction; initially I had Martell playing into Landa here; my staging tables were incorrect and hence this correction after publishing).
– #14 Lalo Portillo vs #19 Charlie Pratt; Watch out for the upset here; every time Pratt enters a draw he makes noise. Pratt could lose here to the rapidly improving Portillo, or he could run to the semis. Expect a tactical battle here.
– #6 Daniel De La Rosa vs #27 Garay: I like this match; Garay's power versus DLR's guile. Daniel won't be surprised by Garay's pop; they met in teh 2016 Mexican nationals prior to Garay's re-flagging and he advanced in a tiebreaker. I like DLR here but I think it goes breaker.
– #10 Mario Mercado vs #23 Sebastian Fernandez; this is a fascinating match-up between Mercado, who despite having (in my opinion) improving results on the court lately is treading water from a rankings perspective thanks to rising pressure of up and coming players, and Fernandez, who seems set to jump straight from 18U into the pro ranks and make a splash. I think this goes down to the wire with the veteran advancing.
– #15 Luis Conrrado Moscoso Serrudo vs #18 Andres Acuña; this should be another barn burner; they've met four times in IRF junior and senior events and 3 times it has gone breaker. All four are Moscoso wins … but Acuna always make sit hard on the Bolivian number one.
———————-
We'll circle back for the 16s once the 32s are done.
International Racquetball Tour
Racquetball Canada
UnitedHealthcare US OPEN Racquetball Championships
International Racquetball Federation – IRF
Federación Mexicana de Raquetbol
Federación Costarricense de Racquetball
Federación Boliviana de Racquetball
Fecoracquet Fecoracquet
USA Racquetball