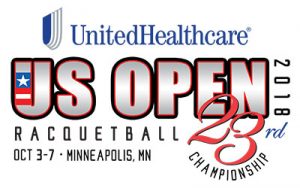 The Ladies pro singles event at the 23rd annual US Open kicks off Wednesday afternoon with one round of qualifying. A solid draw of 40 professionals matches the 2017 draw and continues a solid showing at this event for the Ladies pros. 17 of the top 20 women in the world are present, and 24 of the top 30 players. Notably absent is #8 Jessica Leona Parrilla, still recovering from a major knee injury. Also missing from the top 20 is Guatemalan vet Maria Renee Rodriguez and #19 Mexican Eleni Guzman Velgis.
r2sports.com link for the event is here.
A quick note: here's direct links to four US-Open specialty reports of interest. These links are for the LPRT version of these reports:
– LPRT US Open Player Participation summary . Mexican vet Susana Susy Acosta is breaking the US Open appearance record this year, playing her 21st. Only Rocky Carson has played more (he missed just one of the 23 events held since 1996).
– LPRT US Open Draw sizes: 40 is solid, but is a bit below the even'ts best ever showing of 50 ladies pros in 2003.
– LPRT US Open Quarters/Semis/Finals historically: A nice way to quickly see all the top finishers for all 22 events.
– LPRT US Open Results summary: all players and all finishes, throughout time
————-
The top 24 women qualified into the main draw; the remaining 16 face off in qualifiers. Here's a quick preview of those 8 matches, being played Wednesday morning and early afternoon:
– Veteran Jennifer Jennifer Mayadas-Dering faces off against Mexican Anna Rivera.  Dering first played a US Open back in 1998, when the event was still held in Memphis.
– US Collegiate player Erika Manilla (sister of IRT touring pro Adam Manilla) takes on veteran LPRT player Laura Brandt. Brandt first played the US Open in 2008, while Manilla graduated Juniors in 2016 with an 18U world title.
– Michelle De La Rosa, fresh off two finals appearances at the 2018 3WallBall WOR event held last weekend in Vegas, will take on fellow Southwestern US player, Texan Linda Tyler.
– An IRF-flavored qualifier awaits Costa Rican Maricruz Ortiz and Bolivian Angelica Barrios.
– Two younger Mexican players Denisse Maldonado and Daniela Rico face off for a shot at 4-time US Open winner Rhonda Rajsich
– Kelani (Bailey) Kelani Lawrence, who made the finals of US nationals earlier this year but had to pass on the ticket to Worlds because it conflicted with her wedding, is back in action post nuptuals and faces off against the veteran Korean player Young Ock Lee. Lee is playing in her 8th straight US Open, making the trip halfway around the world every year.
– Hollie Scott faces off against long-time Canadian threat Michele Michèle Morissette.
– Lastly, Bolivian veteran Jenny Daza Navia gets a match with Maiko Sato, who has been representing Japan at IRF Worlds for more than a decade.
Follow the LPRT on facebook and sign up to get Facebook Live notifications to get streaming broadcasts all weekend.