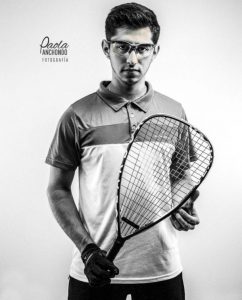 Gran Torneo Del San Isidro Wrap-Up
Hello Fans. We have a break in the schedule this week, but there was an interesting non-Tier 1 IRT event last weekend in Mexico, and another this weekend in Sonora. We don't normally cover non-Tier 1 IRT events (and we do not load them to the databases), but this draw featured strong local draws of top players that I wanted to cover. So here's a wrap up of the Tier 4 International Racquetball Tour​ event called Gran Torneo Del San Isidro, held in Torreon, Mexico.  We'll wrap the Sonora Open early next week.
The Men's Pro draw from Torreon is here at r2sports.com.
Here's a quick wrap of the event from the quarters on:
In the Quarters
– #1 seed Javier Mar topped Ernesto Ochoa in a tiebreaker. Ochoa made a great run to the 2017 Alamo City open, topping both Gerardo Franco Gonzalez​ and Andree Parrilla​ along the way.
– #4 seed Jaime Martell Neri​ was upset by #5 seed Javier Estrada. Martell won the 2018 WRT Georgia Open, downing both David Horn​ and Jake Bredenbeck​ along the way.
– #3 seed Alan Natera Chavez​ squeaked by #6 Eduardo Lalo Portillo​ 11-10 in the breaker. Portiollo is still playing in 18U, lost in the 18U World Juniors last year but has a 16U World Juniors title under his belt. He's part of a crew of players in the 18-22 range in Mexico right now who are all world class.
– #2 seed Rodrigo Montoya Solís​ defeated #10 seed Rogilio Ramirez in two.
In the Semis:
– #1 Mar was stretched to a tiebreaker by #4 Estrada but advanced. Estrada and Mar met in the semis of the 2017 Mexican Nationals, but his career win may be his round of 16 win over world #2 Alejandro Alex Landa ​in the Mexican Worlds selection event in June, knocking Landa out of contention for a spot on the Mexican world's team.
– #2 Montoya cruised by #5 Natera 6,5. Natera has had a fantastic year, making the semis of the 2018 Mexican Nationals as the #32 seed, beating #1 seeded Mar, Gerardo Franco and Christian Longoria​ before falling to world #4 Daniel De La Rosa in the semis.
The final unfortunately was a walk-over win by Montoya over Mar, robbing the fans of a potentially fantastic match. Montoya is of course the defending world champ, and Mar beat two top 10 IRT players in Mario Mercado​ and Samuel Murray​ en route to the US Open quarters last October. Mar also topped Montoya in the final of the WRT 2017 La Loma event. Meanwhile Montoya's capabilities are well known, winning a stacked 2018 World's event by topping the likes of Luis Conrrado Moscoso Serrudo​, Horn and Charlie Pratt​ in the final.