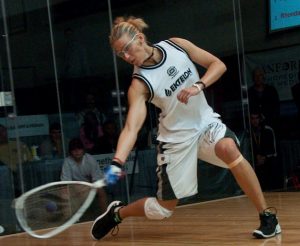 One of the "big 3" WOR events of the year was this past weekend; lets wrap up the play.  All the results are now in the www.proracquetballstats.com database, and i've interspersed links to the match report below per bracket. There were some upsets, and some expected match-ups for titles … all under the Vegas sun.
Men's Singles 3-wall: In the final Nick Montalbano blew away doubles partner William Rolon 3,8 in the final. Montalbano had survived an early round upset bid by Bolivian Conrrado Moscoso, who flew to this event with doubles partner Roland Keller before heading to Minnesota for the US Open. Match Report: https://bit.ly/2NeFOXV
Women's Singles 3-wall: It was #1 versus #2, with the two most dominant outdoor Women's players meeting once again for a title. And once again, Janel Tisinger-Ledkins came out on top over LPRT legend Rhonda Rajsich in a tiebreaker. Match Report: https://bit.ly/2NfnNsg
Men's Doubles 3-Wall: The biggest pro draw at the event (14 teams) came down to #1 versus #2 in the final, and it went to the current indoor World Champion team of Alvaro Beltran and Daniel De La Rosa over one-wall guru Robert Sostre and David Horn. Match Report: https://bit.ly/2NWkfQS
Women's Doubles 3-wall: four solid teams battled it out round robin style, and in the end the match to determine the winner went 11-10. The title goes to the team of Rajsich and Michelle Herbert over Michelle De La Rosa and Carla Muñoz. Match Report: https://bit.ly/2Oom2xB
Mixed Doubles 3-wall: The #1 seeded De La Rosa husband-wife team was unseated for the title by Rajsich and outdoor legend Rick "Soda Man" Rick Koll 11-9 in the breaker. Match Report: https://bit.ly/2NSEgYB
Men's Doubles 1-wall: The 3-wall runners up team of Sostre and Horn took out the two guys who made the singles final in Montalbano/Rolon 13,7 in a very New York-flavored 1-wall final. Match report: https://bit.ly/2Rl2I38
Mixed Doubles 1-wall: just two teams entered, but they played a tough tiebreaker. Rajsich/Koll over Tisinger and DC-native Jason Geis 11-4 in the breaker. Match report: https://bit.ly/2OmNzjb
Great weekends for, in particular, Montalbano (singles title, 1-wall doubles final), Rajsich (singles finalist, doubles 3-wall champ, Mixed 3-wall champ, and mixed 1-wall champ), Koll (Mixed 3-wall champ and mixed 1-wall champ), Sostre and Horn (3-wall mens finalist, 1-wall mens champ), Rolon (singles finalist, 1-wall doubles finalist), and Tisinger (Singles champ, 1-wall finalist).
————————–
Next Up: the US Open! I did daily singles summaries last year and hope to be able to find the time to do that again this year. Stay tuned to a Tuesday draw preview and hopefully daily summaries starting Wednesday.