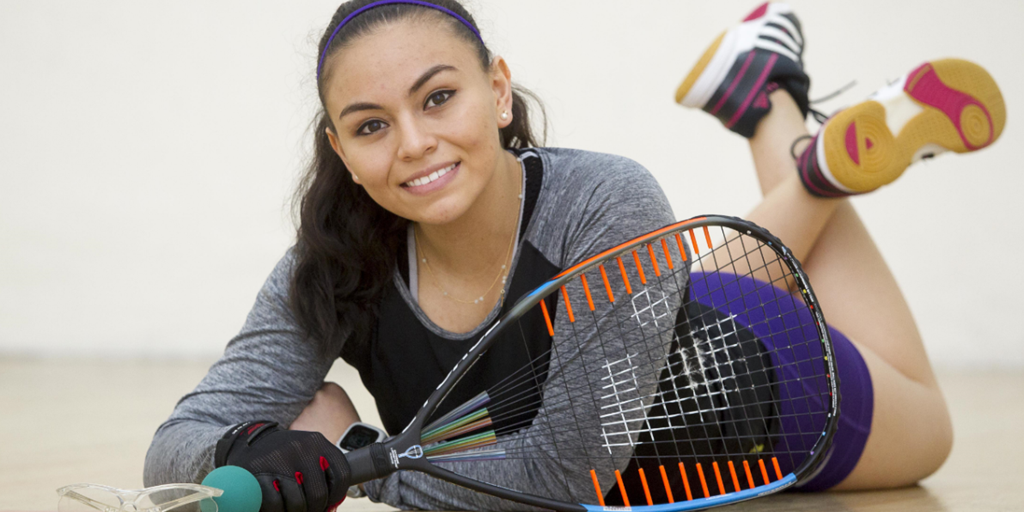 r2sports.com tourney home page: http://www.r2sports.com/website/event-website.asp?TID=30141
The LPRT is back in action, with its 6th event of the 2018-19 season. So far, #1 ranked Paola Longoria has made it 5 for 5 in wins, with four of those wins coming over her frequent doubles partner Samantha Salas Solis.
The annual event in South Carolina is a Grand Slam, and as such has drawn back into play a couple of intriguing players, which should make this draw more interesting than most. There's 26 pros in the draw, tying a season non US Open high.
Top 20 players missing: #5 Frederique Lambert who has fallen to her lowest ranking on tour since Nov 2015 as she juggles school and some early upsets in previous events. #11 Carla Muñoz Montesinos misses just her 2nd tourney in the last two seasons. #13 Jessica Leona Parrilla remains on the sidelines recovering from her knee injury suffered last spring. And lastly #18 Yazmine Sabja Ráquetbol did not make the long flight. So we have 9 of the top 10, and 16 of the top 20 in the event.
Notably present is reigning World Champ Ana Gabriela Gaby Martinez, who is back and ranked #9 (likely seeded 8th) after making the semis in the first two events of the season and then missing the next three.
Lets preview the draw.
Notable round of 32 matches; there's a ton of tough openers in this tourney.
– #16 vs #17 Masiel Rivera Oporto versus Brenda Laime Jalil; tough match for both ladies right out of the gate. Both players are playing the tour full time this year and are both looking for a breakthrough win. And … they're playing doubles together. 
– #14 vs #19: Maria Renee Rodríguez faces Kelani Lawrence in another tough opener for both. Lawrence has less pro experience but has proven her mettle in the USA amateur draws, while Rodriguez has a ton of international experience and has represented Guatemala in Juniors and Adult draws for nearly a decade.
– Cassandra Lee vs Laura Brandt: youth versus experience here in an intriguing first rounder.
– #10 Adriana Riveros versus #23 Cecilia Ceci Orozco Pratt: Riveros should prevail but she probably would have hoped for an easier first rounder.
– #15 Susana Susy Acosta vus #18 Ana Laura Flores : two Mexican lefties representing the two major Rball-playing communities (Chihuahua and San Luis Potosi) in the country battle it out in the first round. They met at the US Open with the youngster coming out on top and I'd lean that way again.
Round of 16 interesting matches:
– #8 vs #9: Cristina Amaya Cris vs Ana Gabriela Martinez: tough match-up for both players. They met at this stage in this event three years ago, an Amaya win, but Martinez has a whole lot of silverware since. 
– #3 Alexandra Herrera vs the Rodriguez/Lawrence winner: i'm not sure who comes out of the feed-in match, but Herrera will have to hustle to advance out of the 16s. Ironically, Herrera topped both possible players in successive rounds as she was winning the 2011 Junior Girls 16U championship.
– #7 Natalia Mendez vs #10 Adriana Riveros: these two top 10 players have only met once on tour; a 4-game Mendez win in June 2017. 
– #2 Samantha Salas vs #18 Flores: assuming Flores comes out on top in the 32s, she gets a first shot at Salas in any competition. Flores can beat top talent, but i'm not sure she can beat one of the top 2 players in the world.
Projecting the Quarters:
– #1 Paola Longoria vs #8 Gaby Martinez; These two have met no less than 15 times in pro and IRF matches … but it was last summer's World Championships that gave Martinez her one win in the series. Since then, they've met twice in the LPRT, both straight-forward Longoria wins. I see the same result here; Paola is just so dominant in the 5-game format.
– #4 Maria Jose Vargas vs #5 Rhonda Rajsich; these two have now met 28 times (26 on LPRT) and are dead even. 14 and 14 each. Along that same line, they've met twice this season … and split, Vargas winning in Chicago and Rhonda winning in Laurel. I'll predict Rajsich makes it two tourneys in a row.
– #3 Herrera vs #6 Nancy Enriquez; Despite being the higher seed, Enriquez faces the easier path to the quarters in this event. But Herrera owns the career h2h record 5-1, just beat her in Boston, and should advance again.
– #2 Salas vs #7 Mendez; they've got a scant 3 career match-ups, all three straight-game wins for Salas. She makes it 4 of 4.
Semis:
– Longoria over Rajsich. Despite Rhonda's demonstrated ability to still be able to top Paola, their only meeting on the pro tour in the last two seasons was a straight-game semis win in December. Expect the same here.
– Salas over Herrera; they've already met twice in the semis this season, and both times Salas advanced.
Finals: Longoria over Salas. You hate rooting for #1 vs #2, but these two players have represented the final in 4 of the 5 events so far this season … and the only one where it wasn't Longoria v Salas was an event where Salas couldn't make the tourney b/c of travel issues.
—————————-
In the doubles, we have some frequently-seen teams playing, including the reigning USA national champs Lawrence/Sharon Jackson, the US National runners-up in Rajsich and Lotts, The top team of Longoria & Salas, the Argentinian national team of Vargas & Mendez, and the Columbia team of Amaya & Riveros. Interestingly the top Guatemalans are not playing together this event.
I'm going with the top Mexicans versus the Argentinians in the final, with Longoria & Salas continuing their dominance with the win.