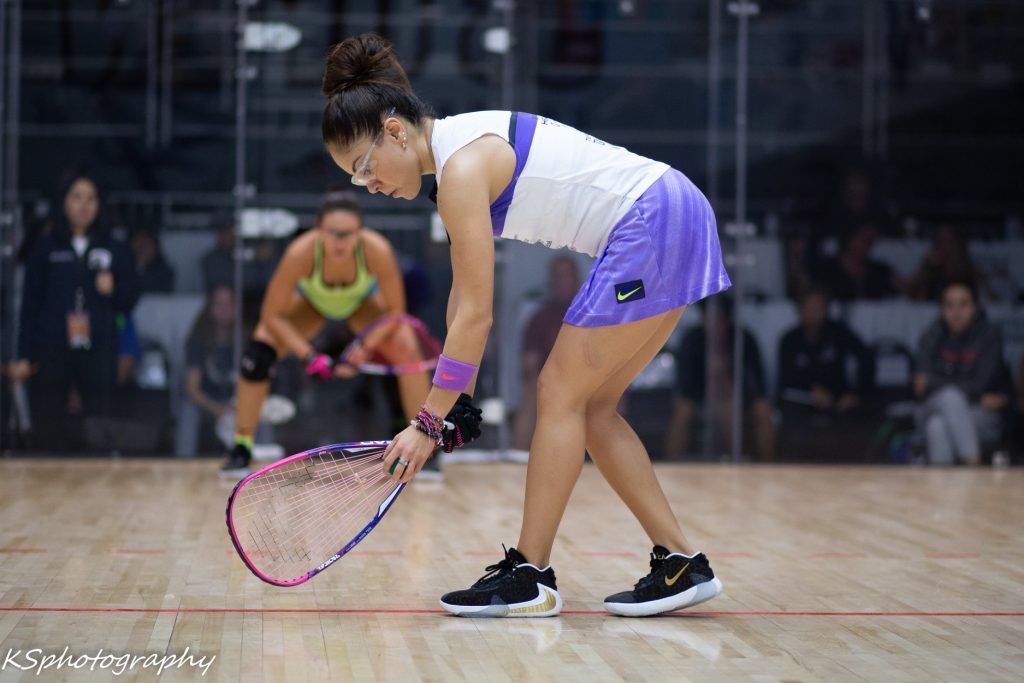 Congrats to your winners on the weekend:
Pro Singles: Paola Longoria
Pro Doubles: Paola Longoria & Samantha Salas
The 101st career tier-1 or higher singles win for Longoria (107 overall including satellites). And this is the 33rd pro doubles title for the Salas/Longoria pairing since we started tracking ladies pro doubles data in 2014. Amazing.
R2 Sports App home page for event: https://www.r2sports.com/website/event-website.asp?TID=37154
Lets review the notable matches in the Singles draw.
Singles Match report in the PRS database: http://rball.pro/C41F20
In thee 64s: Just three matches in the early days, but an opening barn-burner as Texan Linda Tyler, who drove 13 hours the day before the match to get an 8am start time, downed Bolivian vet Jenny Daza Navia in an 11-10 back and forth match.
In the 32s, here were the notable and upset matches:
In the 16/17 match, Kelani Lawrence showed no signs of rust and came out blazing against her USA top rival Hollie Scott. Lawrence raced to a huge early lead in game one, held on to take that game, then chipped away at Scott in game two to advance 11,7.
#8 Valeria Centellas made a statement in topping dark-horse favorite Lucia Gonzalez in strong fashion 11,9. Centellas has added a power component to her game that should let her really challenge the players ranked above her, and did not let the dangerous Gonzalez get the upset here.
#5 Rhonda Rajsich made fast work of 19-yr old Shane Diaz, playing in just her 2nd pro tournament.
#12 Nancy Enriquez put on a serving clinic and blasted #21 Ana Laura Flores 4,3. Enriquez mixed up her serves, using deadly jam serves and devastating drive serves to blow past a dangerous 1st round opponent in Flores and advance.
#4 Angelica Barrios – Raquetbolista was pushed in her opener against Daniela Rico before advancing in a tie-breaker. 14,(12),3.
#19 Brenda Laime Jalil got the upset over her country-woman Adriana Riveros 11,11 in what might portend to be a changing of the guard in Colombian racquetball. Amaya and Riveros have long been 1-2 in Colombian racquetball heirarchy; Laime is looking to break into that grouping to represent the country at the next Int'l event.
In the 15/18 match, Sheryl Lotts saved match points against and came back from 0-6 in the breaker to beat Maria Renee Rodríguez in the best match of the round. Final score (12),14,8. Really very little between these two players on the day and a shame one had to lose.
– #2 Alexandra Herrera made fast work of #31 Erika Manilla, a match many thought would be closer.
In the 16s:
#1 Paola Longoria got a scare in game two, as Lawrence raced out to a huge early lead, but reeled her back in and advanced in two games over Kelani 5,13.
#8 Centellas got her second solid win in a row, downing touring veteran Chilean Carla Muñoz Montesinos10,9.
#12 Enriquez continues to look rejuvenated after easing past #5 Rajsich in two easy games 7,6.
#13 Montse Mejia took out the Kansas City finalist Barrios in two close games 12,14. The last time these two met was the semis of 2018 World 18U Juniors, and these two (along with Martinez) represent a golden generation for women's racquetball.
#3 Samantha Salas Solis eased past a tough #19 Laime 14,9.
#6 Natalia Mendez continues to get statement wins, this time downing reigning World Champ Ana Gabriela Martínez 7,10. Mendez clearly has a new approach in the service box and has some added pace; her projected quarter will be telling.
#7 Jessica Parrilla] played the round's only tiebreaker, advancing past veteran Colombian Amaya Cris 11-8.
– #2 Herrera downed her second American in a row, moving past #18 Lotts in two.
In the Quarters
Longoria dominated Centellas 2,6. Longoria played bottom board over and over and the young Argentine could do little to stop her.
Mejia outlasted her countrywoman Enriquez, splitting the first two games then running away in the breaker. 14,(13),1. Enriquez has made a big statement in this event.
Speaking of statements, Mendez ran past Salas 7,6 to advance to just her 5th career semi final. Whatever she's been doing during the pandemic, its working.
Herrera dodged a bullet and took out her countrywoman Parrilla in a tiebreaker. Score 7,(14),3. Herrera continues her steady-eddie pace and advances to another semi.
In the Semis, both promising match-ups turned out to be two game blowouts.
Longoria downed her erstwhile rival Mejia for the Mexican #1 crown 4,7. It has now been more than two years since Mejia's famous win over Longoria in the 2019 Mexico National finals, and Longoria has been dominating their matchups of late. Mejia needs to regain her mojo from that final and figure out a pathway forward if she wants to break through.
Herrera cruised past Mendez 6,8. Mendez' fantastic tourney run ends, and Herrera proves the doubters wrong by living up to her seed and advancing to her 5th career final.
In the Finals, Longoria and Herrera played a back and forth first game, but then Paola ran way in the second to take the title 12,3.
Points Implications of results
Thanks to the lack of pro events, when this tournament posts we're set to have some pretty wholesale changes at the top unless the LPRT decides to persist some tournament points or go to a longer term before retiring points. But, assuming we're staying with a 12-month rolling calendar, here's what the rankings will look like after these results:
Herrera moves to #2
Barrios will move up to #3
Mendez will jump to #4, all three career highs
Mejia jumps from 14 to 6, much more in line with her true talent level.
Gaby Martinez jumps from 11 to 7.
Salas drops from 4 to 8, which may not be in line with her true talent level but is indicative of her performance lately in pro events.
Rhonda drops from 6 to 12, which would be the lowest she's been ranked professionally since 1999.
Vargas drops from 2 all the way to 13 thanks to missing this event.
Which would make the top 8 seeds in the next event go like this: Longoria, Herrera, Barrios, Mendez, Parrilla, Mejia, Martinez, Salas. Which puts Mejia and Longoria on opposite sides of the draw.
Doubles review
Match report in the PRS database: http://rball.pro/C0E57E
A healthy doubles draw featured 15 teams and some great match-ups. The 16s had several tie-breakers, including an 11-10 win for the American duo of Rajsich/Lotts over Laime/Gonzalez.
The quarters featured the all-American team of Rajsich/Scott taking a game off the #1 team but losing. The Guatemalan national team cruised into the semis. The #2 Mexicans were dominant in games 1 and 3 but took game two off in advancing, and the USA #1 team of Scott/Lawrence took out the Argentine national team in an upset.
In the semis, it was Mexico over Guatemala in one side (though the improving Guatemalan team stretched the #1 seeds to 11-9 before falling) and Mexico over USA in the other to setup another all Mexican final.
In that final, a final seen more and more on tour, we saw Longoria/Salas taking out Mejia/Herrera in two quick games.
Other Major Draws:
Women's Open featured a 12-person draw with some interesting results between touring pros outside the top 10. In the final, we saw Micaela Meneses Cuellar take out Manilla in the final. Meneses turned 17 just a couple of months ago and took out three solid pros en route to the title.
– Men's Open was very entertaining; 25 players from everywhere from Mexico to Maryland duked it out. In the final IRT top8 player Lalo Portillo took out the #2 seed from Maryland MoMo Zelada in two games. Portillo blew through this draw, never giving up more than 8 points in a game all weekend.
Thanks for all the streaming on the weekend, especially from broadcasters Timothy Baghurst, Jerry J Josey Jr., and Tj Baumbaugh, along with JT R Ball who flew in from California to help out with streaming and broadcasting. Great job all; it was a grueling broadcast schedule.
Thanks to the Tourney Directors Josey and Jacob Vargueuse for putting this event on!
Reminder to Players! Please like and follow this page so that when I tag you, you see it. Facebook will only retain tags of people that like/follow a page, which means lots of you are not getting the notoriety of getting tagged and noticed on FB.
Next up?
This coming weekend is an RKT event in Chihuahua that should be interesting. The NMRA has its Nationals in St Louis. The next LPRT event is Teamroot super max is June 20th.
tags
LPRT
USA Racquetball
Federación Mexicana de Raquetbol
RKT
Federación Boliviana De Raquetbol – Febora- Febora
Federación Boliviana de Racquetball
Racquetball Colombia
Federacion Colombiana de Racquetball
Asociación Argentina de Racquetball
Federación Chilena Racquetball
Racquetball Rancagua, Chile, Chile
ASOCIACION DE RAQUETBOL DE GUATEMALA
Reaching Your Dream Foundation
Formulaflow
Hashtags #racquetball #proracquetball #outdoorracquetball #irt #lprt #wor