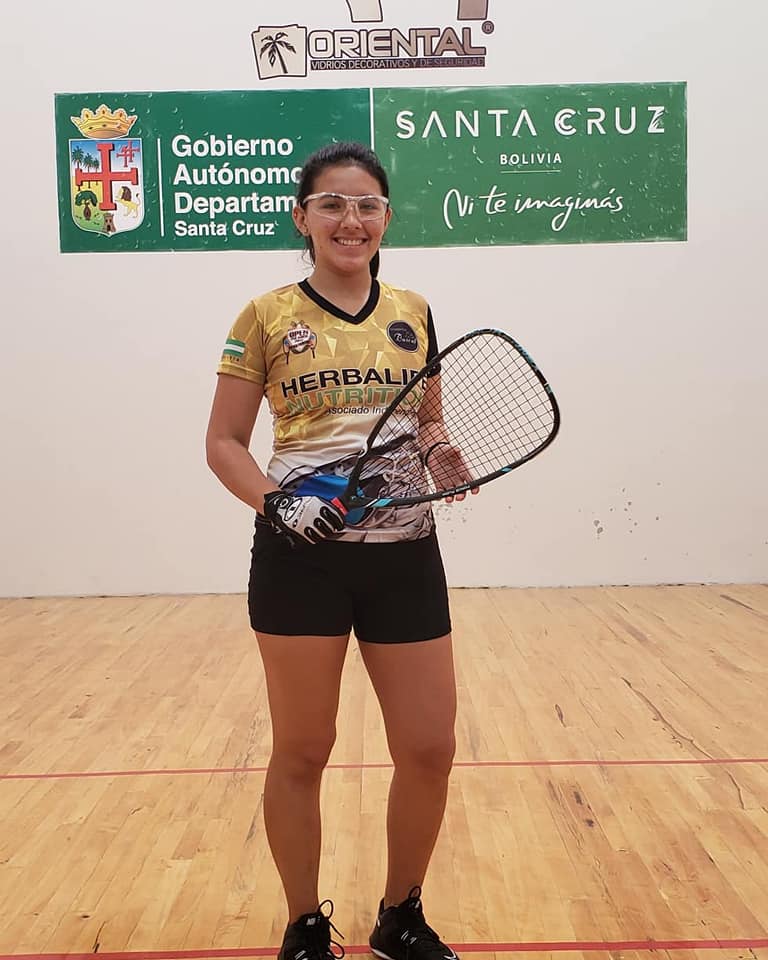 Congrats to your winners on the weekend:
– Singles: Paola Longoria
– Doubles; Natalia Mendez & Valeria Centellas
In Singles, this is Longoria's 100th career Tier 1 or higher pro win, and its the biggest pay day of her career (she has an additional 6 satellite tour wins, which is why last year's US Open was advertised as her "100th pro win"). After her tough opener, she basically destroyed the field, allowing 32 points in four games from the 16s onwards, and has opened up a massive lead over #2 Vargas for second place in the rankings.
On the doubles side, This is Mendez' third career pro title, with her third different partner. Centellas, who famously won the 2018 World Adult doubles title with Yazmine Sabja Ráquetbol] as a 16yr old, continues to show off her doubles chops playing for her new country, and the Mendez/Centellas partnership may be a pretty solid one going forward.
R2 Sports App home page for event: https://www.r2sports.com/website/event-website.asp?TID=36519
——————
Lets review the notable matches in the Singles draw.
Singles Match report in the PRS database: http://rball.pro/2A42D4
---
In the 32s, we had some solid matches but no surprises.
– #1 Paola Longoria had perhaps the toughest round-of-32 match she's ever had, getting pressed by her young country-woman Lucia Gonzalez 10,11 in the first round. Gonzalez played well and was not awed by the #1 player, but superior fitness and consistency of the world's top player shown through in the end.
– #16 Masiel Rivera Oporto held serve against #17 Erin Nocam Rivera Groves, advancing in two tough games 10,13.
– #21 Guatemalan #1 Ana Gabriela Martínez] upset #12 Colombian #1 Adriana Riveros Racquetball 7,8 to advance.
– #20 Hollie Rae Scott downed fellow American #13 Sheryl Lotts in two 3,9 to move on. Scott continues to show why she may be in line to race up the pro rankings with a full season of events, and why she's currently the #1 ranked American woman.
– #11 Nancy Enriquez advanced by the skin of her teeth, saving two match points against and squeaking out an 11-10 tiebreaker win against Bolivian junior #22 Micaela Meneses Cuellar. Enriquez cruised in game one to win 15-8, then Meneses just steamrolled to an 15-5 win in game two. In the breaker, Enriquez got up early, then Meneses crawled her way back. For a bit it looked like an upset in the making, but at the end-game both players made critical misses and Enriquez utilized a backhand drive to close it out. Great match. It was the sole match to go breaker in the opening round.
– #23 Angelica Barrios played consistent and conservative racquetball to down #10 Amaya Cris 7,10 and move on. Amaya had the power, but Barrios kept calm and kept the ball in play over and again, and ground out a win.
—————-
In the 16s, we got 5 tiebreakers and a lot of close matches.
– #1 Longoria made short work of #16 Rivera 3,1.
– #8 Jessica Parrilla and #9 Carla Muñoz Montesinos were the last match of the night to finish, and gave the tournament perhaps its best match of the day. An 11-10 nail-biter that was back and forth in the tie-breaker, with both ladies having serves for match point saved against twice. Parrilla advances (10),13,10.
– #21 Martinez got her second upset of the tournament's opening day, downing #5 Rhonda Rajsich 6,10. Martinez did not look troubled in the match and could be a dark-horse for further upsets. Rajsich suffers some unlucky seeding to face Martinez in the 16s and exits.
– #20 Scott got the biggest win of her career, downing #4 seed Samantha Salas Solis in a tiebreaker to move into the quarters. Scott was able to keep pace with the tour's hardest hitter, and kept her composure as the match got tight at the end. Salas did not show much ill effect from her off-season shoulder surgery; she just ran into a hot player at the wrong time. Final score 11,(11),7
– #3 Alexandra Herrera came from a game down to top the resurgent #14 Maria Renee Rodríguez (11),11,2. MRR has stepped up her game, but Herrera (sitting at what I believe is her career best ranking #3) battled back to move on.
– #6 Natalia Mendez Erlwein played a tight game one with #11 Enriquez, then turned on the jets and cruised to a two game win. Mendez looks like she's been working on her drive serve technique and aced Nancy repeatedly in the 2nd game to race to a win. She looks like another upset special in the quarters.
– #23 Barrios defeated #7 Valeria Centellas in a tiebreaker in a rematch of 2019's junior world 18U title final to move on. An unlucky match-up here between two of the best young players in the world, both of whom look like they could be major factors in the sport moving forward.
– #2 Maria Jose Vargas Parada and #15 Montse Mejia played the first two games as close as one might have expected, splitting the games 12 and 14, but in the tiebreaker Vargas blitzed to a 7-0 lead and made it stick, taking advantage of some tentative shots in the breaker from Mejia to advance.Seed report: your 8 quarterfinalists are 1,2,3,6 … and 20,21 and 23. Three seeds in the 20s advance to the quarters.
—————-
In the Quarters, we saw some more tiebreakers and more upsets, with two players seeded in the 20s advancing to the semis.
– #1 Longoria faced off against #8 Parrilla, in a rematch of the finals of the 2020 Mexican Nationals. Paola left little doubt who the top player in the world is, blasting Parrilla 5,1 to move into the semis.
– In a battle of 20-something seeds to get to the semis, former World Champ Martinez cruised to a game 1 win, then lost her drive serve accuracy and allowed top American Scott back into the match. In the breaker though, she re-found her weapon and raced to an 11-1 win to move into the semis. Final score: 4,(12),1
– #3 Herrera held serve and moved into the semis over the resurgent #6 Mendez 9,14. Herrera has been consistently making the semis as of late, advancing to this gate in the last four pro events in which she's appeared. It is one of the reasons she's elevated to #3 on tour.
– In one of the more startling turnarounds i've seen on the pro tour lately. Bolivian junior Barrios came back from a game one drubbing 15-1 to dominate in game two, then hold on in a tight tiebreaker to beat the #2 seed Vargas and advance to the semis. Final score: (1),8,10. Barrios found a serve that vexed Vargas for most of game 2 and 3, and got a lot of 3-shot rally points off of it, enough to drive Vargas to frustrations. At the tail end of the breaker there were a couple of avoidable hinder calls, heightening the tension at the end. The 17-yr old advances to the semis.

Seeds in the semis: 1,3, 21 and 23. A tale of two populations of players right now in the world. The regulars and those talented players that are not playing full-time but which are equally as good as the top touring pros.
—————
In the Semis; one blow out, one more upset.
– #1 Longoria dominated her frequent international rival #21 Martinez 1,7 to move into the final. Martinez could not get anything going against the GOAT, and Longoria looks unstoppable. Martinez famously topped Longoria for the 2018 world title … but it remains her sole win in 14 tries against the world's #1.
– #23 Barrios pulled off yet another upset in a tournament filled with them, and moved to the finals with a hard-fought two game win over #3 Herrera. Barrios was fatigued from her efforts on the day; she walked straight out of a tie-breaker win in the Women's Open and onto the court to play this semi, and it showed in her play. But, she held on in game one, saving game points against, then pulled out game two. Final score 14,10. A #23 seed into the final is the 2nd highest seed on record ever to advance that far (behind only Rajsich's amazing run in the 2000 US Open, where she reached the final as the #44 seed).
In the Finals

Barrios was talked into bowing out of the Women's open draw, where she would have had to play two singles matches before her noon sunday pro final. Thus, she played the biggest match of her life fresh. Barrios was able to hang with Longoria early in each game, standing up to the champ and putting balls away, but Longoria's tenacity and aggressiveness on the court wore down the young Bolivian, and the final score showed: Longoria took the match 5,7.
—————-
Points Implications of results.

The re-start of the tour after so many months had drastic effects on the tour ranking, and, with a huge influx of points from the "super max" grand slam and surprising quarter and semi-finalists, we're going to see huge shifts again. If i have my points projections right:
– Barrios jumps from #32 to #8 thanks to the massive influx of points making a Grand Slam final.
– Mendez jumps her two closest rivals to rise to #4, a career high ranking for the Argentina representative.
– Martinez jumps from #26 to #13 and would be well positioned to make more deep pro tourney runs.
– Scott jumps from #25 to #15 with her excellent showing.

The top 30 pros who missed the event all lost at least 4-5 ranking slots as a result of the big jumps above them. They'll have to make up ground the next time we have an event.
—————
Doubles review

Match report in the PRS database: http://rball.pro/8FF6BA

15 teams battled it out for the huge doubles purse here. Seeds held in the first round.
In the quarters:
– #1 Longoria/Salas cruised past #8 Laime/Rivera in two.
– #4 Herrera/Mejia held serve against their Mexican counter parts #5 Parrilla/Rivera, but it took a tiebreaker to move on.
– #6 Martinez/Rodriguez took out Munoz/Enriquez in two games. The Guatemalan national team looks tough.
– #2 Mendez/Centellas ran past the Colombian national team of Riveros/Amaya. The newly-formed Argentinian team did not skip a beat and both players are excellent doubles specialists.
In the semis
– #1 Longoria/Salas held on after dropping the first game against their frequent rivals, #4 Herrera/Mejia, and moved into the finals with an 11-8 win.
– #2 Mendez/Centellas continued to dominate, crushing the Guatemalans in game two to advance 13,4
In the final…The Argentine doubles specialists split the first two games, but got really hot in the breaker and raced to the title win in an upset over the #1 Mexican team.
—————-
Women's Open: The Women's Open draw had a huge purse, and a large draw of players competing for it.

The quarters went to seeds, mostly top non-top 8 touring pros.

In the quarters, Barrios upset top seed Munoz, Parrilla ousted Riveros, Centellas crushed Scott, and Enriquez took a tiebreaker win over Amaya.

In the semis, Parrilla got a walkover when Barrios withdrew, while Centellas topped Enriquez in two. In the final, Centellas topped Parrilla in two close games to take the title and finish off an impressive event.
—————-
Thanks for all the streaming on the weekend, especially from broadcasters Timothy Baghurst, Jerry J Josey Jr.., and Tj Baumbaugh . Also shout out to Sandy Rios who did a great job on the mike all weekend, and to Leo Ray Vasquez who flew in to help with dual-court streaming.
——————
Next up? The next known pro tournament on the books will be the IRT Suivant Consulting Grand Slam in Atlanta in early January.
——————-
TagsInternational Racquetball TourLPRTInternational Racquetball FederationInternational Racquetball Federation – IRFPan American Racquetball Confederation – PARCUnitedHealthcare US OPEN Racquetball ChampionshipsUSA RacquetballRacquetball CanadaFederación Mexicana de RaquetbolFederación Boliviana De Raquetbol – FeboraFederación Boliviana de RacquetballRacquetball ColombiaFederacion Colombiana de RacquetballAsociación Argentina de RacquetballFederación Chilena RacquetballRacquetball Rancagua, ChileASOCIACION DE RAQUETBOL DE GUATEMALAReaching Your Dream FoundationHashtags #racquetball#proracquetball#lprt