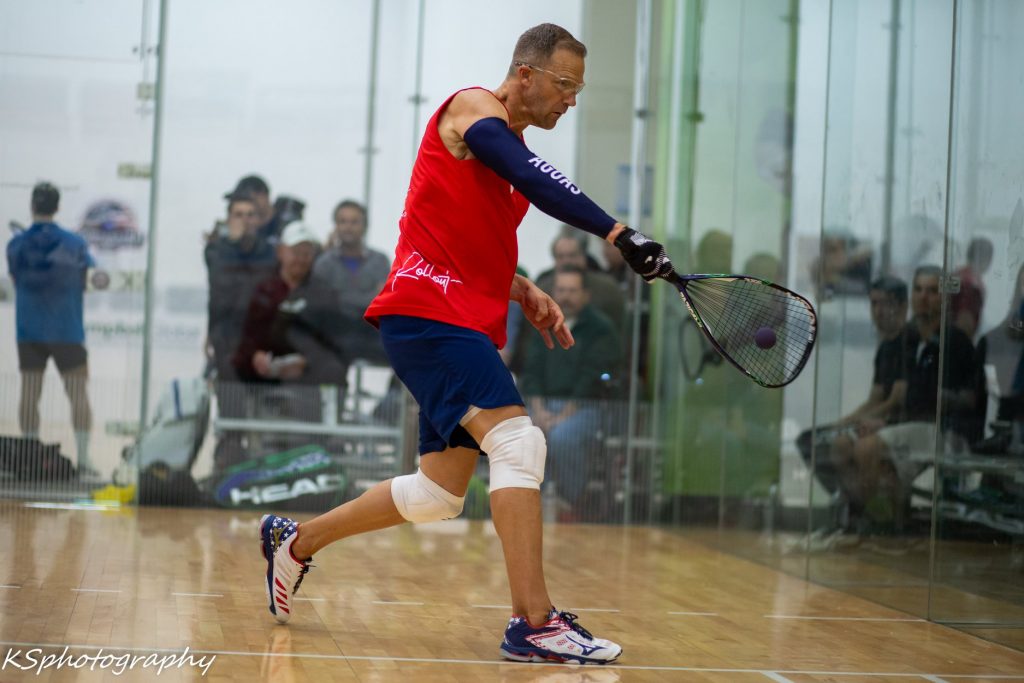 (Note: we'll wrap up the Juniors in a separate post tomorrow).
Congrats to your National Team Qualifiers on the weekend:
Men's Singles: Rocky Carson over Alex Landa
Women's Singles: Rhonda Rajsich over Kelani Lawrence
Men's Doubles; Rocky Carson & Charlie Pratt
Women's Doubles: Rhonda Rajsich & Erika Manilla
The US National team is comprised of the two singles finalists plus the doubles winners, so all the names above are now on the team for 2021 and into 2022. They will represent the USA at the Pan American Racquetball Championships in Santa Cruz, Bolivia in early September and at the World Championships in Guatemala City at the end of October. They may very well also represent the USA a third time at PARC in the spring of 2022, assuming the world goes back to normal post Covid.
R2 Sports App home page for event: https://www.r2sports.com/tourney/home.asp?TID=37673
Lets review the draws.
---
Men's Singles:
Match report in PRS: http://rball.pro/120468
12 men entered the draw. There was one consequential early match: Minnesotan John Goth faced off against #5 seed Charlie Pratt in a tough opener for both; Pratt advanced 8,8 to move into the quarters.
In the quarters
#1 Carson blitzed Blake Hansen 0,1 to move on.
#5 Pratt upset #4 Thomas Carter​ 11,9 in a sometimes choppy match, but the veteran Pratt did what he needed to move on.
#3 Jake Bredenbeck outlasted a fierce challenge from #6 Miller 2,(10),6
#2 Alex Landa ​had little trouble moving past Sam Bredenbeck 1,5.
In the semis, chalk:
#1 Carson downed his doubles partner Pratt in a close, tactical match 13,9
#2 Landa continued his career unbeaten streak against #3 Bredenbeck, winning 3,11 and guaranteeing his spot on the US National team for the 2nd year in a row since "defecting" from Mexico.
In the final, Carson reversed the course of their latest matchups and topped Landa 12,13 to take the title. This is his 8th national title; his first came in 2000, meaning he's had titles 21 years apart. Amazing. See here: http://rball.pro/E7F463 for a list of all Men's US national amateur champions dating to 1968.
---
Women's Singles
Match Report: http://rball.pro/AABC55
10 women entered the draw. In the play ins, two younger players advanced into the main draw, with 18U competitor Annie Roberts getting a nice win over Jessica Chen and Graci Wargo getting a walkover into the qtrs.
In the quarters, chalk:
#1 Erika Manilla cruised past the junior Roberts 7,2
#4 Kelani Lawrence got a walkover against Texan Linda Tyler
#3 Hollie Scott make quick work of Lexi York​ 1,7
#2 Rhonda Rajsich cruised past Wargo 5,1
In the semis, a couple of interesting results to me:
#4 Lawrence took out the #1 seed Manilla 13,6. Though an upset by seed, Lawrence is the defending US national champ and was a favorite to advance to the final again.
#2 Rajsich took out the winner of the most recently held US national qualifier in #3 Scott in a tie-breaker. This result surprised me, as Scott has been on fire lately in pro and outdoor events, while Rhonda has scuffled a bit.
In the final, another surprise to me as Rajsich avenged her 2019 loss to Lawrence at Nationals and claimed the title 7,14. This win is Rhonda's 12th US National title, which is the most of any American women and breaks the record for most ever national titles held by Jen Saunders in Canada (thought I will say, our Mexican records are a little spotty and it is likely Paola Longoria​ has more for Mexico). See this link for all Women's US National title holders, dating back to the first ever Women's championship held in 1970. http://rball.pro/CE3A9F
---
Men's Doubles
Match Report: http://rball.pro/8AC9C1
The Covid-forced withdrawal of Landa/ Sudsy Monchik forced a last minute re-drafting of the draw, and some pre-tournament complaints about seeding were resolved on the court. The #2 seeded brother team of Jake Bredenbeck and Sam Bredenbeck withstood a test from the #3 seeded team of Troy Warigon and Maurice Miller to advance to the final There, they met the 2019 champs and new #1 seeds of Rocky Carson and Charlie Pratt Racquetball​, who had advanced past John Goth​ and Blake Hansen​ in the semis.
In the final, Rocky/Pratt came back from a close game 1 defeat to cruise in game two, then outlast the Bredenbecks in the final to take the championship.
This win is Rocky's 12th national doubles title and Pratt's 2nd, and it returns Rocky to the National team for (I believe) the 16th time.
---
Women's Doubles
Match Report: http://rball.pro/D93186
An interesting draw and interesting results to this pundit.
1 seeds Rhonda Rajsich teamed up with a new partner in Erika Manilla for this event, and the partnership paid off. They advanced past #4 seed Lexi York and Linda Tyler in the top semi. The bottom semi featured a very tense match that featured what had to be dozens of appeals and the need for line judges before it was all over. The #3 seeded team of Michelle De La Rosa and Sheryl Lotts outlasted and upset the #2 seeded team of Kelani Lawrence​ and Hollie Scott​ 11-9 in the breaker. De La Rosa and Lotts made the interesting decision to travel to Des Moines and only play doubles, and it seemed like it paid off with their shot at the title.
However, it was not to be; the #1 seeds won the first game in the finals with comfort and then staved off an attempt to push through to the tiebreaker. Rajsich and Manilla win 8,14 to take the National doubles crown.
It is the 3rd National doubles title for Rajsich, and the 2nd in a row for Manilla. It returns Rajsich to the national team for (I believe) the 12th time.
---
Thanks for all the streaming on the weekend, especially from broadcasters Leo Ray Vasquez and Dean DeAngelo Baer and Pablo Fajre, who flew in the IRT crew to help with production.
Thanks to the Tourney Director Connor Shane putting this event on!
Reminder to Players! Please like and follow this page so that when I tag you, you see it. Facebook will only retain tags of people that like/follow a page, which means lots of you are not getting the notoriety of getting tagged and noticed on FB. If your name is here and it isn't tagged … it probably means I attempted to tag you but FB stripped it.
---
Next up?
The next major event on the schedule is Mid August' World Singles & Doubles, put on by Jim Hiser in Denver, Colorado. There's an IRT tier 5 scheduled in Atlanta the first weekend in august and MRF Nationals in the interim. We're hearing rumors of Mexican national events being shoehorned in at some point this fall, but no word yet.
---
tags/Sponsor links
LPRT​
International Racquetball Tour​
International Racquetball Federation – IRF​
Pan American Racquetball Confederation – PARC​
USA Racquetball​
Hashtags #racquetball #proracquetball #outdoorracquetball #irt #lprt #wor