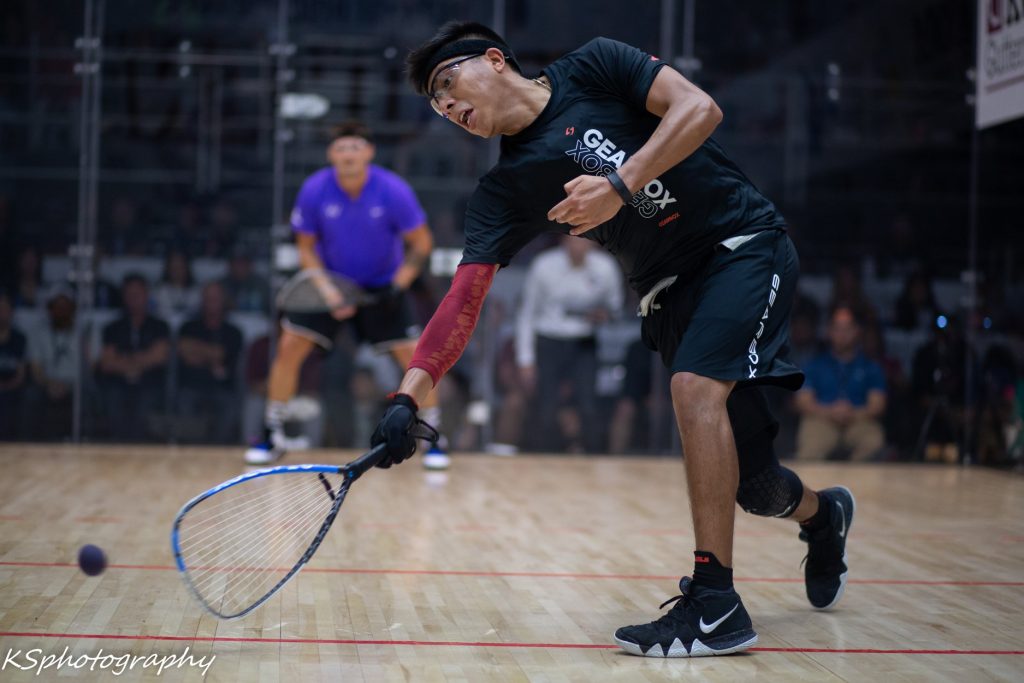 A quick back to back from last week's Arizona open is this coming weekend, as the tour moves from west coast to east coast and picks up a bunch of Florida players for the 2021 IRT Sarasota Open.
This is the last event of the 2021 season … and with the IRT going to a calendar year season, this is the last chance for anyone to catch DLR for the year end title (spoiler alert: it isn't happening; he's got nearly a 600 point lead on Landa and his expiring 2019 points are miniscule).
Anyway, 42 IRT players are entered into the singles draw, and there's a full doubles draw here as well, so lets preview the matches to watch for. Furthermore, with Sarasota's proximity to Worlds (just a couple weeks
away), this tourney has a ton of international players getting in last minute practice ahead of Guatemala. The full Guatemalan team is here (the Martinez brothers, Mendoza, Salvatierra, Wer, Galicia and Julian Cruz), the Chilean representatives are here (Castro, Gatica and Salgado), and the full Bolivian team is here (Moscoso, both Kellers, Carrasco and Reque). So we should see some great international matchups this weekend.
The seeds did not appreciably change from last weekend, so we're set to see a lot of the same potential matchups that we saw last week.
In the 128s:
18U up and comer Josh Shea comes down from NY and gets a shot at a long-time Canadian international vet Pedro Castro, recently repatrioted to represent Chile.
Marylander Dylan Pruitt gets a challenge against another Chilean, Rafa Gatica.
An intriguing matchup between two youngsters in Colombian Juan Pablo Rodriguez Castrillon and Bolivian Esteban Reque Zambrana.
The two Martinez' from Guatemala have to play first round.
Floridian Matt Fontana takes on Guatemalan Geovani Mendoza for a shot at Costa Rican veteran IRT player Felipe Camacho.
In the 64s:
Sam Bredenbeck v Josh Shea could be a fun match of Americans who might be evenly matched.
Bolivian vet Kadim Carrasco could face off against top Florida player Alex zamudio.
Mexican 18U champ Erick Trujillo returns to action and faces the winner of the Martinez clash, likely top Guatemalan Javier Martinez.
Reigning Florida state champ @Nolsen Jimenez, if he can take out Guatemalan veteran Edwin Galicia in the first round, projects to face another Guatemalan vet in Christian Wer.
Projecting 32s:
Sebastian Fernandez is set to face the Bredenbeck/Shea winner
Eduardo Garay Rodriguez projects to face Carrasco yet again; they've met a couple times recently and always play a hard-hitting match.
The loser of the "who has to face Trujillo" lottery ticket is none other than Bolivian Carlos Keller Vargas. Really tough match-up for both players at this juncture; everyone is looking at Trujillo right now as the "next big thing" to come from Mexico, but in the meantime Keller is pushing to be "the next guy to win a tourney."
The champion from last weekend Mario Mercado projects to face top Floridian Jimenez.
Fly all the way to Florida to play your doubles partner: Andres Acuña projects to face Camacho in the 32s.
Looking ahead at the 16s:
#1 Daniel De La Rosa has to face #16 Fernandez again; he was pushed but advanced 11,13 last week.
#8 Jake Bredenbeck projects to face #9 Alvaro Beltran, who bowed out of last week's singles event with an injury and more and more seems to want to transition to be mostly a doubles player.
#5 Lalo Portillo99 gets a winnable match against #12 Sebastian Franco, though Sebastian took out #3 Murray last week.
#4 Andree Parrilla gets the red-hot #13 Adam Manilla in the 16s; they met in the quarters last week and Andre needed a tiebreaker to mvoe on. Can Adam get a win?
#3 Samuel Murray will look to avoid another one-and-done, this time against Garay.
#6 Rocky Carson will not like his chances here; he is set to face the winner of Keller/Trujillo. Keller should move on from the 32s, and should represent a difficult challenge for Rocky here. Upset watch.
#7 Conrrado Moscoso, who bowed out of Arizona last minute, is back in action here and is set to face none other than last week's winner in Mercado. Tough break for Mercado, who has not had success against Conrrado lately.
#2 Alex Landa , once again, faces Acuna in the 16s. These guys must be tired of playing each other. Landa needed a breaker last week to advance and may need another one here.
Projecting the quarters:
#1 DLR blasted #8 Jake last weekend; can Jake make more of a match here?
#4/5 Parrilla/Portillo has been close lately; can Lalo push through and get a signature win?
The #3 v #6 quarter could just as easily be #10 v #11, but if its Murray/Carson I like the veteran over the Canadian.
In reality i'm thinking it will be Murray vs Keller, and I like Keller.
#2 Landa vs #7 Moscoso; Landa has been struggling lately, while Moscoso is looking for a win. I see Moscoso dominating and moving on here.
Semis:
#1 DLR over #4 Parrilla; like I said last week, these two play basically the same game… but Daniel is much better at it.
#7 Moscoso over #11 Keller; yes I know Keller shocked Moscoso in Minneapolis; he won't get shocked again.
Final:
– #7 Moscoso finishes the season win a win over DLR, who might not entirely care about this title once he figures out he's sewn up the year end #1.
A great doubles draw is set for Sarasota: 15 teams and a ton of talent.
The #1 seeds DLR/Beltran have their hands full; they project to face a tough all-mexican team of Parrilla/Fernandez in the quarters, then a top Bolivian team in the semis (whoever survives teh rematch of the Bolivian national
doubles final from earlier this year).
From the bottom half, some new teams are set to compete with top veteran doubles players Carson and Mercado playing with Portillo and Manilla respectively. But they'll be facing against a very good #2 team of Landa/Murray.
In the end, i'm predicting a 1 v 2 final, with the top seeds winning.