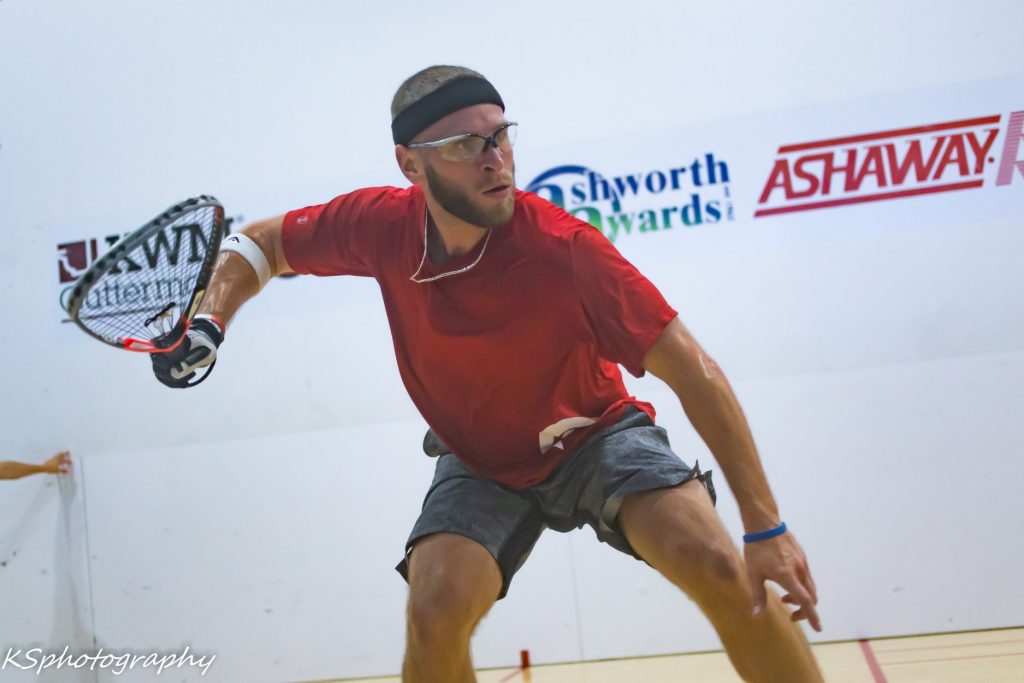 The first ever Court Wars PPV racquetball event, held a the Bay Club in Pleasanton, CA, is in the books; here's a wrap-up of the action.
In the first match, two NorCal juniors (well, near juniors) Antonio Rojas and Nikhil Prasad battled it out.
Prasad looked to me like he's grown 6 inches since we last saw him, and he came out firing. Rojas came out quite cold and got smoked in the first game 11-2. Tatoe rebounded, found his game, and took the second game 11-7. In the breaker, Rojas seemed to tire a bit, and tried to keep it close, but Nik pulled away to take the match. Final score: 2,(7),7.
In Match #2…Mercado came out on fire, and won a crisp first game 11-4. Parrilla rebounded and played smarter shorts in game two and reversed the score, winning 11-4. After flipping a coin for the serve in the breaker, Mario ran out to a 4-1 win and was looking good … then Parrilla turned it on, went on a 10-0 run and took the breaker. Final score: (4),4,4
In Match #3, the two ladies pros battled out a back and forth match. In game one, Parrilla cruised to an 11-6 win. Erika came roaring back and raced to an 11-1 game two win. In the breaker, Erika got rolling in the service box, won a fantastic rally at 9-5, got a service winner on an iffy-maybe-it-was-a-screen-serve, then got a clear winner to take the 11th point and the match. Final score: (6),1,5.
Match #4 was perhaps the most anticipated "fun" match of the evening, featuring a couple of players who we know would "talk" their way through the match. Rojas showed a bit more rust than was expected, and Diaz was clearly frustrated by the calls, and the Bredenbeck's won in two.
Match #5 was an interesting one: a rematch of The World's final from just a week ago. Acuna came out hot and just blasted Landa, who looked like he was nursing an injury. But whatever was bugging Alex loosened up, and he cruised to game 2 and 3 wins.
—-
An excellent job by all parties, pulling this off for the first time.
Thanks to all the sponsors who made this possible including @Donald Williams and Williams Accounting & Consulting, Suivant Consulting , Dovetail/Mike Kinkead , plus all the other sponsors. Congrats to Adam Manilla , Erika Manilla and @Manilla Athletics for the great idea and for putting it on. Thanks to Wayne Antone for reffing, @Bobby Horn and @Elli John and Brian Pineda for all their announcing work.