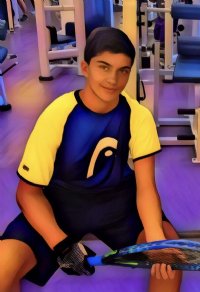 We're back on the US National tournament circuit, a month past May's Singles and Doubles, and this time we're in Des Moines, IA for the 48th annual @USA Racquetball Junior Nationals tournament. First held in 1974 in San Diego, the first Boys 18U winner was one Jerry Zuckerman, who went on to play in 39 pro events throughout the 1970s. The second ever junior nationals 18U division was won by none other than @Marty Hogan , who of course would go on to quickly start adding Pro titles to his resume and who changed the course of the sport. The Girls didn't start having divisions until 1978, and the first Girls 18U champ was Lislie Lindskog.
101 participants are in Iowa this weekend, a nice improvement over last year's junior turnout, and they're in for a ton of racquetball.
R2sports link: https://www.r2sports.com/tourney/home.asp?TID=39341

Click here for Junior matrix Reports which show every winner for every year in one place:
Boys US Junior National champs: http://rb.gy/pju5me
Girls US junior national champs: http://rb.gy/lucca0
Junior tournaments are like previewing 20 individual tournaments, since you're talking about multiple age group draws, so here's a few words about each of the singles draws:
Boys 21U: The relatively new 21U division has 7 players playing it, headlined by #1 seed Micah Farmer. I suspect it will be an upset if Farmer doesn't take it.
Boys 18U features four names familiar to most pro rball fans; #1 seed Timmy Hansen (son of Hall of Famer Tim Hansen), #2 seed New Yorker Josh Shea , #3 seed lefty Iowa'n @AnAndrew Gleason , and #4 seed Texan @D.J. Mendoza. All four are periodic IRT players and the semis should be excellent. Hansen is the defending champ but I think Shea is the favorite to win this.
Boys 16U is headlined by the defending champ @Nikhil Prasad , who already has 6 Junior National titles and is an overwhelming favorite here. But there's a huge draw with a ton of challengers here. #2 @Gatlin Sunderland was a semi finalist in 16U last year, #6 Mendoza is competing in both 16U and 18U and could be a dark horse, and #5 @Benjamin Horne made the quarters of 18U last year as a 15yr old. Lots of fun here.
Boys 14U: The #1 seed is last year's champ Eshan Ali, but he'll be challenged by last year's 12U champ and fellow Northern California player #2 Nathan Ryhkus to repeat and claim his 5th junior national title.
Boys12U's will have a new champ, with Ryhkus moving up. Last year's 10U champ Alejandro Robles-Pincon is the #2 seed and a favorite, projected to face #1 seed Vaishant Mangalampalli if seeds hold.
Boys 10U Double Bounce returns for the first time since 2019, with four new-comers set to compete. No other younger groups (8U, 8Umb, 6U) are being competed this year.
Girls 21U will be a fun one, with a few LPRT regulars entered along with a couple of newer names that could surprise. Graci Wargo , @Annie Roberts, @Shane Diaz, and @Estefania Perez-Picon have all featured on the pro tour this season, and watching these up and coming American's compete here will be great experience. My money is Roberts 1, Diaz 2, Perez-Picon 3.
Girls 18U features a full 16 player draw, headlined by 8-time US Junior champ @Heather Mahoney as the #1 seed. #2 is @Julia Stein, a veteran junior player who won 10U in 2013. The rest of the draw is filled with veterans of High School nationals, with 10 players hailing from the St. Louis league.
Girls 16U's draw is headlined by its defending champ @Naomi Ros, who also happens to have played in half the LPRT events this year. She took the 16U final last year over #2 seed @Ava Kaiser … so hard not to predict a rematch there. Ros won a couple of Mexican Junior national titles before moving here in 2020, and now is set to compete for the US for the forseeable future. Watch out though for the #3 and #4 seeds: Sonya Shetty has 3 junior national titles herself, and Andrea Perez-Picon is no stranger to the pro tour herself (and the 14U finalist to Shetty last year). Tough semis and finals here.
Girls 14U: #1 Andrea Perez-Picon is in the driver's seat here, the finalist last year and also reigning 12U champ.
There's also both gender doubles and Mixed doubles this weekend, with many players competing in all three. The 18U doubles tournaments in particular look great, and I hope we get to see some streaming.
Leo Vazquez is back on the USAR mike this weekend; follow USAR and sign up for live stream notifications all weekend.