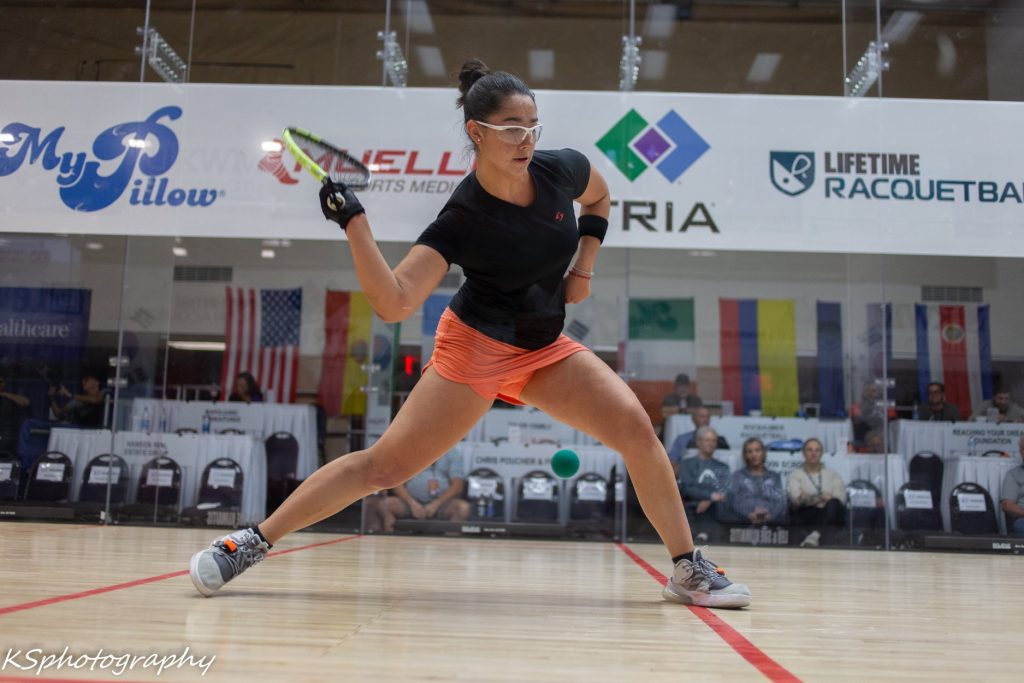 Congrats to your winners on the weekend:
– Singles: Montse Mejia
– Doubles; @Samantha Salas Solis and @Alexandra Herrera
Mejia wins her third career title, and 2nd in a row, with a dominant final's win over Longoria. She now has 3 career titles, the same number of titles as current LPRT players Salas, Herrera, and Vargas. (see http://rb.gy/vdajxp ).
In Mejia's last four pro events entered, she's lost 14,10 in the final of the Team Root Super Max event to Longoria, lost 11-10 in the Aguascalientes final (unable to convert on match point) to Longoria, then won the Chicago event (beating #1 and #2 en route), then this weekend also beats #1 and #2 to win in Maryland. That's a nice run.
Earlier this year, after Herrera won two straight tourneys, we were wondering if she was the heir apparent. Now we're wondering if we were premature, in that we have a player in Mejia who routinely beats Herrera and is now topping the world #1 8,7 in finals.
R2 Sports App home page for event: https://www.r2sports.com/website/event-website.asp?TID=37908
——————
Lets review the notable matches in the Singles draw.
Singles Match report in the PRS database: http://rb.gy/by5ykr
—————-
In the 32s:
-Susy Acosta stretched MRR to 11-9 before losing.
– Ana Gabriela Martinez , after missing most of the fall slate and seeing her ranking drop nearly out of the top 16, tops Nancy Enriquez to move forward.
—————-
In the 16s:
– #1 Longoria handled Gaby 8,8 to move on in a stern round of 16 test.
– Kelani Lawrence got a very solid win over #8 @Brenda Laime, playing on essentially her home courts.
– Natalia Mendez reversed last event's upset loss to Lotts, topping her in two.
– The big talking point and big upset of the round was #13 Valeria Centellas mounting a fantastic comeback from 5-10 down in the breaker to upset #4 @Erika Manilla . Lots of online chatter about bad calls at the expense of Manilla, but this observer didn't really see anything to be that upset about. There were two calls in particular (a cross court side-out winner that Manilla thought skipped but Centellas immediately walked to the box for and which sounded just fine), then a "cut backhand" slice shot Manilla hit for what she presumed was a winner but which sounded funny on the front wall and was called a skip. Tough loss either way.
– @Hollie Scott got a very solid win, beating #6 @Jessica Parrilla 11-10 to move on.
– In a continuing rivalry that keeps popping up this season, @Carla Munoz took the latest episode over Samantha Salas in a tight one.
—————-
In the Quarters, chalk
– #1 Longoria over #9 Lawrence, but not after dropping the first game.
– #4 Mendez had her best tourney for a while, getting to the semis with a solid 10,9 win over fellow Argentine Centellas.
– #3 Mejia went breaker against upset-minded Scott but moved on.
– #2 Herrera was pushed 11-9 by Munoz before advancing.
—————
In the Semis
– #1 Longoria in two straight over #4 Mendez.
– #2 Mejia in a breaker, once again, to top #2 Herrera.
Then in the final … a dominant 8,7 win for Mejia as discussed.
—————-
Points Implications of results
Not too much: I don't see any changes in the top 7, but I do see some severe tightening at the top of the race. Longoria had an 1100 point lead after winning her namesake grand slam in August; that lead is now lower than 500 points. She has two finals and two wins to defend from the last half of last season, but without a KC Supermax commitment and (at this point) things could get a little dicey if Longoria wants to maintain her #1 streak.
Elsewhere further down in the rankings:
– Laime missed this event last year so she moves up to #8 despite the early loss.
– Same with Salas; she didn't play last year and only gains points: she moves up to #10.
– Vargas takes a dive, from #8 to #15, which means everyone above her moves up one slot.
– Gaby remains mired outside the top 16 and will need a huge run to move up at this point.
—————-
Doubles review
Match report in the PRS database: http://rb.gy/ieneht
Salas and Herrera won a weird looking match, taking the first game 15-0 before Mejia/Longoria made a match of it. Still no official word why these two long-time pairs split up, but i'm sure we'll get the 411 at some point.
—————-
Women's Open, other draws
– Centellas got a walkover win in the Women's open final over Amaya, who got a great win in the semis over Enriquez.
– the Men's Open was won by Dylan Pruitt , who took out Virginia's Justin Carpenter in the final.
– Carpet baggers @Damian Zamorano and Craig Clement took the Men's Open draw.
– Carpenter and Kelani (both Chesapeake VA natives) took the small Mixed Pro Doubles draw over teams that included Parrilla, Centellas, and tour commissioner @Tj Baumbaugh .
—————–
Thanks for all the streaming on the weekend, especially from broadcasters Timothy Baghurst, Jerry J Josey Jr., and @Tj Baumbaugh]
Thanks to the Tourney Directors Karen Grisz for putting this event on!
Reminder to Players! Please like and follow this page so that when I tag you, you see it. Facebook will only retain tags of people that like/follow a page, which means lots of you are not getting the notoriety of getting tagged and noticed on Facebook. If your name is here and it isn't tagged … it probably means I attempted to tag you but Facebook stripped it.
——————
Next up?
Per our handy master racquetball calendar …
The last remaining event on the 2022 calendar of note is the 2nd annual Beach Battle in Hollywood, FL next weekend. Then its happy new year and the first big event on the 2023 slate will be the IRT Longhorn Open.
——————-
tags