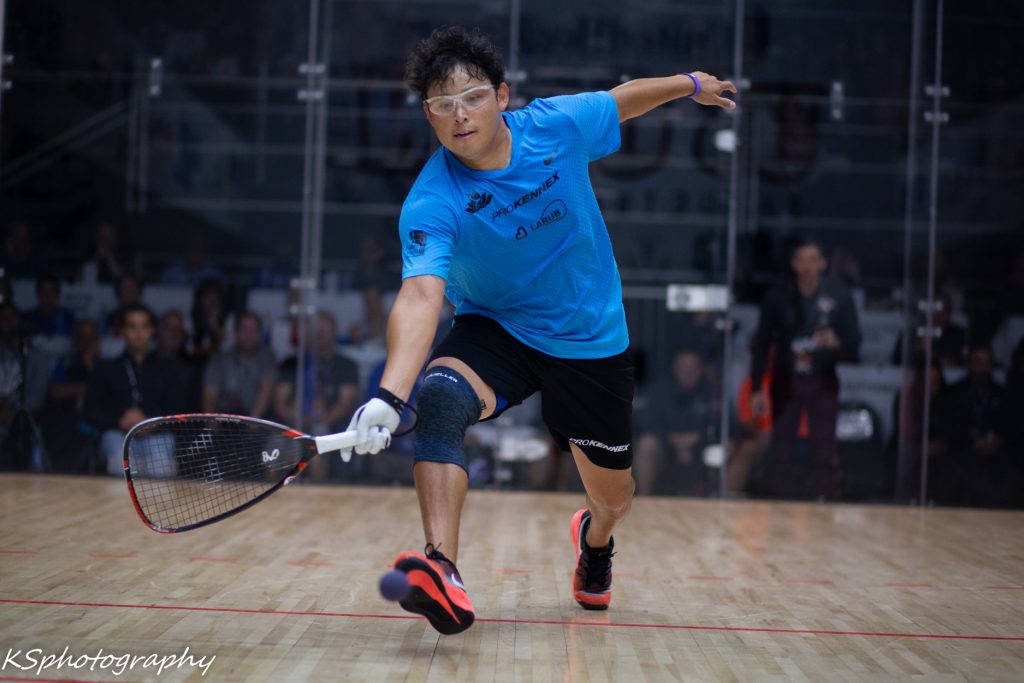 Welcome to Part 2 of our season recap: a discussion of the top 10.
Part 1: reference links to various year-end resources of note.
Part 2: the top 10 (this post)
Part 3: 11-20
Part 4: notables ranked 21st and above
———————–
Lets dive into the top 10. For these previews I'll generally talk about how the player did last year to this year, make some comments, and then make a prediction for their 2023 ranking.
#1. Daniel De La Rosa . De La Rosa (or DLR as I most often refer to him) finished atop the IRT standings for the second straight year. After running away with the tour in 2022 (winning the year end title by more than 900 points), DLR missed several events in 2022, under performed at the US Open (losing in the 16s), and barely edged #2 Parrilla for the 2022 title. DLR's title was certainly buttressed by the temporary rolling 11-tournament ranking structure, which kept the 2021 US Open points on everyone's resume for the year end 2022 rankings (a tourney DLR won).
DLR's continued presence on the racquetball pro tour was in jeopardy for a bit (and could still be) as he is also a top-ranked Pickleball Player and has gotten some notice on the pro pickleball tours. Certainly there's more money in Pickleball right now … but DLR's not currently competitive enough to be pushing for the back ends of these tournaments. His PB career was also thrown for a short term loop by not being selected in the big 2023 MLP draft. However, one thing to watch in 2023 is whether or not DLR makes a decision to focus less on Rball and more on Pball going forward.
He will be helped by the eventual pivot back to 365-rolling day rankings; under the current system his missed events in 2022 would have badly hampered his ability to keep the title in 2023 … but now he can re-commit to the 2023 slate and be in a position (especially in Oct/Nov/Dec) to radically see his ranking rise as his poor US Open expires and his missing 2022 Portland results are replaced with his points earned in the 2023 version.
That being said, I suspect we'll be seeing a new champ in 2023. I predict DLR slips to #2 or #3 on tour next year. Last time we saw DLR th ough, h e was in serious shape (Vegas) and was hitting with a new buzz. Maybe he's hearing the footsteps and won't relinquish his crown so easily.
——
#2 Andree Parrilla . Parrilla rose from #4 in 2021 to #2 on tour this year, earned a couple of #1 seeds when DLR missed events, got a famous 11-10 win over Kane in the Atlanta Grand Slam, and rode these results to the #2 ranking on tour for the season.
However, Andree has some chinks in the armor that he must clean up if he wants to ascend to and stay at #1. He lost in the 16s twice this season and he lost to players outside the top 10 multiple times. #1 players don't do that; they show consistency in making the weekend tourney after tourney. Part of this issue in 2022 was bad match-ups for Andree, running into "better than their ranking" players like Mar and Montoya at inopportune times. But losses to Mercado and Bredenbeck (with all due respect) cannot happen for Andree to move to #1.
For 2023, I suspect we'll see Parrilla drop a slot or two on tour, just based on true talent levels of players right now. Look for him to finish #3 or #4 in 2023.
—–
#3 Conrrado Moscoso . His highest finish yet on tour, really competing full time for the first time, after finishing #7 last year. Moscoso got two wins on the season, including his famous US Open domination in October. He finished the season on a serious roll, winning 11 straight between Minneapolis, Pleasanton and Sarasota before an unfortunate concussion-protocol injury forfeit in the semis of the Dovetail. He has shown a propensity to be taken out by a superior game plan (two losses to Murray mid-season), but has also showed that he can truly take over a tournament like nobody since Kane.
He managed to make 8 of the 9 events, a difficult feat being based in Bolivia, and only missed the 9th when it was clear that it would have no real meaning for the year ending standings. He even traveled to the US for outdoor events and made his mark there this year.
For 2023 … I think Moscoso will overtake DLR and will finish #1. In terms of pure talent, Conrrado is the best player in the world not named Kane. My new year wish is to get a bunch of Moscoso-DLR finals to settle the argument.
—–
#4 Eduardo Portillo finished 5th last year and incrementally moved up a slot to #4 this year. He was one of the 6 players to win a tournament this year on tour, taking advantage of Kane's injury to win in Virginia. He struggled with injury this season: a knee injury in January cost him performances really until May, then he forfeited out of another tournament in Sarasota (that was illness, not a physical injury).
Lalo got some solid wins, but also took some curious losses on the year. He needs to continue to be successful in those 4vs5 quarter final matchups in the quarters, then look opportunistic in the semis to continue to push for a top 4 spot.
As for 2023, he's healthy and played well making the final of the Portland event. But I don't think he can overtake the players ahead of him right now and is destined to stick in this 4-6 range for a bit. I think he slips to #5 in 2023, depending on how much play a couple of other players get that we'll talk about soon. He's the youngest regular touring player by a decent margin (he's in his age 23 year, 3 years younger than anyone else who is regularly touring) and is in a great position to improve on his craft, but he has his work cut out for him if he wants to move up.
—
#5 Alejandro Landa saw his ranking slip from #2 last season to #5 this year. This despite a year where he made 5 semi-finals, which you'd think would be good enough to keep him in the top 4. The problem was … Landa never went any further than these semi finals, when he got there. Nine players on tour this year made a final; Landa wasn't one of them.
Almost from the moment he ascended to #1 on tour in January 2020, Landa has struggled to maintain the consistency he needs to stay there. He has made just ONE pro final since January 2020 (in Chicago in March of 2020 before Covid shut everything down). He has definitely had career moments, like his seminal win at Worlds in December 2021, but mostly has failed to play to his rank. This has been partly due to a lingering back injury that caused him grief for months, and partly due to the distractions (family and career) that come with players as the get into their 30s. Landa is now a few months from turning 35, and the 33-34 age window is usually a critical turning point for players on tour. We've been spoiled recently by the likes of Kane, Rocky, and Alvaro playing into their 40s, but for the most part the 33-34 window is where we see players step back.
I predict Landa will start to curtail his touring as he struggles to get past the quarters, making these trips less sense financially, and we'll see him perhaps in the 8-10 range by season's end in 2023.
—
#6 Samuel Murray slipped back to #6 on tour this year after getting a huge Grand Slam win bump to elevate him to his career high #3 finish in 2021. #6 seems about right for Murray, who prior to 2021 had finished (in descending order) 7th, 7th and 8th the three previous seasons. He made three semis, three quarters, and lost in the 16s three times this season.
Murray, by virtue of being a fixture in the Canadian National team, has financial support to continue to tour going forward, so there's no reason to think he won't do exactly the same in 2023 that he did in 2022. He's a steady practitioner of the sport, who sometimes gets some great wins and sometimes takes some upset losses. He topped Moscoso twice in 2022; two excellent wins. He took a couple of upset losses in the 16s (twice to Montoya; no shame there), but for the most part spent the season beating he should have beaten an losing to who he should have lost to.
For 2023, I expect Murray to be right in this same range, in the 6-7 range, and to continue to be a steady quarter finals entrant.
—
#7 Jake Bredenbeck . 2022 was a career year for Jake, who made the Pleasanton final and then won the last event of the season in Portland, with three great wins over top-8 players Murray, Parrilla, and Portillo in a row to take his first title. This was his first career IRT win for Jake, and was a great validation for the improvements we've been seeing in his game over the past couple of seasons.
In 2022, he improved on his #9 finish from last season and finished 7th. He was just a few points out of #6, getting pipped by Murray by a scant 15 points. He suffered two round of 32 losses on the season (Alonso in Chicago and then Horn in NY), which ended up making the difference. After the summer break, Jake came back strong in the last half of the season to enter 2023 with momentum.
Those two round of 32 losses loom large for 2023, as they seem likely to get replaced by at least QF appearances at this point. He's a protected seed, meaning he's not facing a match until the 16s anyway (unless the IRT puts in a radical scheduling change to go with the anticipated point system change to start the new year). Which means … Jake will see his ranking rise in the first half of the year. If he can hold on, I see him improving on his #7 finish for 2022. I'm not sure he can catch the top 5 players above him, but I can see him finishing 6th.
—
#8 Kane Waselenchuk was well on his way to returning to the throne, after having relinquished the IRT title in 2021. In contrast to the 2021 season, Kane was on track to play the tour full time in 2022, and by September had worked his way back up to #2 in the rankings. Rumors abounded about his plans … would he play and win the US Open and then walk away (Pete Sampras style?) Would he play the tour full time in 2022 and then walk away with one last title? Both career-ending stories made sense to this observer … but they were thrown for a serious loop by a serious injury suffered in Maryland. A full tear of his Achilles heel on a non-contact play early in the pro semis in Severna Park ended his 2022 season and left both his 2023 season and his career plans in doubt.
Achilles injuries generally take between 6-12 months to recover from. By all accounts, at six months people should be back at full activity, but that full movement and "trust" in the repaired tendon takes another six months. But, this recovery time is also based on the individual: Kane's no longer a 25yr old athlete. He's north of 40, has embarked on a new non-racquetball related career, and presumably isn't training full time like a full-time athlete would.. How committed is he to coming back and re-dominating on the court? How much energy does he have left in his competitive motor to do so? Kane has never wanted to take the court unless he was at 100% … the question is, how long will it take him to get there? He's been tight-lipped on social media about his recovery, so we're all guessing at this point.
Projected Ranking for 2023? The injury was in Mid-September, which puts his 6-month recovery window to mid-March 2023. There's going to be FIVE tournaments by that point, and there's just no realistic way he will be able to compete for the 2023 title missing nearly half the slate of events. There's no 2023 US Open (his favorite tournament), so no marquee event to target as a return.
Does he come back and play the back half of the 2023 slate, get a bunch of wins and prove a point to the tour one last time? Or does he not tempt fate and walks away now? We'll see. For the time being, I'll predict he comes back for the 2nd half of the season, gets a couple of wins, enough to buttress his ranking enough to keep him in the back half of the top 10, and maybe he'll do a 2024 swan song run.
—-
#9 Rocky Carson finished right about where he was ranked in 2021; dropping one slot but mostly playing about the same level over the past couple of seasons. After setting a truly Lou Gehrig-esque tournament playing streak (not missing one pro event between 2001 and 2017), he's now missing events here and there. He's also starting to see the tour pass him by; in his last 12 pro tournaments, he's advanced past the quarter finals just twice (Nov 2021 and then Mar 2022).
In his year-end Facebook live interview, Carson admitted that he's no longer a full-time tour player, that his focus now is on US National team representation. The events he missed in 2022 seemed to show the pattern of attendance we can expect; he missed two of the east-coast events, avoiding a 5 hour west-to-east grueling flight. He also missed the final event when it was clear it would make little difference in his year end ranking. Reportedly he's not in the Longhorn Open field, so we're already seeing some early "load management."
Luckily for Rocky, the first half of the 2023 slate features mostly central and west coast events; Austin, Sioux Falls, Atlanta, Fridley MN, Chicago, Fullerton, and Tijuana. The only east coast event on that list is Atlanta .. which is a Grand Slam and worth the trip. National Singles/Doubles is nicely spaced in-between the Lewis Drug and the Atlanta GS. The challenge he'll face is the first three weeks of March, where he's got Minnesota, Beach Bash, and Chicago in a row before a one week break to the 2023 PARC.
That's a heck of a tough travel schedule for a player north of 40, and I think we'll see some missed events along the way from Carson as he manages his playing load. We don't yet know where the 2023 PARC is going to be, but the odds are it will be in a central or south American city requiring a massive 10-12 day trip, so that will factor into Carson's priorities as well.
Projection for 2023? When Carson plays he generally makes the quarters, so I think he'll tread water one more season and hang towards the back half of the top 10 again.
—-
#10 Mario Mercado hung onto the 10th spot on tour for the second year running thanks to the running 11-tournament rankings system, which pulled in solid end-of-2021 results for Mercado and kept him ranked 10th. For the season, Mercado lost in the 16s six of the nine tournaments he entered, making a couple of quarters and one semi. Those are not the numbers of a #10 player, and the beginning of 2023 should see him fall quickly into the teens.
Mercado remains a dangerous player, one who can turn it on and get wins over the tour's best. In Pleasanton, he beat both Parrilla and Moscoso before losing to Jake in the semis. However most of the 2022 season saw him in tough 8/9 or 7/10 matchups against guys like Manilla, Jake, and Rocky, those kinds of incredibly even matches that are coin flips to predict, let alone play, and he came out on the wrong side more often than not.
For 2023, I predict that Mercado continues to play full-time and promote FormulaFlow with partner Zelada, but will continue to put up similar results and gets pushed into the mid-teens by year's end.
——-
My predicted top 10 in 2023:
1. Moscoso
2. DLR
3. Parrilla
4. Montoya (who we'll talk about next post)
5. Portillo
6. Jake Bredenbeck
7. Murray
8. Waselenchuk
9. Landa
10. Carson
(outside top 10: Mercado)
Next post; the players in the 11-20 range, which include more than a few guys who are top 10 by talent but not by points, and one of whom i'm predicting a huge run up the rankings for 2023.