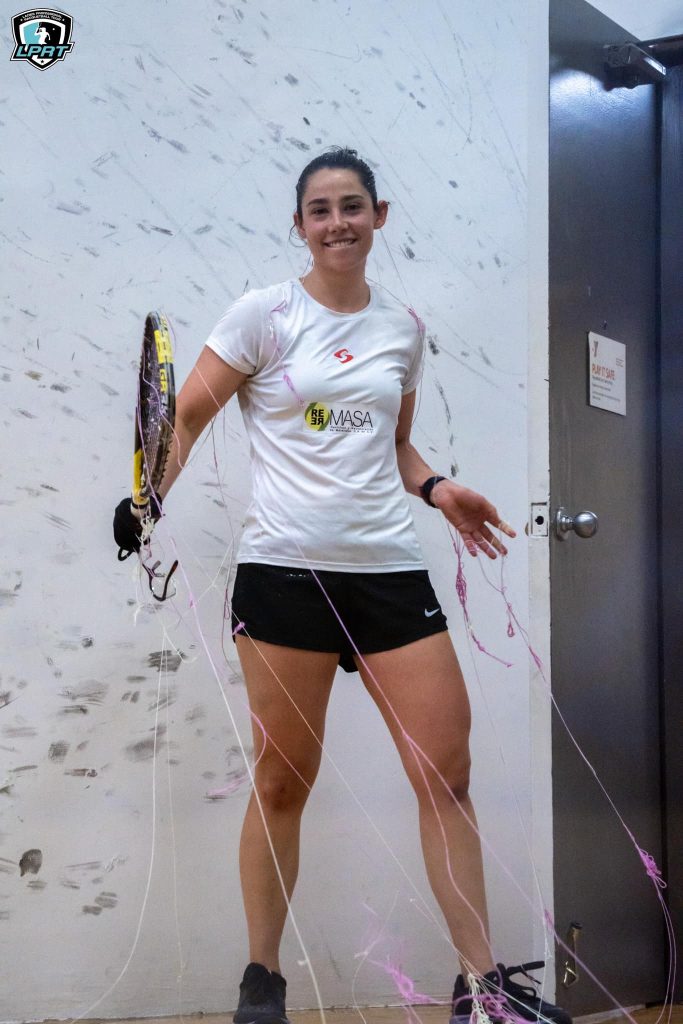 Hello fans! We've finished another Ladies pro season, the 2022-23 season. This post is to give you some links to rankings data as it flows through the Pro Racquetball Stats system and to be the first of a 3-part wrap-up series.
Part 1 (this post): The top 10
Part 2: The 11-20th ranked players
Part 3: Notables ranked 21st or higher, plus a recap of news items from season
—-
Year End standings links:
– LPRT official rankings: https://www.lprtour.com/lprt-singles-rankings
– Season Ending rankings captured to PRS: https://rball.pro/xlo
– Season Summary Report for 2022-23 season; https://rball.pro/1bw
– Season Seed Report; this shows how players' seeds changed over the course of the season: https://rball.pro/5mm
—-
Some overall tour observations.
– Obviously the story of the season is Mejia dethroning Longoria, but overall the depth of top players on tour seems to have really jumped up this year. As you can see from the Season Summary Report (https://rball.pro/1bw ), the LPRT saw four distinct winners this year on tour (Longoria, Mejia, Herrera, and Martinez), another four players made finals (Laime, Vargas, Manilla, and Barrios), and another four distinct players made semi finals at some point this season (Parrilla, Mendez, Munoz, and Salas). That's a lot of players who, week-in and week-out, are in the mix for titles.
– The total "depth" of players on the tour has stayed nearly identical to what we saw last year. See https://rball.pro/2vd for a Tour Depth report, but here's the highlights: the LPRT saw 55 distinct players play an event this year, down slightly from last season's 61 distinct players. However, the number of players who played 75% of the events was 15 (my general rule of thumb for determining the "depth" of the tour), exactly in line with last season.
– There were exactly 10 events this year (same as last season), and of those 10 events four were considered "Grand Slams." But last season featured two grand slams that did not repeat this season: the 2021 Worlds skipped 2022, and the TeamRoot super-Max was not held this year. Instead, we got a return of the Paola Longoria Experience kick off event, and a new season-ending Grand Slam in Chesapeake.
—-
Lets review the top 10.
#1 Montse Mejia ; 27-3 on the season, 5 titles, 1,637.5 points.
Mejia captured the #1 spot on tour for the season thanks to out-pointing #2 Longoria in the season's final event. She becomes the 14th female pro to ever finish a season #1 or to win the year end title (pre 1980, there wasn't a "tour" per se, so the winner of DP Nationals or the IRA Amateur nationals is declared the "winner" as we do with the Men). Mejia started the season ranked 10th, but went on a huge run starting in November, winning four straight tournaments and 18 straight matches to really put a stamp on the season. Despite missing the US Open and its valuable major points, Mejia led the "Season to Date" points race for much of the season, but the suspense was left to the final event to determine who would win. Mejia took 5 of the season's 10 titles and finished the season 27-3,; her only 3 losses were to Longoria in the finals of the opener, to Salas in San Antonio, and to Laime in the semis of the Sweet Caroline. With her win in the Chesapeake event, she will head into next season starting with a 200 point lead at the top of the tour AND a huge hidden benefit; not having to defend US Open points.
Prediction for next season: I think she repeats as #1.
———————-
#2 Paola Longoria. 22-7 on the season, 3 titles. 1,424 points.
After 13 titles (including 11 in a row), Longoria was finally dethroned in 2023, though she fought until the end and nearly made it a "winner take all" pro final in the season's final event. The story for Longoria though has to be her sudden vulnerability. She lost 7 times on tour this year; that's more losses than she'd taken in the last seven SEASONS combined (see https://rball.pro/ovv). And it wasn't just a case where she mostly had losses to the player who just vanquished her for the title: she had losses this year to Vargas (twice), Mejia (twice), Laime, Barrios, and Gaby (see https://rball.pro/pwr ). She lost twice in the round of 16 this season; that hadn't happened since 2007. Heck, you had to go back to 2008 to even find a tourney where she lost prior to the semis. So, shockwaves across the bow of the tour.
Longoria ends the season at the tail end of her age 33 season (she turns 34 in mid July): is this a turning point for her? She's been so dominant for so long, that when she does lose its a monumental event (much in the same way we covered Kane for so long). The big question has to be this: has Longoria lost a step at 33, or has the rest of the tour caught up? Likely its a combination of both, and neither situation is going to get any better for Paola. She's only getting older, and her rivals are for the most part all quite young (each of Mejia, Gaby, Barrios, and Laime are aged 23).
On a personal note (which could also factor in here); Paola got engaged this year and will be entering a new chapter of her life, and the obvious question is out there; is she ready to transition to a different phase of her life, one where she isn't training full time?
Projected finish next season: #3. I don't think she can turn around the Mejia train, and I think she's shown some serious vulnerabilities to one player in particular who I think can pip her for #2 if she plays a full season (ahem – Vargas).
———————————
#3 Alexandra Herrera 16-8 on the season, 1 title. 902.5 points.
Hey! Who remembers in March of 2022 when Herrera had won two straight events and beaten Longoria in two straight finals and everyone was wondering if Alexandra was the new heir apparent to the ladies throne? I do. Then she lost the next two pro finals to Paola (along with the 2022 Mexican Nationals singles final) and got hurt in the Kansas City season final. She won the first pro event she played last fall, but then started to leak losses left and right. She got knocked out of three straight pro events in the fall to Mejia, her long-time doubles partner and whom she normally had decent success against. Then she spent the entire spring losing to lower-ranked players early in tournaments. She managed to keep the #3 spot on tour, but not by much, and has some question marks heading into the new season. She's only 28, still in her prime, but there's several players that seemingly have passed her right now on tour.
Prediction for next season: #5: i think she's going to lose ground against some of her closest competitors and slip a couple of spots.
—————————-
#4 Erika Manilla , 15-10 on the season, 1 final, 838.5 points.
In her second full season of touring, Manilla made incremental improvements upon her first season; she made a tournament final (the US Open), she made the semis or better in half her events, and she improved from a year end ranking of #6 to #4. She's within shouting distance of #3 on tour (see https://rball.pro/8tg).
Manilla played all 10 events this season, and did something that I find to be rather unique: she lost to a different player in each event. She had losses to 10 different players on the season; Enriquez, Laime, Longoria, Herrera, Centellas, Mendez, Mejia, Vargas, Gaby, and Kelani. See https://rball.pro/fqy . That's hard to do. And interesting: normally a top player on tour would separate themselves from the rest of the tour and only have losses to a handful of players ranked above them. I'm not sure what this observation "means" for Manilla; perhaps indicating that there's areas of improvement in terms of consistency against lesser opponents (she took three round of 16 losses this season). She also had a set of very solid wins this season: wins over Herrera, Vargas, and Barrios. She's beaten Gaby and Montse before. So the capability and expectation is there that Erika will get a tourney win sooner or later, but she needs more consistency to push for higher than #4.
Projected finish next season: #4: i think she's gonna get passed by Vargas, but will out-point Herrera.
————————————-
#5 Brenda Laime . 15-9 on the season, Three finals. 808 points.
Laime had a very weird season. She very quietly made three finals, including two of the last three events, which rocketed her season ranking from #11 in April to its final resting spot of #5, easily her best ever finish. For years she hovered outside the top 10, finishing three different seasons ranked #13, but rocketed into the top 10 this season with some seriously good wins. She finished 5th but had h2h wins over each player ranked above her. She beat #1 Mejia and #3 Herrera at the Sweet Caroline en route to the final, and then #2 Longoria and #4 Manilla in Chesapeake in September en route to the final. https://rball.pro/ndu .
But she also managed to lose in the 16s no less than four times: twice to Kelani, once to Barrios in an 8-9 seed match-up, and to a vastly under-seeded Vargas in the season finale in Chesapeake. Imagine where Laime would be if those round of 16 losses were quarters or semis instead.
Projected finish Next Season: #5-6 range. Maybe she can go higher, but she has to stop the early losses. She has the game to beat anyone as we've seen.
————————————-
#6 Angelica Barrios 14-8 on the season, 1 pro final. 663.5.
Barrios continues to be an enigma on tour, with enigmatic results to go with it. She made a final in Boston where she beat, in order, Laime, Longoria, and Vargas before losing to Mejia. She also had a win over Gaby in the season's final event. But she lost in the round of 16 multiple times (to Laime, Salas, and Munoz). She crashed out of PARC in the knockout round of 16 to junior Maricruz Ortiz as the defending champ.
Barrios has always been a difficult player to play, one with unconventional mechanics and slow, plodding tactics. When they're on, they're on. She rarely goes down without a fight, with lots of game-losses 15-13 and 15-14.
She's just 23, so presumably we'll be seeing her for years. But I wonder if there's another level in her game to take her above where she is now.
Prediction for next season: #6 – #7 range, same as this season.
————————
#7 @Maria Jose Vargas , 16-5 on the season, made 2 finals, 634.5 points.
Vargas came back from maternity leave with a vengeance, making two finals, two semis and a quarter-final in her 5 events on the season. Despite missing half the season she still finished 7th, and just doubling her 634 points would have put her projected to finish 3rd. Her 5 losses? Mejia twice (both in finals), a semis loss to Barrios, a semis loss to Longoria, and a quarters loss to Manilla 11-10 the week after she trounced Erika. See https://rball.pro/l4e . All five of these losses? tiebreakers.
Vargas came back in February in Arizona after 8 months off, was seeded 16th to start, running her right into Longoria in her first event back, toppled Paola and then ran to the final. That's a comeback. She also made the final of PARC in April representing Argentina, where she put another loss on Paola. Clearly, something has clicked with Vargas, who prior to this year had just a 2-41 lifetime against the long-time number one but has beaten her 3 of their last 4 meetings. She's spent a ton of time in Southern Florida playing and training with Sudsy Monchik , who has worked with her on both the physical and mental side of the game, and it shows.
Projection for next season: #2. So, what happens now? Assuming Vargas plays a full slate of events, I think she's going to continue pressing upwards and will settle at #2 on tour, ahead of Longoria. What will start to happen is this: Vargas will ascend to #3 on tour probably by mid-season due to having no fall points expiring, she'll play into Longoria in the semis a lot, and will start to gain ground if she can continue to get h2h wins.
————————
#8 Jessica Parrilla , 9-10 on the season, 2 semis, 3 quarters, 589.5 points.
So, whenever we see a player come back to touring after a long-layoff, its always a challenge to see the unlucky player who gets to face a former top-4 player in the round of 16 unfairly. This year, that was Parrilla, who spent a good chunk of the season ranked 5th or 6th after grinding her way up all last year … only to run into the #12 seeded Vargas no fewer than three times in the opening round of pro events. This conspired to give Parrilla 5 one-and-done round of 16 exits this season, which finally took their toll at season's end, dropping her ranking to #8.
Parrilla got some solid wins this year, including three wins over Mendez (twice in the quarters, which gave her the two semis on the season), but was a victim of happenchance on seedings. Unfortunately, now she's mired in the #8 spot on tour, meaning she's likely playing a really tough round of 16 against a #9 or #10 seed to start, then playing into Mejia or Longoria. She's going to need to hold serve and make a bunch of quarters, then look for a career win (she's 0-19 career against Longoria, and hasn't beaten Mejia since 2020: see https://rball.pro/lvm).
Projection for next season: #8 again.
——————————
#9 @Carla Munoz 10-10 on the season, one semi, 5 quarters, 571.5 points.
Munoz had a relatively consistent season, going 10-10 and mostly holding serve in terms of her seeding expectations. She made 5 quarter finals on the year, then lost in those 5 quarters to Herrera 2x, Longoria, Mejia, and Gaby. No shame there; a couple of those she took to breakers or 15-12 game losses. This is about what we'd expect from someone who spent most of the season in the 8-11 seed range; a solid, closely matched round of 16, then a quarter against a top 3 seed.
Munoz's key is to keep the one-and-done round of 16 losses to a minimum; she had first round losses this season to Salas, Kelani, Barrios, and Scott. None of these are really "bad" losses, just indicative of the depth on tour right now. Munoz's season includes highlight wins over Salas (three times), Mendez, Lawrence, and a great win over Barrios at the Sweet Caroline.
Projection Next season: #9 again; I see a bunch of really tough 8/9 or 7/10 matches for Munoz in the opening rounds then a really tough matchup against Paola or Mejia if she gets through; that makes it tough to move up.
————————–
#10 Natalia Mendez 9-10 on the season, 2 semis, 563.5 points
After several seasons treading water in the 4-6 range on tour, where Natalia quietly ground out expected wins in early rounds before routinely losing to top3 players in the semis … the tour seemed to catch up to her this season, and her ranking plummeted from #3 at the season's start to #10 by season's end. (see https://rball.pro/uko). So, what happened?
In the early part of the season, Mendez in the quarters to Parrilla 2x and to Munoz, then took a surprise loss to Lotts in the round of 16 in Chicago. She rebounded a bit and made two straight semis … but then finished off her season with four straight one-and-dones. She lost in the 16s to Centellas, Laime, Salas, and then to Parrilla again to finish off the season. Most of these losses were not really close either, with Parrilla clearly providing some separation in their h2h and with other players getting opportunistic wins.
Mendez needs to spend the summer regrouping.
Projected finish next year: #11 or #12: I think she'll continue to get pushed down.
————————–
An interesting note: the the separation between 8,9, and 10 on tour was quite slim: 589.5 points to 571.5 to 563.5. That's just 26 points difference from 10 to 8, about the amount of points a LPRT player gets for making the round of 16 (aka "entering") an LPRT tier 1. The three players ranked 8-10 each played all 10 events on the season and had records of 10-10, 9-10, and 9-10 on the season. There was almost nothing between them on the year, and their ranking delta came down to tiebreaker losses in the majors versus losing in two games. One more win by any of them on the year and they're in 8th spot pushing for 7th.
————————–
that's it for part 1. This is the biggest/longest post. Stay tuned next for Part 2; the 11-20 ranked players.