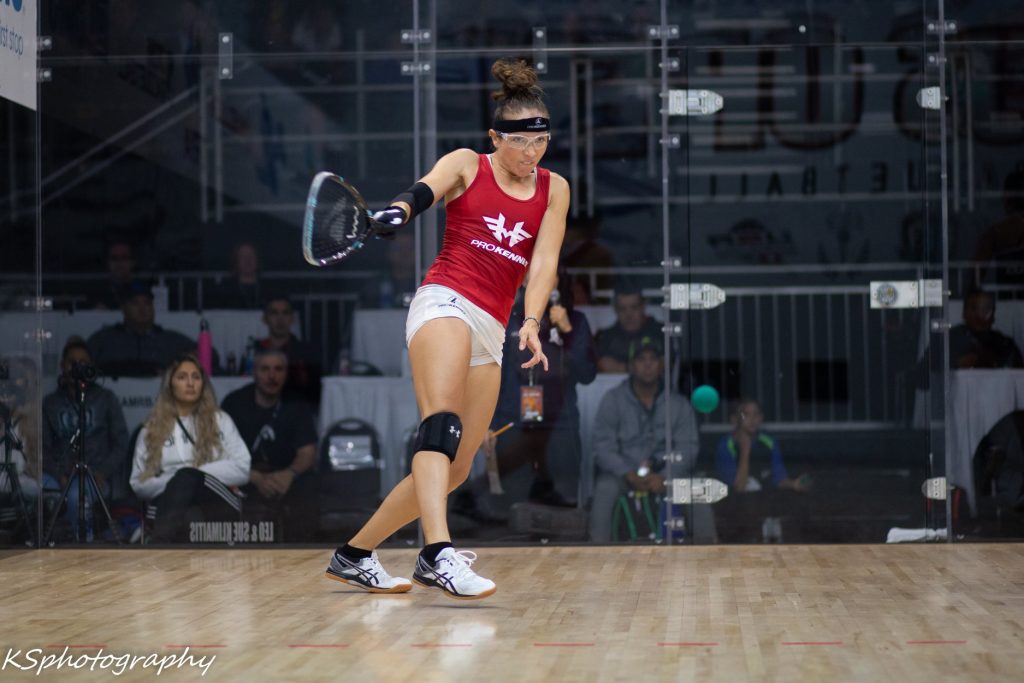 Hello fans! We've finished another Ladies pro season, the 2022-23 season. This post is to give you some links to rankings data as it flows through the Pro Racquetball Stats system and to be the first of a 3-part wrap-up series.
Part 1: The top 10
Part 2: The 11-20th ranked players (this post)
Part 3: Notables ranked 21st or higher, plus a recap of notable news items from the season.
In this post we'll run through the ladies who finished in the 11-20 range, give some thoughts on their season, and then project where they'll end up next year.
————————————-
#11: Samantha Salas Solis : 11-8 on the season, 1 semi, 472 points.
Despite having a better looking seasonal record of 11-8 than the three players immediately ahead of her (including two players ranked ahead of her for the season who had losing records on the season), Salas finished behind them in the standings by a fair amount (more than 90 points). Why? Because she missed two events entirely on the season, and never really could get out of her ranking spot.
She started the year seeded 9th, she finished it seeded 10th, and spent a lot of time running into really tough round of 16 matches against players ranked 7th and 8th. She had to play Munoz in particular no fewer than four times this year; i'm sure those two are sick of seeing each other. She had solid round of 16 wins this season against Munoz, Parrilla, Lawrence, Barrios, and Mendez. (see https://rball.pro/bfs). Her one semi on the year was in San Antonio, where she got a shock win over Mejia to throw the title race back into question. Otherwise Salas' season was "tough win in the 16s to then lose to a top player in the quarters."
Projection for next season: #10-11: I think she can hold off the likes of Mendez and Lawrence for this spot, but the 36 old is not getting any younger and most of the tour's top talent are in the age 23-24 range.
————————————-
#12 Gaby Martinez 10-5 on the season, 1 win, 468.5 points.
What to make of Gaby Martinez's season? She played six of the 10 events. In those 6 events she was generally seeded so low that she had to play a round of 32 match, and then had five round of 16 losses; Longoria twice in a 1 v 16 scenario, Herrera, Mendez, and Barrios in the season capper. But she also had a Grand Slam title, winning the Sweet Caroline and beating, in order, MRR, Longoria, Munoz, Manilla, and Laime in the final, only going to a breaker against her long-time doubles partner in the round of 32 and generally crushing people.
Is she a top 4 player in the world? I think she is, yes. But she's never played the tour full time, generally good for about half the events historically. If she played full time, i'd expect her to get her fair share of wins and semis, but since she doesn't, its hard to project her much higher than she already is.
At #12, when she does show up, she likely plays into Brenda or Barrios in the 16s, then into Manilla in the quarters before running into #1 Mejia. Those are generally players she's shown she can beat to get to the semis…As long as she doesn't slip down to like #15/16, she'll avoid a top two player in the opener and can get some traction.
Projection for next season: #10. I'll guess she plays half the events, gets some success, and keeps a top 10 ranking.
————————————–
#13 Valeria Centellas , 12-10 for the season, 4 quarters. 465.5 points.
After a brief turn in the top 10 during the Covid year, Centellas has basically been stuck in the 13-15 seed range, and has not really had that big-time run deep into an event that she needs to move up. In fact, for her career she's only ever made one semi final (in January of 2020), and continues to knock on the door.
This season, she had several really solid wins; she had an 11-10 win over Manilla in December, over Mendez in Boston in March, and then managed to beat #3 Herrera twice in April and again in June (see https://rball.pro/f5w ). Those are all solid wins, and when she lost generally it was to a top player; her "worst" loss on the season probably was to Kelani in Virginia in September … on Kelani's home courts.
So, there's room for improvement for sure, but she needs some big wins.
Projection for next year: #13-14 range again. If you had a little mini tournament
————————————–
#14 Kelani Lawrence , 11-9 on the season, 5 quarters, 458.5 points
The draws did not treat Kelani kindly this year; she lost in the 16s four times; those losses were to Laime twice, Salas, and Munoz. She also had a slew of losses to Herrera, Longoria, and Vargas; no shame there.
She also had some superb wins on the year: she beat Laime twice, held serve against Centellas and Munoz, and crushed Manilla on her home court in the season's final event.
Lawrence needs to get out of the #13-14 spot so she has a more winnable round of 16 match, then hold serve against the group of players ranked right around her more frequently (Salas, Munoz, Centellas, Mendez in particular), and she'll find her self in the top 10.
Projection for next season: #13-14 range again.
—
A note before moving on: the 11th through 14th ranked players had separation of just 13.5 points from Salas to Lawrence; just one more result on the entire season for any of these four players puts them at #11, knocking on the door of the top 10. From 14 to 15 there's a gap.
————————————–
#15 @Cris Amaya , 9-10 on the season, 10-straight round of 16s, 333.5 points.
Amaya did the amazing; she entered 10 events and managed to lose in the same round of all 10. In a somewhat ridiculous happenchance, she had to play her life-partner Maria Paz Riquelme no fewer than four times in the round of 32 at pro stops, but she also managed to get solid wins over the likes of Enriquez at the US Open, and over US up and comer Annie Roberts in Boston.
Amaya's challenge is that she was almost always the 14, 15, or 16 seed at these events, meaning she played into a top 3 seed in the round of 16. All 10 of her losses were to players ranked in the top 4 at the time, and she had to play Mejia in each of her last three events.
Projection for next season: #17-18 range; i think she'll get pipped by a couple more players coming up.
————————————–
#16 @Hollie scott, 8-7 on season, 2 quarters, 289 points
Scott made her way into a couple of quarter finals this season by virtue of solid wins over Parrilla and Munoz when the seeds worked out to give her a winnable round of 16 match. But most of the season Scott kept running into top 4 players at that juncture. She had losses to Laime, Barrios, Manilla twice, and Herrera in the season ending. She always plays tough; no real blow outs here. Scott needs to play a full slate so she doesn't miss out on points (she missed three events), and she needs to get wins over the players ranked in the 10-15 range when they present themselves.
Projection for next season: #15-16 range. i think she can slightly improve on her ranking
————————————–
#17 Maria Paz Riquelme , 3-9 on the season, 5 round of 16s, 203.75 points.
Riquelme got a handful of wins on the year and advanced into the 16s a few times. She was on the losing end of a couple of heavy losses against Longoria and Gaby, and (as noted above) had to play her partner Amaya 4 different times in 9 events. Riquelme continues to improve, and has gotten some wins internationally as she now represents Colombia.
Projection for next season: #19-20 range; she'll get pushed down slightly by some rising players.
————————————–
#18 Sheryl Lotts, 5-5 on the season, made one quarter final, 198.5 points.
Lotts entered the season's first five events, got her career best win in Chicago in November, beating Mendez in a breaker to earn a quarter final and match her career best showing … then suddenly stopped playing major events. She missed the remainder of the spring tour schedule, missed US Nationals events, everything. Her results were still enough to keep her in the top 20, but she should have been ranked at least 4 spots higher based on early season results.
We see from social media Lotts has relocated to Florida (perhaps one of the reasons she was MIA) and has been playing with the Monchik/Sotomayor crew, which can only help her game. We hope to see her out on tour again soon.
Projection for next season: #14-15 range if she tours full time.
————————————–
#19 Maria Renee Rodriguez , 3-7 for the season, 5 round of 16s, 198.25 points.
Rodriguez (or "MRR" as she's frequently referred to) uncharacteristically missed some events this year on tour, which led to her slipping from the 16-17 range she's normally been for the past few seasons to where she finished up this year at #19. She had a couple of unlucky round of 32 matchups against under-seeded players (Daza at the US Open and Gaby in the Sweet Caroline), and got a couple of solid wins (Roberts, Acosta), but otherwise has settled more into a doubles specialist/solid international representative for Guatemala. She's now married to @JeJerry Josey and living in South Carolina, and she may continue to transition into the next phase of her life and career going forward.
projection for next season: #17-18 range.
————————————–
#20 Nancy Enriquez , 4-6 on the year, 1 quarter final, 186 points.
Enriquez first played the pro tour in 2000, and remains a dangerous player when she shows up. She put a shock loss on Manilla in the season opener, and she took Mejia to a tiebreaker in Boston. She finished in the top 10 three straight seasons from 2018-2020, but has settled back to part time it seems. I'd expect her to make about half the events, maybe get a surprise win over an opponents who looks past her, and will remain around this range.
Projection for next season: #19-20 again
————————————-
Next up we'll take a look at notables who finished higher than #20, which include some up-and-coming juniors who might be names to remember in a few years.