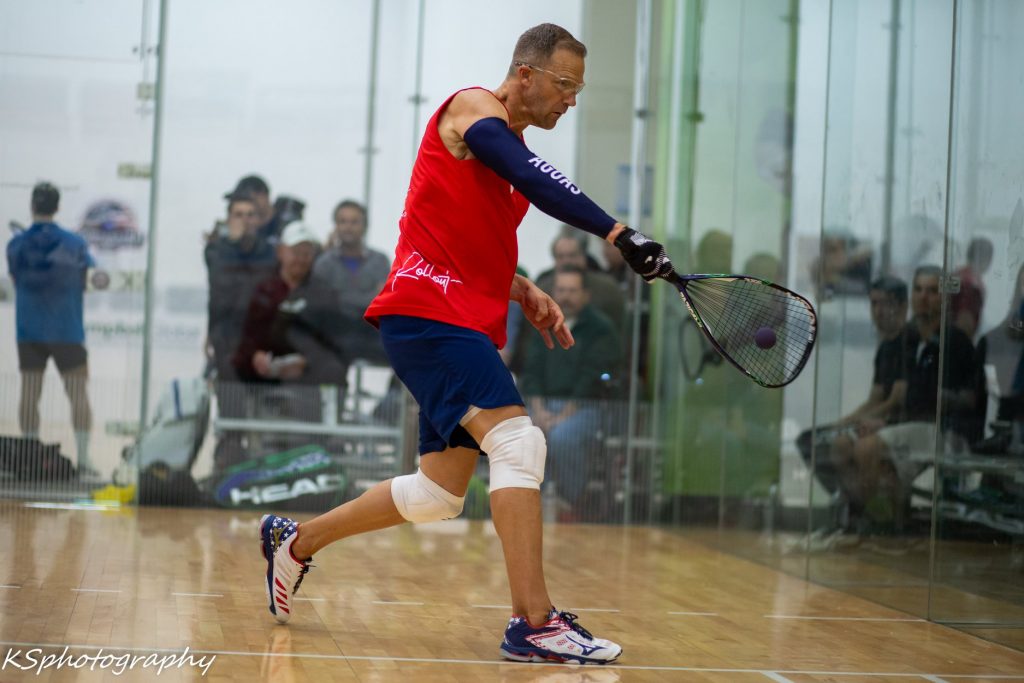 Welcome to the first major Amateur Nationals event of Fy2020. Its the US National doubles event, being held in Tempe, AZ on the campus of Arizona State University.
This is the 53rd iteration of US National doubles: The first was held in 1968 in Madison, Wisconsin and the first Men's US national title was won by the team of Simie Fein and Jim White. The Women's event doesn't seem to have started until 1972; the first winners I have on record were Jan Pasternak and Kimberly Hill, who won the title in Memphis in 1972.
Click here for a full list of all Men's titlists: http://rball.pro/8862E4
Click here for a full list of Women's titlists: http://rball.pro/A7F6CA
Rocky Carson holds the Men's record for most National Doubles titles; he has 11 titles in 13 appearances. Jacqueline Paraiso-Larsson holds the record on the Women's side with 14 titles in 15 appearances.
R2 Sports App link: https://www.r2sports.com/tourney/home.asp?TID=31680
——————————
Lets preview the Men's Doubles draw:
The Men's draw has 11 teams, highlighted by both of last year's finalist teams as the #1 and #2 seeds. The big news of course this year is the entry of one team in particular: Alex Landa , the current #2 player on the IRT has entered with 5-time pro tour champ and Hall of Famer Sudsy Monchik.
Landa, who has represented Mexico his entire career, famously was left off the Mexican delegation to the Pan American Games last year despite winning the 2019 Mexican Nationals event. The Mexican federation made this decision based on rather "debatable" guidelines to say the least, and in the aftermath Landa asked for (and was granted) his release from the Mexican team. He's a dual citizen and has resided in Texas for many years, and quickly was able to obtain clearance to enter in US national events. He's an accomplished doubles player, currently ranked #3 on the IRT doubles ranking, and is a right-side (forehand) player. He's teamed a legend and a great left-side (backhand) doubles player in Sudsy to make a pretty formidable team. They're handed the #5 seed, meaning they'll have to play through both top seeds to win it.
——————————-
Lets preview the Men's doubles draw:
Round of 16: there's three play-in round of 16 matches, with some interesting match-ups
– In the 8/9 matchup; an east coast flair: North Carolina native Brent Walters teams with top Virginia player Thomas Gerhardt to take on Maryland native MoMo Zelada and his partner, Hawaiian-turned-NorCal guy Robert Collins: Collins as a lefty gives that team an advantage here over the two east coast veterans.
– The solid #6 team of David " Bobby" Horn and reigning intercollegiate champ Erik Garcia takes on #11 team of Arizona youngsters Ben Baron and Preston Tribble.
– #7 team of good friends from the east coast Maurice Miller and Troy Warigon take on #10 team Justus Benson and Sam Bredenbeck. Four semi-regular IRT players here battle it out and a ton of hard hitters.
——————————
Projected Qtrs:
– #1 Defending champs Carson and Charlie Pratt Racquetball likely take on Zelada/Collins and should control the floor.
– #5 Monchik/Landa get started against the #4 team of Jansen Allen and Tony Carson, the 2013 champions. Both former top-10 IRT pros, Carson is just coming back from a year-long injury to his achilles heel and had to forfeit out of the last pro event he entered, while Allen has taken a step back from touring full time. This will be a good first test for Monchik/Landa and a tough draw for the former champs.
– #3 Adam Manilla and his college buddy Nick Riffel likely play Horn/Garcia. Manilla as a lefty gives this team a big advantage, but Garcia can be the x-factor here. Look for the upset.
– #2 Jake Bredenbeck and Jose DIAZ likely face the #7 seeds Warigon/Miller and should advance.
Semis:
– I like Monchik/Landa to upset the #1 seeds Carson/Pratt here. My simple theory in predicting doubles matches is to look at the match-up on the right-hand side to predict matches; If there's a weak link on the court, it often presents on the forehand side of the weaker team. Pratt is by no means a "weak" player, but Landa isn't #2 in the world by accident. I think Sudsy hangs with Rocky on the backhand and Landa makes the difference on the forehand.
– I like #2 Jake/Diaz to make the final again; they're just too experienced playing together and too good of a team.
Finals:
– Landa didn't switch to the USA to not make the team; he's on a mission in Arizona, and I like them for the upset win.
——————————-
Lets preview the Women's Doubles draw:
Just 6 teams entered here. #1 seed includes one member of last year's on-the-court champion team in Aimee Roehler Ruiz, who is second all-time to Paraiso-Larseen in career US National doubles titles with 11. She was part of the winning team last year before having the title vacated, but now she's back with a new partner as the top seed. The #2 seeds from last year (the Key sisters Michelle De La Rosa and Danielle Maddox) are not entered, thus we've got a wide-open field.
In the Quarters i'm predicting chalk:
– #4 Jazmín Treviño and Erin Slutzky over #5 Cassie Lee and Fran Transfiguracion
– #3 Hollie Scott and Lexi York over #6 Graci Wargo & Jessica Chen.
In the semis:
– i like the #1 team of Ruiz and Erika Manilla to advance to the final.
– I think the #2 seeds of Kelani Lawrence] and Sheryl Lotts, two LPRT regulars who are impressing this season, will have their hands full with Scott and York but will prevail.
Predicted final: I like Lawrence/Lotts over Ruiz/Manilla. Ruiz' leftiness helps, but I suspect that the overall talent level of the #2 seeded team will overcome the #1 seeds in the final.
———————————
Singles qualifier Review:
The USA added the singles event to National Doubles in 2016 as part of a revamping of the way the National team is decided. US players now compete in three events to gain "points" towards team qualification; the US Open in October, National doubles in February and National singles in May. One may argue that using US Open pro results is unfair (it is; you're often playing non-US players while competing towards a US team spot), but it is the only other "major" event we have at the moment.
A reminder: I have captured these non-Nationals events in my staging area, but they are NOT loaded into the database and are not currently queryable. I've had requests to add this data for a better head to head representation (especially for Canadians, who have been holding these types of events for years), or to get winners of these past events … but it would take significant retrofitting of the reports to do so, so its back burnered for now.
That being said, its a great draw in Tempe and I look forward to it as a fan.
———————————
Men's singles draw review:
Some questions have arisen related to the seedings here: if Landa just converted to USA … how is he seeded 2nd? Well that's because USAR uses their internal rankings and Carson is ahead of Landa. See https://www.usaracquetballevents.com/rankings.asp . The USAR rankings do include basically all pro players, and is driven mostly by head to head match-ups. But, just because playerA beats playerB doesn't automatically move them ahead; the last time Landa played Carson was in the final of the Nov 2019 Fullerton event, a Landa win … yet he remains behind Rocky until he beats him again.
Here's some notable matches from the 16s I look forward to:
– 8/9 Erik Garcia vs Maurice Miller should be a great match; I think the collegiate champ moves on.
– 5/12 Zelada vs Pratt is interesting: Zelada doesn't play every pro event but can hang with the players regularly in the 9-16 range. Pratt used to make noise in nearly every event he entered, but as he winds down from full time touring he's been taking more and more earlier early round losses; in his last 7 pro stops over the last two years he's made just 3 main draws.
– 6/11: Collins vs Thomas Carter: love the lefty on lefty matches.
– 7/10: Adam Manilla vs Sam Bredenbeck: could be an interesting match here; can Sam get the upset?
Projected Quarters:
– #1 Carson over #9 Garcia
– #4 Horn over #5 Pratt: Bobby beat Charlie in last year's US Nationals and recently in a local event on his home court and I think he prevails again.
– #3 Jake Bredenbeck over #6 Carter
– #2 Landa over the Manilla
Semis:
– #1 Carson moves on over Horn; he's 4-0 lifetime over Bobby.
– #2 Landa tops Jake Bredenbeck; he's 8-0 lifetime over Jake.
Final: tough one to call; I think Landa is super motivated to win and get a big leg up on qualifying for the team. If this was actually Nationals i'd go with Landa, but here Rocky takes the title since by Sunday I perceive Rocky will be out of doubles while Landa will be shooting for two titles.
———————————
Women's singles draw review:
First, can someone explain the seeding in this event to me? Right now, on USAR's ranking page Kelani Lawrence is ahead of Rhonda Rajsich. Kelani BEAT Rhonda in Nationals last year en route to the title and is the defending champ. How is Kelani not seeded #1? I don't get it. You may say "oh seeding doesn't matter you have to beat everyone to win" … but as you'll see, Kelani now has a significantly harder semis match than the #1 seed has.
Nonetheless, here's a preview of this draw. Notable early matches to watch:
– 8/9 Wargo vs Chen: young doubles partners square off early.
– 6/11: York vs Slutzky: can the junior Slutzky (just finishing her 16U year and making her adult debut) challenge York?
quarters projection:
– #1 Rajsich over Wargo
– #5 Lotts over #4 Manilla; this should be a great match.
– #3 Scott over #6 York, again doubles partners squaring off.
– #2 Lawrence over #7 Lee.
The rubber meats the road in the semis.
– #1 Rajsich vs #5 Lotts: Rhonda has had a tough pro season so far: four times she's lost in the 16s, but she's also made two semis. Lotts has competed well against top-8 players but has yet to break through with a round of 16 win. Rhonda has never lost to Lotts, and this may go deep but Rhonda prevails.
– #2 Lawrence vs #3 Scott: this is a rematch of last year's final (which is why seeding accuracy is so important); Kelani prevailed there 11-10 but it could have gone either way. Since then, Lawrence has made a concerted effort to play the LPRT more, and has a slew of solid results. I think Lawrence has grown more in the last year as a player than Scott, and prevails here.
Final:
Lawrence and Rajsich again. These two met in US Nationals events in 2016, 2018 and 2019. They've also met in this qualifier event every year since it started: 2016, 2017, 2018 and 2019. So its only fitting that they meet in the 2020 iteration.
In all of these 7 matches, Rhonda is 6-1. But that one win was in last year's Nationals event. Lawrence got that break through win and hasn't looked back. Lawrence for the win here too.
———————————
Look for Streaming in the regular places; follow USA Racquetball on Facebook and register for live video notifications. Leo Ray Vasquez on the mike all weekend as usual.
Tags
International Racquetball Tour
LPRT
International Racquetball Federation – IRF
International Racquetball Federation
USA Racquetball
Racquetball Canada
Federación Mexicana de Raquetbol