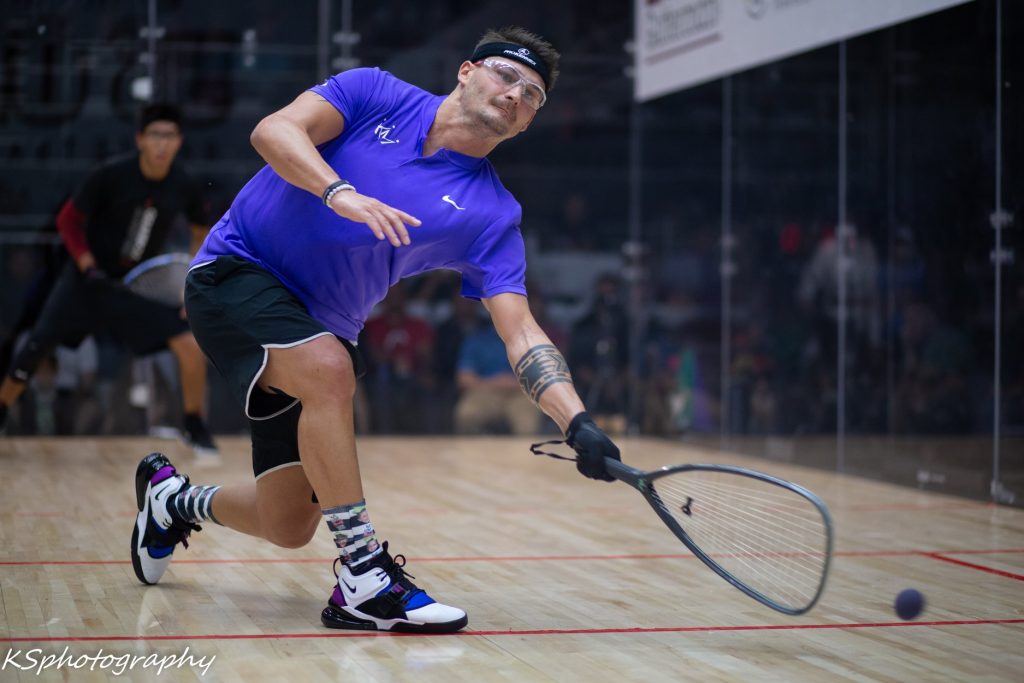 There's not one but two lower Tier IRT events going on this coming weekend, and both have solid and intriguing draws.
We'll do a quick preview of the top-named pros playing in each event.
——————–
First, the Pueblo Athletic club Shootout, a Tier 3 in Pueblo , CO
r2sports lnk: https://www.r2sports.com/portfolio/r2-event.asp?TID=32062
This year's iteration features the return of #1 Kane Waselenchuk, who played this last year (and won it) and he's back to defend his title. Its one of the few (if only?) non-Tier 1 events I think he's ever played.
There's 31 in the pro draw at this event, a great draw, led by by Kane Waselenchuk. He's joined by a slew of locals along with some familiar names. Top seeds will include
– intercollegiate champ Erik Garcia
– top 20 IRT touring player David " Bobby" Horn
– top 20 IRT touring player and Colorado native Adam Manilla
.
– Adam's sister Erika Manilla, who is entered into the pro draw for the rare female IRT entrant
– Current #11 ranked Rodrigo Montoya Solís, fresh off his Mexican National doubles title
– Colorado native and IRT touring semi-regular Nick Riffel
I'd imagine the top four seeds would go Kane, Montoya, Horn and Manilla, and its likely to go chalk to the finals, where the locals look to have a great Kane-Rodrigo power v power shootout.
———————————
The Minnesota Hall of Fame tournament becomes IRT sanctioned for the first time, and is rewarded with a pretty solid draw. There's more than 150 entrants in total and a solid 12-man pro singles draw.
r2sports link: https://www.r2sports.com/portfolio/r2-event.asp?TID=31350
The top IRT touring pros present include Mexican youngster Lalo Portillo, who made a tourney final earlier this year. He's likely the #1 seed here and is joined by IRT veterans and Minnesota natives Jake Bredenbeck and his brother Sam Bredenbeck, as well as IRT regular Texan Justus Benson.
They'll face off against a slew of tough mid-western racquetball stars, including the likes of the Hansen brothers Blake Hansen and Brad Hansen, tough Minnesota amateur Lee Meinerz, a blast from the past in Brad McCunniff – State Farm Agent (last pro appearance: 2002 US Open!), and Iowa junior Andrew Gleason.
I'd imagine the seeds will go Lalo, Jake, Sam and Justus, meaning we may have Bredenbeck-on-Bredeneck crime in the semis unless there's an upset along the way. I'd expect Lalo to top Jake in a final here, in that Eduardo has never lost to Jake and topped him 3,2 earlier this season.
———————————
We'll have to see how streaming goes for these events; I recall watching some local streams from the Pueblo event last year. I'm hoping for some locals with iphones streaming all weekend.
———————————
Tags
International Racquetball Tour
USA Racquetball
Federación Mexicana de RaquetbolR