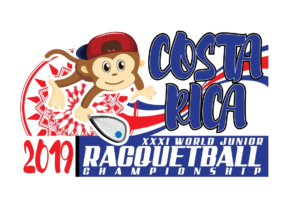 Welcome to the biggest stages for Juniors every year; its World Juniors. Every country in the IRF can send two representatives to compete for the title of Junior World champion.
Click here for a Matrix of all past World Junior Boys titlists: http://rball.pro/043BA8
Click here for the same for Girls: http://rball.pro/BCE571
Draws for the Round Robins are now available via www.internationalracquetball.com, with RRs having started Saturday morning 11/9/19.
The structure of the event is as follows: several days of round robin competition, with pre-tournament seeds dictated by last year's results-by-country (in other words, if a Mexican 18U boy won last year, which is what happened with Lalo Portillo took out countryman Sebastian Fernandez in the Boys 18U final, then Mexico would be seeded #1 in this RR draw, which is the case this year as we'll discuss).
Once the RRs are complete, then the draw is re-seeded based on the results of each RR group and a knockout competition is played to its completion a week from today, Saturday.
In this post, we'll preview the big names to watch for, then we'll do another "preview" predicting the knockout draw. Thanks to the late release of the draw, some of these key RR match-ups may have already happened.
——————
Boys 18U:
18 players in the 18U boys draw.
Top seeds: #1 Emir Martinez (Mex), #2 Gerson Miranda Martinez (Bolivia), #3 Jose Carlos Ramos (Mexico) and #4 Charlie Chavez (Bolivia). In 2019, the semis were both Mexican players and both Bolivian players, hence the top four seeds here.
Unfortunately, this draw is significantly weaker than it should be: presumptive top 18U player in the world Fernandez (last
year's runner-up, the reigning 18U Mexican junior champ and currently ranked 16th on the IRT who just made the quarters at the US Open) is not present. Nor is US 18U champ Antonio Rojas, who announced his decision not to attend this event earlier this year.
Emir Martinez was the losing Mexican finalist and ascends to the #1 seed here, but you have to think Miranda (who made the semis last year as a 17yr old) is the favorite in this draw. USA's two representatives are seeded 5th and 7th in Micah Farmer and Ben Baron respectively, and they'll have their work cut out for them in the knockouts if seeds hold. Baron in particular has a nice chance of improving his seed in the RRs; he has a group with 4th overall seed Bolivian Chavez, who is newer to this stage and gets in by virtue of Garcia's absence. #3 Ramos was last year's losing 16U finalist and could be a sneaky force here to watch for.
One last post-publishing correction: I had thought mistakenly that Diego Garcia Quispe​ was missing from the draw; upon looking closer he's there … he's seeded dead last 18th out of 18 and is representing his new country. Garcia is the reigning 16U world junior champ and switched countries this year; he's going to be a force in this event and I wouldn't put it past him to make the final and face off against his former country-man Miranda.
——————–
Girls 18U
There's 13 players in the 18U Girls draw.
tops Seeds: #1 Maria Gutierrez (Mexico), #2 Nikita Chauhan (USA), #3 Ana Rivera (Mexico) and #4 Graci Wargo (USA). Both the Bolivian players are outside the top 4 ( Angelica Barrios and Valeria Centellas).
A big changing of the guard in 18U from last year, when two of the world's best young players ( Montse Mejia and Ana Gabriela Martinez) met in a final that looked more like the back end of a pro event than a junior title.
Missing from this draw is the USA 18U champ from earlier this summer Briana Jacquet, who won the title w/o dropping a game. And also missing is the Mexican 18U champ Ana Laura Flores Saavedra, who beat Gutierrez 1,1 in the Mexican 18U final. So like with the Boys, we're missing both the reigning Mexican and USA champ from this draw.
I have to question the seeds in this draw. I fail to understand why neither of the Bolivians are seeded in the top 4, based on Barrios' 2018 performance (she was the #2 seed last year and made the semis). Both the Bolivian players entered here have made serious impressions in major pro events: Centellas lost 11-9 in the 5th to eventual Bolivian Grand Slam winner Maria Jose Vargas Parada and is the current reigning World Doubles champion, while Barrios made the semis in that same event, defeating two current LPRT top-8 pros in the process.
Going into this RR stage, I think both under-seeded Bolivians (seeded 5th and 7th respectively) will be forces to reckon with. Centellas is in #2 Chauhan's group and could easily be #2 in the knockouts, while Barrios may very well upset Wargo in their group to improve her knockout seeding as well. The first couple of days of knockouts here will be telling. Gutierrez is last year's losing 16U world junior finalist and has the chops to compete but I think she'll fall before the final.
———————
Boys 16U
18 boys in this draw.
Top seeds: #1 Sebastian Longoria (Mex), #2 Hector Barrios (Bol), #3 Aldo Caraveo (Mex) and #4 Adrian Jaldin (Bol). As with the Boys 18U, all four top seeds from Mexico or Bolivia. But the next 4 seeded players all come from either Ecuador or USA, thanks to strong showings in last year's 16U event.
Mexico's 16U finalist Erick Trujillo and USA's 16U champion Rojas (also the 18U winner) miss this event, weakening the draw. But Longoria and Jaldin (who made the semis last year) should be strong candidates to make the final. USA's entries Andrew Gleason and Timmy Hansen should prove tough outs too: Gleason made the world 14U final last year, and Hansen won USA 14U last year.
——————
Girls 16U
17 girls in the draw.
Top seeds: #1 Guadalupe Griffin (Mex), #2 Michaela Meneses, #3 Ximena Martinez (Mex) and #4 Fernanda Mendez (Bol).
The two top Mexican seeds were the 16U finalists this year. #2 seed Meneses was last year's 14U winner and is a strong candidate to take the title here. Also in this draw: #6 Maricruz Ortiz, who made the final last year in 16U yet somehow only rates a #6 seed; rough path for the seeds in her way. USA 16U champ Annie Roberts is seeded 9th, probably a bit low. Missing is USA's Heather Mahoney, who was the work 14U runner up and 16U USA runner-up (she's competing only in 14Us at worlds); she's replaced in the 16U draw by Erin Slutzky, seeded 11th.
——————–
Notables in the younger draws:
– In Boys 14U #1 Nikhil Prasad and his countrymate #3 Vedant Chauhan both just competed ably in the IRT Tier 4 Bay club open pro tournament; they run a good chance of meeting again in the final. Standing in the way though are a couple of solid Bolivian juniors (as always) and #5 seed Luis Renteria, who just made the semis of the IRT Tier 5 Bi-national event in El Paso.
– In Girls 14U, Heather Mahoney goes for her 3rd junior world title since 2015.
– In Boys 12U, both the 2017 and 2018 Boys 10U world champions are in the draw, both from Mexico in Eder Renteria and Sebastian Ruelas. Neither is the #1 seed; that goes to American Joseph Marshall.
– In Girls 12U: 2017 10U world champ American Sonia Shetty is the #2 seed behind Mexico's Fernanda Trujillo.
– In Boys and Girls 10U, the draw is dominated by Bolivians and Mexicans, all new to the world Junior stage.
————————
Word on the street is that streaming won't officially start til the knockouts; we'll be on the lookout for parents and associations doing streaming on the side. As always, follow the Facebook group "live streaming of Racquet sports" for notifications.
————————
International Racquetball Federation – IRF
USA Racquetball
Federación Mexicana de Raquetbol
Racquetball Canada
Federación Boliviana de Racquetball
Fecoracquet Fecoracquet
Federación Costarricense de Racquetball