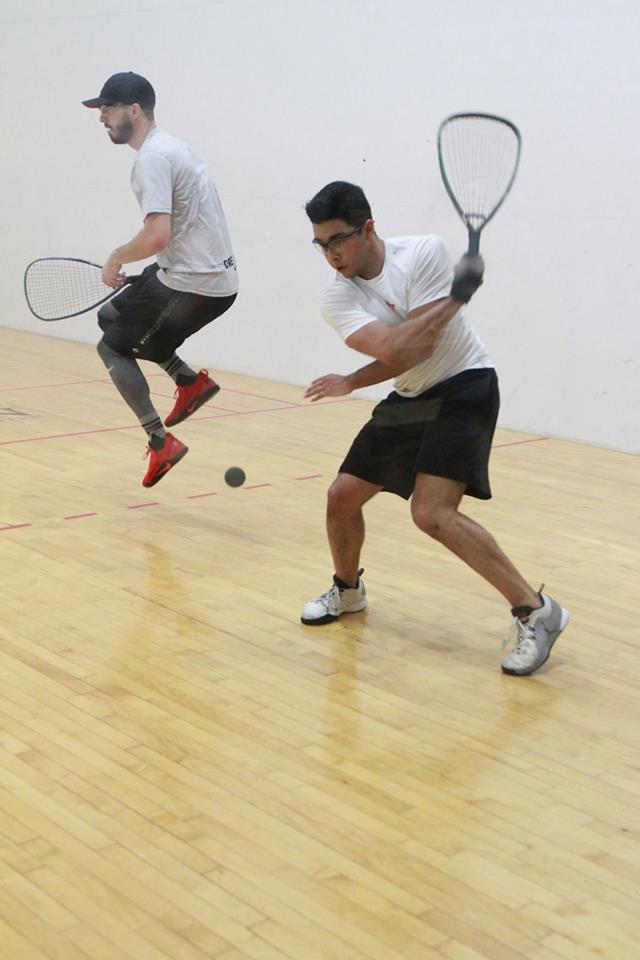 Not an officially sanctioned event, but a solid draw is expected at this weekend's Copa RKT 2019 event in Santiago (outside of Monterrey), NL, Mexico.
r2sports link: https://www.r2sports.com/tourney/home.asp?TID=30896
Lets review the 16-man Open singles draw, which is comprised almost entirely of Mexican traveling pros.
In the round of 16:
– #1 seed Javier Mar gets a straight forward opener against infrequent top-level player Alan Marquez.
– #8 Sebastian Fernandez, fresh off his victory in the Mexican Olympiad two weeks ago, takes on Daniel Herrera.
– #5 Lalo Portillo, who lost to Fernandez in that final two weeks ago, takes on newly graduated junior Mauricio Delgadillo.
– #4 Alex Cardona makes a rare appearance to face Daniel Rodriguez.
– #3 Javier Estrada takes on #14 Erick Trujillo, who is playing in his age 16 season and is a favorite in the upcoming Mexican Jr. Nationals.
– #6 Gerardo Franco Gonzalez, who finished the IRT season ranked 17th, takes on youngster #11 Daniel Herrera Maldonado.
– #7 Eduardo Garay, recently repatriated to represent Colombia, takes on #10 Jaime Martell Neri in probably the best match of the opening round. They met in the semis of the 2019 Longhorn Open, before that in 2017 both Garay wins.
– #2 Ernesto Ochoa has never appeared in an IRT event but has serious wins on his resume (Beltran, Parrilla, Mar, Mercado just in the last 2 years), faces Alejandro Chavez.
I don't see any upsets by seed in the opening round; the 8/9 and 7/10 especially could be close but expect chalk to advance.
In the qtrs:
– I like #1 Mar over #8 Fernandez, but Patata can make it a bit closer than Mar may like. He's really improving fast and could be a dark-horse IRT top 10 player next season.
– #4 Cardona over #5 Portillo; despite how well Lalo has been playing, Cardona is a tough out. Portillo does have some really impressive wins (Murray, Jake in the last few months), but I don't think he can take out Cardona yet.
– #3 Estrada vs #6 Franco: the last time they faced off, it was an 11-10 win for Franco in Mexican Nationals earlier this year. So its paper-thin between them. I think i slightly favor Franco, who has been playing more and better competition and may have the edge now.
– #2 Ochoa vs #7 Garay: another match-up where I think the difference between the players is paper-thin; they met in 2018 Mexican Nats, an 11-7 win for Ochoa. They both have impressive wins over top 10 players in the last year, including Ochoa beating Mercado in Costa Rica last month. I like Ochoa here in a tiebreaker.
Possible semis:
– #1 Mar over #4 Cardona: Mar's one of the top 6-8 players in the world, while Cardona is basically a part-time player (albeit a good one). Mar advances here.
– #6 Franco over #2 Ochoa: they met at 2019 Mexican Nationals, a closer 13,10 2-game win for Franco. I think Franco wins again here.
Projected final: Mar over Franco.
——————-
They're also playing doubles this weekend, with 6 pretty solid teams competing. #1 seeds Ochoa/Estrada and #2 seeds Mar/Garay will have to work to get to the final.
Follow FMR or RKT on facebook for possible streaming from the event.
—————–
International Racquetball Tour Federación Mexicana de Raquetbol World Racquetball Tour RKTCOPA RKT 2019