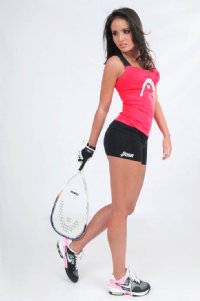 LPRT Open Bolivia American Iris Grand Slam Wrap-up for the Ladies Pros.
Congrats to the winners on the weekend:
– Pro Singles: Maria Jose Vargas
– Pro doubles: Maria Jose Vargas & Natalia Mendez
R2sports link for tourney: https://www.r2sports.com/tourney/home.asp?TID=30507
LPRT Match Report in the database: http://rball.pro/C0D58D
Here's the notable results by round to me:
In the opening round/Round of 32s, no real surprises. There were 7 matches, and there were 6 three-game wins by higher seeded players. The sole upset was #18 Romina Rivero over #15 Daniela Molina, which earns her a shot at the 2nd seeded player.
In the 16s … a few upsets.
– #1 Samantha Salas dropped the first game to Bolivian youngster Micaela Meneses before advancing in four. 
– #9 Bolivian Yazmine Sabja Aliss put together a solid match, downing #8 Colombian Amaya Cris in three games.
– #12 Bolivian Angelica Barrios shocked #5 seeded Nancy Enriquez in three straight 5,6,3. Barrios was the 2017 16U champ and is playing in her age 18 season, and this win avenges a loss Barrios had to Enriquez at the 2018 US Open. 
– #4 Rhonda Rajsich took out home-town Bolivian veteran Jenny Daza Naviain three straight to move on.
– #3 Maria Jose Vargas was stretched to the brink before downing Bolivian 16U world champ Valeria Centellas 11-9 in the 5th.
– #6 Natalia Mendez took out Bolivian native Brenda Laime Jalil in three straight forward games.
– #10 Masiel Rivera Oporto, Bolivan native now living outside the DC area, avenged a loss earlier this pro season and took out #7 Adriana Riveros in a barn burner 11-9 in the 5th.
– #2 Alexandra Herrera downed Bolivian junior Romina Rivero in three.
Before moving on, i wanted to point out the nature of the Bolivian players who advanced into the 16s. Meneses is the 2x defending 14U world champ, playing in her age 15 season. Barrios was the world junior 16U title in 2017 and thus is in her age 18 season. Centellas is the reigning 16U champ and also has one more year in 18s. Rivero was the 14U champ in 2015 and 2016 and thus is in her age 17 season this year. All told including Sabja (world 18U winner in 2009) there's 5 different former Bolivian junior national champs in this draw.
The future is coming for women's pros, and its coming from Bolivia.
In the Qtrs, one significant upset:
– #1 Salas was taken to the brink against Bolivian #1 Sabja, advancing by the quite-close scores of 10,10,11. There really was not that much between these two players on the day.
– #12 Barrios took out her second top seed in as many rounds, defeating Rajsich in four.
– #3 Vargas took out her doubles partner #6 Mendez 6,5,4 in the first ever competitive singles meeting between the Argentinian #1 and #2 players.
– #2 Herrera dropped the first against Bolivian Rivera, but then took over the match and dominated the rest of the way, advancing in four games (2),6,2,2.
In the Semis:
– #1 Salas split games with #12 Bolivian junior Barrios before taking over and cruising to the final in four games.
– #3 Vargas looked to be cruising to an easy win, but then dropped games 3 and 4 and barely held on with an 11-9 5th game win over #2 Herrera.
In the Finals, Vargas over came a 2 games to 1 deficit and outlasted Salas with a great comeback, winning 11-9 in the fifth. Vargas wins her 4th pro title of her career and also gives her just her 2nd pro win over Salas in 7 meetings.
——————-
On the doubles side, the Argentian #1 team of Vargas & Mendez (both of whom are naturalized Bolivians) outlasted the #1 seed of Salas & Rajsich (playing together for the first time) in the final to take the win and give Vargas the double on the weekend.
LPRT Doubles Match Report: http://rball.pro/DFBB29