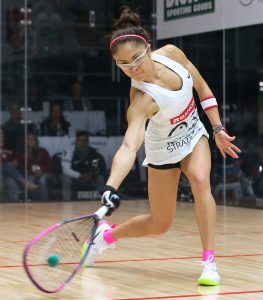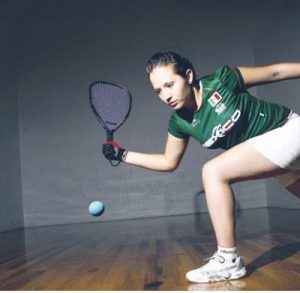 Congrats to Paola Longoria and Samantha Salas on their US Open doubles title. Lets review the event.
In the qualifying rounds:
– Yazmine Sabja Ráquetbol and Nancy Enriquez first took out accomplished international doubles player Aimee Aimee Roehler Ruiz, playing with Erika Manilla. Ruiz holds 6 career major international titles and is a tough out in every doubles tourney.
– Sabja and Enriquez turned around and defeated the #5 seeded Michelle De La Rosa and Carla Carla Muñoz Montesinos in two.
– In another surprise result, the Bolivian team of Jenny Daza Navia and Angelica Barrios took out the experienced USA team of Rhonda Rajsich and Sheryl Lotts to advance to the main draw.
————————–
In the quarters:
– Top seeds and winners of the last four LPRT doubles events Paola Longoria and Samantha Salas Solis advanced in two over Susy Acosta and Kelani Kelani Lawrence (the reigning USA amateur doubles champ)
– Sabja and Enriquez continued their upsetting ways, taking out #4 seeds Argentinian national team of Maria Jose Vargas and Natalia Mendez. Vargas & Mendez are the defending 2018 South American champs and were quarterfinalists at worlds; this is a solid win.
– The Bolivian team of Daza/Barrios upset another favored team in the quarters, taking out Colombian National team reps and #3 seeds Adriana Riveros and Amaya Cris. Riveros/Amaya were semi-finalists at IRF worlds earlier this year and have been representing Colombia as a team for two years now.
– The reigning Mexican national champs and 2018 World runners-up Alexandra Herrera and Montse Mejia advanced easily over Masiel Rivera Oporto and Daniela Molina.
In the semis:
– Top seeds Longoria and Salas put an end to the upset run of Sabja and Enriquez 7,9
– #2 seeds Herrera and Mejia destroyed the Bolivian team of Daza/Barrios 10,2.
The final represented a match-up of in-arguably the two top doubles teams in the world. This was a re-match of the World Open Doubles title in May, the Mexican National Selection event in June, and the first LPRT pro event in August.
In the end, the #1 seeds prevailed in a tight match 10,14 to capture the title.
Paola Longoria and Salas are now an astounding 65-3 together in pro doubles dating to Sept 2013 (the beginning of ladies pro doubles tracking) and have added numerous amateur and international titles on top.
---
FB tags: LPRT UnitedHealthcare US OPEN Racquetball Championships US Open Racquetball