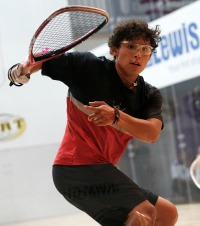 Congrats to Daniel De La Rosa his win in the big Men's draw this past weekend in Monterrey, NL, Mexico, taking down a who's-who of Mexico racquetball players to win the 2018 Mexican Open.
r2sports link here: http://www.r2sports.com/portfolio/r2-event.asp?TID=29995
In case you missed any of the matches, marquee matches were streamed live by RKT and were well covered in the Streaming Racquet sports facebook group.
Lets review the draw and the notable matches by round:
In the 32s, most every match went as I expected except for…
– Gerardo Franco Gonzalez blasted IRT #5 ranked Sebastian Franco 9,5. That was a long flight for a one-and-done for S.Franco, and is a very solid win for Gerardo.
– Daniel De La Rosa (DLR) played a closer-than-expected match against #31 seed Jordy Alonso winning 11,13.
– Juan Loreto made his opener with Polito Gutierrez a little closer than I would have expected, losing 9,11.
– Erick Cuevas eked out an 11-9 tiebreaker win over Daniel Neri in the 15/18 match-up.
– … But the big upset was Javier Estrada taking out IRT #6 Alvaro Beltran in a tiebreaker. Not an upset by seeding, but certainly a very solid win for Estrada. Beltran looked sluggish on the court … almost as if he was a 40-yr old who in the last 5 days has had to play an hour and a half final against the best player in the world, fly home, rest a day, fly to Monterrey and then play a match against a red-hot Estrada. Lets see if Estrada can build on this win and make a run.
In the 16s…
– #1 Rodrigo Montoya Solis played a close one against Alejandro Alex Cardona fighting off a furious 2nd game comeback to advance 11,14.
– #9 Eduardo Portillo Rendon got a statement win over WRT regular #8 Jaime Martell Neri 7,8
– #5 Javier Mar took out the veteran Polo Gutierrez 9,10 by playing an aggressive match and turning up the pressure on his opponent.
– #13 Alejandro Alex Landa "upset" #4 seed Alan Natera Chavez 14,3. In the first, Landa stormed back after Natera jumped out to a big lead … then just rolled in the second game, consistently sending Natera the wrong way on serves and just controlling the match.
– #3 Andree Parrilla ended Gerardo Franco's upset run 3,12.
– #11 Christian Longoria got a solid win over #6 Estrada in a tiebreaker. One of Longoria's best career wins for me.
– #7 Sebastian Fernandez controlled Edson Martinez for a comfortable 2 game win.
– #2 DLR advanced with ease over Erick Cuevas 4,5.
So 5 of top 8 seeds advance into the quarters.
In the Quarters…
– Montoya handled Portillo, though Lalo certainly improved his performance over the last time they played, going down 7,11. Portillo has made great strides in his game over the past calendar year and could be a force on the pro tours quite soon.
– In the Match of the quarters, two of the worlds best went head to head, with Landa taking out Mar 3,(12),2. Landa dominated the first game with his classical pressure game; he relentlessly drive serves, often puts his opponents in positions where they have to take defensive shots, and is a world-class shot maker/kill shot artist from any point in the court. Mar turned the tables by winning a close one in the second, but Landa turned back up the pressure and ran away with the tiebreaker. In my prediction piece I thought perhaps Landa would get upset here, but he's playing with a spring in his step that you don't often see. I think he's motivated and a threat to win this draw now that he's gotten past two dangerous opponents.
– Parrilla cruised past Longoria 8,12. Parrilla is a sneaky opponent; he adapts to any playing stile, is a world-class retreiver, and is in good enough shape to outlast most any opponent. He's still a little inconsistent (he's had some upsets early in amateur events of late) and got a little unlucky in the Portland draw (having to face Kane in the 16s), but I think he's headed towards a top 8 IRT season.
– DLR blasted newly matriculated junior Sebastian Fernandez 5,3. Both these guys have similar playing styles, and can look quite "casual" with their serves and demeanor on the court. Fernandez stepped it up, especially at the US Open in October, but clearly has a ways to go to compete with his country's best.
Its notable that the last 8 of this event included both kids who made the 18U national and junior worlds finals this year; both Portillo and Fernandez seems well equipped to compete with the adults going forward.
————–
In the Semis, we saw just how great top-level racquetball can be, with two fantastic matches that include (for me) the four best players in the world behind Kane and Rocky.
– Montoya and Landa played a scintillating match, with Montoya edging Landa 15-14 in the first game fittingly on a blistering killshot from deep in the court. Landa jumped way ahead in game 2, leading 10-3 at one point … then Montoya took over, scoring 12 unanswered points to take the match 14,10. Landa and Montoya have now split 4 head-to-head matches in big-time events over the past couple of seasons and the margin between them is razor thin.
– DLR and Parrilla were one point away from the "perfect match," splitting two games 15-14 before DLR took the tiebreaker 11-9. Parrilla took a slight knock at 8-7 in the breaker, took a few minutes injury time, then traded clutch shots at match point for and against before DLR got a service winner to take the match.
In the final…DLR played a complete game and really shut down Montoya, winning 8.8. DLR was his same consistent self, with a controlled game plan, while Montoya's game seemed a bit off and that was enough to make for a not-very-close final.
————–
There was also a very healthy Doubles draw, featuring all the top players. Unfortunately, the current World IRF doubles champ team of Beltran & DLR forfeited out (presumably b/c Beltran lost in the first round of singles, but that's an assumption), robbing the draw of a great team. Nonetheless, the other 3 top seeds all advanced to the semis. There:
– Landa/Gutierrez downed Cardona/GFranco, who were the beneficiaries of the forfeit loss of the top team. They were made to work for it though, winning two close games 13 and 14.
– Mar/Montoya faced Parrilla/Edson Martinez and also advanced in two closer games 13,11.
In the final, Mar/Montoya run away with the first game 15-3, and held on the second to win in two.
————–
Also, congrats to Paola Longoria for taking the small Women's draw over three of her LPRT top 10 compatriots.
In the semis, Longoria put a dominating win on the current 18U Junior World champ Montse Mejia 7,2, while Alexandra Herrera overcame a first game loss to donut Nancy Enriquez in the second and then take the tiebreaker 11-5.
In the Final, Longoria ran away from Herrera by the same scores that she downed Montserrat by: 7 and 2.
—————
Summary of the event: a fantastic inaugural event if it becomes a regular fixture on the circuit. You couldn't ask for much more in terms of domestic talent. I'd have loved to see the rest of the top IRT touring players there; imagine a 50 person pro draw with the breadth of the IRT players showing up and making every round of 16 match even more competitive. Hope to see more from RKT going forward.