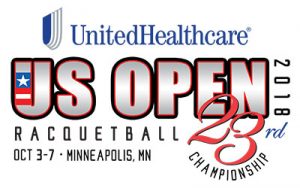 It is upon us: the 23rd Annual US Open of Racquetball, held in Minneapolis, MN. Because of the size of this draw and the fact that it is our sport's marquee event, I'll do daily previews instead of talking about the whole tourney at once.
r2sports.com home page for the tourney is here.
Today, we preview the Men's qualifying draw. There's 69 players entered, slightly down from last year's 73-person draw. The top 16 entered players get byes into the round of 32; the rest play two rounds of qualifying on Wednesday to earn their ticket into the main draw play starting Thursday.
This is the strongest draw you'll likely see all season; 28 of the top 30 ranked IRT players are here (missing out of the singles draw is #25 Sudsy Monchik and #30 Ben Croft, who is only playing doubles this event). And a slew of dangerous international players ranked below the top 30 are here to make waves.
Just as a side note; I have several US Open-specialty queries at the site:
– Matrix of all US Open finishes
– Draw Sizes for all US Opens: (this year's draw is solid … but comes nowhere close to the biggest ever pro draw in 2003).
– Quarters/Semis/Final for all 22 US Opens
– US Open Finish Summary, all players, all 22 events
Now, on to the qualifying preview…
——————————-
In the round of 128, here's some interesting matches to watch out for:
– Dylan Reid, who does the fantastic Racquetball podcast "The Racquetball Show @racquetballshow is entered into the pro draw; he faces off against Canadian Jamie James Slamko in the first round (disclaimer; i've been a guest on Dylan's show … so i can't speak badly about him 
)
– Christian Longoria has a fun first rounder against Colombian veteran Andres Gomez.
– Tough Mexican Rodrigo Rodriguez makes just his second ever IRT appearance and faces off against IRT touring player John Wolfe.
– Mexican 18U player Oscar Nieto faces off against frequent IRT player Troy Warigon.
– Fresh off his WOR pro singles title last weekend, Long Island's Nick Montalbano faces off against one of the Stockton crew; Ricardo Diaz.
– Bolivian 16U phenom Diego Garcia Quispe gets a first round date with fellow youngster from Mexico Erick Cuevas Fernandez. Both are still playing in the 16U ranks internationally.
– German Marcel Czempisz represents Europe for the first time in a while at this event, facing off against the reigning 16U world champ and 18U Mexican National champ in Sebastian Fernandez.
– Two up-and-coming American players face off in Wayne Antone and Kyle Ulliman.
Assuming some results, here's some notable Round of 64 matches we may see and some highlights of the guys seeded in the 17-32 range who might make some noise this weekend.
– #17 seed Thomas Carter misses out on a protected seed by one slot; he's fresh off his first ever pro quarter at the first IRT event of the year in Laurel. He should advance over either Daniel Maldonado or David Austin.
– #25 Scott McClellan (the Ref) may struggle to qualify for the main draw against the winner of Sergio Acuna & A.J. Fernandez.
– #24 Rodrigo Montoya Solís has shaken off an ankle injury sustained two weekends ago in the final of the Sonora Open. This is great news for this tourney, as the defending World Champion easily has the talent to advance deep into this draw. If he's healthy, he has a relatively straight forward path into the quarters, perhaps deeper. He'll get his first test, likely against Colorado's Erik Garcia.
– #21 Gerardo Franco Gonzalez gets a brutal draw, with country-man Longoria playing into him. Franco is just 1-3 lifetime in top-level competitions against Longoria and may fall victim to the upset here.
– Montalbano and Warigon could have a good-ole East coast showdown to advance to the main draw; DC vs NY.
– #20 Nick Riffel is the unlucky recipient of a qualifying match against Garcia. I sense an upset here; Garcia played Adam Manilla tough in the pros at Laurel and made the Men's Open final.
– #19 Javier Mar likely faces off against hard-hitting Bolivian Kadim Carrasco. Mar is a dangerous foe in any pro draw; he advanced to the quarters in last year's US Open, downing two top 10 pros along the way. He'll struggle to match that feat this year, playing into the #3 seed Kane Waselenchuk if he advances that far.
– #26 Luis Conrrado Moscoso Serrudo is one of the biggest names to watch this weekend; his ranking is solely based on his quarter finals appearance last US Open, where he played the King quite tough. He's no unknown to the rball pro community though; he's got enough international wins at this point to have long since made his name.
– Look for an all-Georgia winner take all and qualify match between Maurice Miller and Austin Cunningham.
——————-
There's some great racquetball to be had starting bright and early on Wednesday 10/3/18 (8:15am is the first pro qualifying matches).  Look for Facebook Live streaming from the IRT all day.