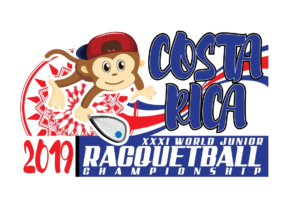 Congrats to all your Doubles team winners from the past week's 2019 Junior Worlds competition in San Jose, Costa Rica.
Boys 18U: Tomas Sanchez / Pablo Freer, Costa Rica
Boys 16U: Adrian Jaldin / Hector Barrios , Bolivia
Boys 14U: Luis Renteria/Jorge Gutierrez, Mexico
Boys 12U: Eder Renteria/Sebastian Ruelas, Mexico
Boys 10U: Luis Medrano/Sebastian Ruiz, Bolivia
Girls 18U: Valeria Centellas/ Angelica Barrios, Bolivia
Girls 16U: Micaela Meneses/Camila Rivero, Bolivia
Girls 14U: Valeria Miranda/Krystin Salinas, Bolivia
Girls 12U: Yanna Salazar/Fernanda Trujillo, Mexico
Girls 10U: Nicol Mancilla/Suszel Pairo, Bolivia
—-
Total Doubles medals by country:
– Bolivia: 6
– Mexico: 3
– Costa Rica 1.
I think there was just one USA team that even made the final, and it was in one of the younger groups. Combined with the singles results, really another step towards Bolivian dominance.
—-
Quick narratives about each of the older age group draws:
In Boys 18U:
– The #1, #2 and #3 seeds all fell in the first round of the knockouts: the CRC team was the 9th seed and defeated the #8, #1, #4, and #6 teams to win the title on home soil. Great showing.
In the Boys 16U:
– Barrios is the double winner on the weekend, taking 16U singles and doubles. They defeat the American team of Prasad/Hansen in the final.
In Boys 14U:
– The story of the event was the Irish team of OGorman and Hanrahan, who topped the #1 seeded American team en route to the final. There though, the Mexicans won with ease to take the title.
In Girls 18U:
– the two dominant Bolivians Centellas and Barrios teamed up to dominate the doubles draw, making Barrios the double winner on the weekend in 18U. They defeat Mexico in the final.
In Girls 16U:
– As with the Girls 16U draw, the Bolivian top-seeded team met the Mexican team in the final and won in two.
in girls 14U:
– Once again it was Bolivia vs Mexico in the final, and another Bolivian two-game win.
—–
I think I may invest some time to at least capture the Junior Doubles winners. It seems like it comes up enough that I'd like to at least have a mechanism to highlight titles for various players. I'll start with Junior Worlds and will post at a later date when the data is available.
—–
Next up on the schedule? LPRT in Chicago this coming weekend (also an IRT tier 5 so we'll have some Men's pros there too), and there's an RKT event in Mexico that looks to have a solid draw worth watching.
—–
International Racquetball Federation
International Racquetball Federation
International Racquetball Federation – IRF
USA Racquetball
Racquetball Canada
Federación Mexicana de Raquetbol
Federación Boliviana De Raquetbol – Febora
Federación Costarricense de Racquetball