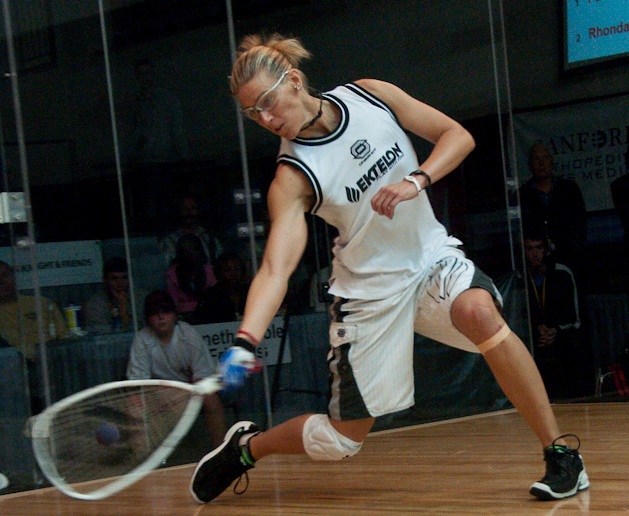 Its the week before Memorial Day Weekend, which means that its time for USA Racquetball National Singles!
r2sports link: https://www.r2sports.com/portfolio/r2-event.asp?TID=30549
This year's version of event is the 52nd iteration of the event, and is as far as I know the longest running racquetball tournament in existence. It was first held in 1968 in Milwaukee, where two legends competed in the final (Bill Schultz defeated Hall of Famer Bill Schmidtke in the final).
Here's a list of every Men's Open champ since 1968: http://rball.pro/896B5B.
In 1970, the first Women's national champion was crowned: Fran Cohen won the first Women's national title in St. Louis.
Here's a list of every Women's Open champ since 1970: http://rball.pro/A75737
Record holders for Most National Titles?
– Rocky Carson holds 7 National titles, winning his first in 2000 and his most recent in 2017. Interestingly, despite still being ranked #2 on the pro tour, Rocky did not compete in the 2018 version, nor is he in this weekend's draw.
– Rhonda Rajsich holds 11 National titles, winning her first in 2004. She's also the defending champ, the #1 seed this weekend and has won the last eight National events.
Your defending champs are David Horn and Rajsich. I'm not entirely sure how Horn drops to the #3 seed behind Jake in particular (who he has bested round for round in the last few national qualifying events)., but would have had to play Pratt in the semis regardless so its a minor seeding nit.
————–
Men's Singles:
Lets preview some of the match-ups i'll be looking for:
In the 16s:
– #8 Luis R Avila vs #9 Robert Collins; 8/9 match-ups are always tough, and this should be no different. Lefty touring pro Collins versus the defending outdoor 3-wall champ Avila, who periodically comes indoors and has some good wins on his resume. This is a good test for both.
– #5 Adam Manilla vs #12 Woody Clouse; Woody Clouse back in action competing for the National team … for the first time since 2006. Clouse qualified for the team in 2005 and represented the US in the Pan American Games in April 2006, losing in the final to Canadian Kris Odegard 11-9. He also had several top 10 pro tour finishes during the deep mid 90s tour days. Now he's back at age 53, playing in his home town. He faces off against fellow lefty Manilla, fresh off of a second top 20 season on tour with some good results. I think Manilla moves on but it'll be a fun L vs L match.
– #6 Thomas Carter vs #11 Nicholas Nick Riffel; two IRT regulars meet up; they faced each other 3 times in 3 months in early 2018, with Carter taking 2 of 3. Riffel had a tough end to his 2018-19 tour, forfeiting out of Syosset with an injury. Meanwhile Carter had a nice run at the end of the season, getting a couple of solid wins and making the main draw in both Florida and NY. Advantage Carter here.
– #7 Dylan Reid vs #10 Jeff Stark; two West Coasters who have played more than a few times meet up in the first round. I think the podcasting Reid is favored here but they know each other's game.
Man, lots of Lefties in action. At least four, maybe more. Something in the water in Denver maybe.
Projecting the Qtrs:
– #1 Jake Bredenbeck vs Avila: Jake struggled with upsets all season … then blew it out in NY, taking out Pratt, Daniel De La Rosa and nearly beating Andree Parrilla. So which Jake shows up?
– #4 Jose Diaz vs #5 Manilla: they've only played a couple times, but both matches were 3- or 5-game tiebreakers. I like Diaz here … in a tiebreaker.
– #3 Horn vs #6 Carter: I don't think they've ever played in a top-level event … so a first for everyone. Horn should win this one in two closer games.
– #2 Charlie Pratt vs #7 Dylan Reid: another match-up of two upper northwestern guys, both hailing from Portland. Fly all the way to Denver … have a repeat of your tuesday night game. Pratt's solid and advances here.
So i'm predicting Chalk to the semis … and then for some upsets to happen.
Semis:
– #4 Diaz over #1 Jake: they're pretty even career-wise h2h, but havn't played in a year and a half. I like Diaz here. Diaz had the better season, nearly slipping into the top 10 and jumping Jake in the rankings.
– #2 Pratt over Horn: They played in December in Portland, a close 2-game win for Pratt, and I like the year Pratt is having so far.
Final:
– #2 Pratt over Diaz. head to head, Diaz has never lost to Pratt. But something tells me Pratt is on a mission this year.
—————-
Women's Singles: just 9 in this draw, but some good match-ups towards the back and one incredibly poor seeding job:
In the Quarters:
– #1 Rajsich over #8 Cassandra Cassi Lee
– #5 Kelani Lawrence over #4 Sheryl Lotts; here's a seeding question. Lawrence made the Women's singles final of the 2018 qualifier at Nat'l doubles, made the finals at 2018 Nationals, and made the finals at the 2019 Qualifier at Nat'l Doubles. So that's basically the last three major National events…. how exactly is she seeded 5th in this event?? What more does she have to do to demonstrate that she's basically the 2nd best American woman player right now?
– #3 Hollie Rae Scott over #6 Adrienne Fisher Haynes
– #2 Erika Manilla holds off retired LPRT legend Cheryl Gudinas
In the semis:
– #1 Rajsich takes out Lawrence in a rematch of the last three major US national team final, instead of in the final like it should be
– #3 Scott takes out #2 Manilla in a rematch of this year's Intercollegiates semis.
In the final: Rajsich takes her 9th straight US title over Scott.
———————-
Lastly, a note on attendance. There's some separate conversations about the # of participants this weekend going on. Here's a list of the participation numbers for the last 14 National Singles events (these are the "# of participants" from the r2sports page and should indicate unique players, not # of draw entrants):
2019: 191 Highlands Ranch/Denver
2018: 221 Pleasanton
2017: 243 Tempe
2016: 268 Highlands Ranch/Denver
2015: 377 Highlands Ranch/Denver
2014: 292 Fullerton
2013: 435 Fullerton (also IRT and LPRT pro stop)
2012: 559 Fullerton (also IRT and LPRT pro stop)
2011: 514 Fullerton (also IRT stop)
2010: 535 Houston
2009: 501 Houston
2008: 523 Houston
2007: 528 Houston
2006: 515 Houston
The event held steady in the low 500s its last five years in H ouston, then spiked during its Fullerton years thanks to simultaneous IRT and LPRT events (some of the pro draws from those years were amazing; 70+ mens pros competing). But we've seen a precipitous drop in attendance over the last few years, including a 100+ attendee drop from 2015 to 2016, now not even able to clear 200 players this year. 191 players isn't even close to what National Doubles got this year (306) and that number is basically halved from the beginning of the century.
I know there's some fundamental industry issues that are driving down these numbers. But this is the NGB's marquee event. You can't turn back time and make it the mid 2000s again (to say nothing of the mid 1990s), but you can strategize other aspects of the event to make it more appealing to a larger audience, and I hope to see some turn around in the coming years.