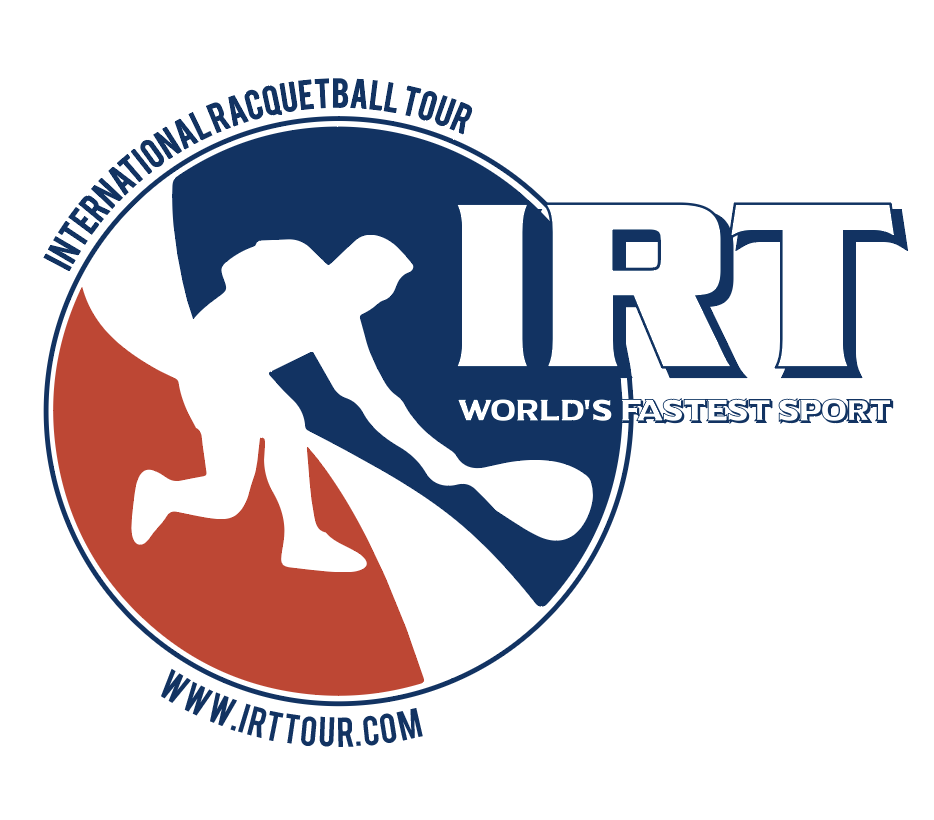 Here it is; the moment you've been waiting for. The first Men's pro tier 1 of the new 2019-20 season.
Draws are up on www.irttour.com and on R2 Sports Event Software here: https://www.r2sports.com/tourney/home.asp?TID=30291
The tour returns to Lilburn after a one-season absence, and is rewarded with a great 38-man draw and both both singles and doubles action. The top 10 players are here, then we're missing the 11th-14th ranked players inclusive ( Jose Diaz, Jake Bredenbeck (injured reportedly), David Horn and Luis Conrrado Moscoso Serrudo all miss this event, somewhat surprisingly for the first three). We're also missing last weekend's winner Charlie Pratt depriving the draw a bit of its mid-section talent.
This combination of missing players elevates Lalo Portillo all the way to the #11 seed here, his highest ever seeding in an IRT event. We're also missing frequent tour participants like Jansen Allen, Adam Manilla, and Felipe Camacho; all three treaded water or slipped in the rankings last season; is this a one-tourney blip or are we seeing a changing of the guard on tour? More to come here later. In the meantime…
——
Lets preview the singles draw first.
NOTE: post publishing this analysis and the draw, Kane Waselenchuk withdrew from the event due to a personal issue. Take that into mind reading the below. I could see this most benefiting Javier Mar, who could get a walkover in the 16s and very well could run to the finals.
Notable round of 64 matches:
– #24 Maurice Miller vs Troy Warigon; a solid match-up between two solid players, who also happen to be playing doubles together this weekend. They met in the semis of the pro draw of the LPRT event in December on Troy's home court (a Miller win); now the tides are reversed as Warigon travels to play Miller on Miller's home court. Miller should advance here.
– #21 Kadim Carrasco vs MoMo Zelada; Carrasco is one of several Bolivian-based players to enter this draw. These two met in the opener of the Bolivian Grand Slam last March, a dominant Carrasco win. I like Zelada keeping it close but ultimately falling again to Carrasco.
– #19 Justus Benson vs Austin Cunningham; Benson takes on a talented local in a first rounder that could be closer than he wants.
– #23 Scott McClellan vs Michael Arterburn: two frequent IRT entrants face off in the opener.
– #18 Eduardo Garay Rodriguez takes on long-time touring pro Dan Fowler, who plays just his third IRT event in the last decade, making the drive down from Maryland along with Warigon and Zelada.
————
Notable round of 32s, assuming some early upsets don't occur:
– #16 Javier Mar vs #17 Sebastian Fernandez; tough match-up for both players, fitting of a 16/17 draw. I like both players chances of breaking into the top 10 with a full season on tour … but we generally only see Mar part time (He's played just 7 events in the past 5 seasons). But Mar's results speak for themselves; he's always a threat to advance when he plays. I like Mar over the younger Mexican player here, but I like Patata's chances this season.
– #12 Gerardo Franco Gonzalez vs #21 Carrasco: Franco takes advantage of the missing 11-15 ranked players to secure a top 16 seed and gets a winnable match against the Carrasco/Zelada winner.
– #20 Carlos Keller Vargas takes on #13 Thomas Carter, a tough draw for Carter facing the two-time defending PARC champ.
– #15 Andres Acuña vs #18 Garay: great match of two internationals; last time they knowingly played was in the 2014 Junior worlds (a tight Acuna win). Acuna has continued to impress with his international accomplishments, but Garay beat a number of top players last year and is looking to make some noise this season. Garay to advance but its a toss-up.
——————
Projecting the 16s.
– #1 Kane Waselenchuk vs #16 Mar: they've met 3 times; Kane crushed him at Syosset last spring, but Mar played Kane as tough as he's been played in the best-of-three format at last year's US Open. Mar's tactical game can keep him in a match with Kane if he's shooting well, but that only goes so far. Kane gets a quality match out of the gate but advances in two.
– #8 Sebastian Franco vs #9 Rodrigo Montoya Solis: the first of potentially many critical openers for both players as Rodrigo makes a run at the tour top 8. I don't have any prior meetings between the two, so this should be telling for now, as both guys remain neck and neck at the 8/9 spot and should continue to meet at this 8/9 juncture for a bit until points settle out. I predict Montoya to advance.
– #5 Alvaro Beltran vs #12 G.Franco: they've played 3 times since Jan 2018, all three Beltran wins. I'd expect the same here; a win for Alvaro in 2 closer games.
– #4 Andree Parrilla vs #20 Keller; brutal draw for Parrilla. Keller was handily beating Parrilla at the Black Gold cup this summer when Keller had to retire; this will be a setback for Parrilla's pursuit of the #3 spot on tour right out of the gate, because I think Keller wins this match in two.
– #3 Alex Landa vs #14 Robert Collins: just one meeting between these two; a 3-game win at the 2016 US Open. Landa should advance here.
– #6 Daniel De La Rosa vs #11 Portillo; this should be an interesting match; Portillo has gotten a ton of solid wins this summer, while DLR fell to his lowest ranking in a while. Is DLR in? This is just the kind of match that can trip him up if he isn't focused. I'd expect DLR to advance here because his game is just too complete for Portillo right now, but Portillo has the talent to win.
– #7 Samuel Murray vs #10 Mario Mercado: 4 meetings between them, none in the last few years. They're split 2-2, with all four going 4 or 5 games. I like Mercado here, building on his great Pan Am Games showing.
– #2 Rocky Carson vs #18 Garay; little to go on here but I suspect Garay will get a lesson in match management as the veteran advances in two.
—————–
Possible Quarters:
– #1 Waselenchuk vs #9 Montoya: just two prior meetings between the two, both dominant Kane wins. It will be interesting to see if Montoya's game has added the facets he needs to compete with Kane; i look forward to this meeting if it occurs nonetheless because there's not too many other guys who hit it this hard on tour.
– #20 Keller vs #5 Beltran: Keller's beaten Alvaro twice in the PARCs, including in the semis of the 2019 event en route to his title. I see another Keller tight 2-game win.
– #3 Landa vs #6 DLR; a frequent match-up between two top Mexican players: I now have Landa 7-5 in both pro and Amateur meetings with DLR, and you have to go back to 2017 to find a DLR win. I think Landa wins here to move on.
– #2 Carson vs #10 Mercado; 8 meetings, 8-0 for Carson, but Mercado took him to a tiebreaker on home soil in the Bolivian Grand Slam earlier this year. Look for a Carson win.
—————–
Semis:
– #1 Kane over #20 Keller; Keller's solid, but not this solid. It could be a fun match to watch though, in that Keller's game does not really overpower players, but he hangs in. Can he hang with Kane's power?
– #2 Carson vs #3 Landa; Carson leads 7-4 all time … but they're dead even split in the last 3 seasons 4-4, alternating wins. Carson won in Syosset to end last season … but Landa beat him handily in Florida the week before en route to that title. I like Rocky here.
Final: Kane over Rocky. 1 vs 2 yet again. I know nobody wants to predict the obvious 1-2 final, but as we saw last year when Rocky and Kane had locked up the top two slots with a couple of events yet to go … there's still a gap between them and the rest of the tour.
——————
Men's Doubles preview
Love this Doubles draw. The top of the draw is stacked, and there's 11 solid teams. Portillo and Parrilla have decided to play together every event, adding to the intrigue of doubles draws with more and more "regular" teams showing up. All four quarter finals look like they'll be great.
In the top half, look for Ben Croft/Waselenchuk to get stretched to the limit by the Mar/Montoya team (who just won gold at the Pan Am games) before advancing to face their frequent nemesis team of DLR/Beltran in one semi.
In the bottom half, I like the Colombian national team of Mercado/Franco to top Parrilla/Portillo and to face the #2 seeded Landa/Murray team, who continues to have great success playing with each other semi.
Croft/Waselenchuk took out DLR/Beltran the last time they played (Mar 2019) and we'll go with that again, as they then continue to beat Landa/Murray in the final.
——————
Lets get it on. Look for Streaming announcements in all the usual places all weekend.
International Racquetball Tour
International Racquetball Federation – IRF