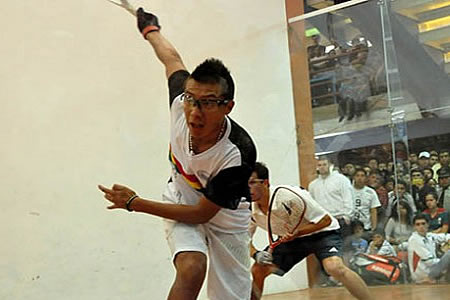 Bolivia Open Grand Slam preview – International Racquetball Tour
Hello Racquetball Fans; it is a historic week for professional racquetball as the first ever pro tournament is being held in Racquetball-mad Raquet Bolivia.
R2sports home page: https://www.r2sports.com/tourney/home.asp?TID=30507
Bolivian racquetball burst onto the scenes internationally in 2010, when Ricardo Monroy won the 2010 Pan American Racquetball Championships (PARC) topping the #1, #2 and #4 seeds along the way. Fellow Bolivians Luis Conrrado Moscoso Serrudo and Carlos Keller Vargas have since followed-up with significant international results on the Men's side, with Keller taking the 2018 PARCs and a young Moscoso making the 2014 Worlds final, losing to Rocky Carson.
On the Women's pro side, Bolivian Trail-blazers such as Yazmine Sabja Ráquetbol, Carola Loma and Jenny Daza Navia have made finals of international events for a decade, but have yet to push through with a major adult international victory.
In the mean-time, the Bolivian juniors are starting to dominate; Bolivians took the 14U and 16U titles at last year's World Juniors (Luis Antonio Aguilar and Diego Garcia Quispe respectively), and both Bolivian 18U players made the semis before losing to the eventual Mexican finalists. It was a similar story on the Girls side, with Valeria Centellas taking the 16U title while simultaneously holding the World Adult Doubles title with Sabja from last summer. Bolivian junior girls have won 11 world junior titles in the last 5 years, more than any other country.
And now, with the first ever pro stop in Bolivia, nearly every player just mentioned is playing, along with a good collection of traveling IRT and LPRT regulars. In addition, we get a few South American regular internationals plus a good chunk of the Guatemalans who were in Chicago two weeks ago.
All told; this tournament has a reported 359 total participants, including equally massive Men's Skill divisions and a ton of juniors playing. Bravo to the community to make this such a huge hit.
Lets get to the draws.
—————
On the IRT side; half the current top 10 did not make the trip; Kane Waselenchuk could have basically sewn up the 2018-19 IRT title with a win in Cochabamba but chose to stay with family. Daniel De La Rosa, Samuel Murray, Sebastian Franco and Jose Diaz also miss the event out of the current IRT top 10, leaving a relatively wide-open field and a pretty solid opportunity for Carson in particular to put himself back in the driver's seat for the year end IRT title. Rocky will return to #1 with at least a finals appearance, and DLR likely drops to 6th on the season with little chance of getting back into the top 4. None the less, there's a massive 40-person draw that's about half Bolivian locals, half traveling pros. Oddly, despite this being a "Grand Slam" the top 8 qualified into the 16s, meaning the typical huge advantage over the locals. Lets see how it affects the Bolivian dark horses.
In the round of 64, a couple of interesting matches right off the top:
– #24 Carlos Keller Vargas vs Gerson Miranda: tough first match for both players. Keller (as noted above) is a PARC champ and a regular Bolivian national team representative, while Miranda is one of the top juniors in the country, representing Bolivia at World Juniors last November and losing in the semis in his age 17 season. Keller likely takes this, but Miranda is a name to watch going forward internationally.
– #23 Conrrado Moscoso vs Fernando Ruiz Michel: the other member of Bolivia's 2018 18U team ironically faces off against the other regular member of Bolivia's adult national team. I really wanted both Miranda and Ruiz Michel to have shots at traveling IRT players instead of being eliminated by the two Bolivian nationals who i think can make serious noise in this event, but the draw was not favorable to the juniors here.
The action heats up in the 32s:
– #16/#17 MoMo Zelada vs Kadim Carrasco; Another regular member of the Bolivian adult team, Carrasco has some serious power, and has a long history of traveling to the states for pro events. However, Maryland resident and Bolivian native Zelada is no slouch and should handle Carrasco here.
– #9 Thomas Carter vs #24 Keller Vargas: Carter's the highest player to not get a bye and it catches him here, having to face the former Pan Am champ on home soil. 
– #12 Robert Collins vs #21 Edwin Galicia; Collins should be able to handle the Guatemalan here to advance to the main draw.
– #23 Moscoso vs #10 Felipe Camacho; they've met twice in international competitions, both easy Conrrado wins. Moscoso advances with eyes on making a deep run in this event.
In the main draw, we get the first action out of the traveling seeded pros:
– #1 Carson takes on Zelada, a match between two almost identical game styles. Both play focused, tactical racquetball with thought put into every service choice. Unfortunately for Zelada, Carson is the best at it and advances in two straight.
– #8 Jake Bredenbeck continues to struggle on the season by running into Bolivian international Keller Vargas at this juncture and loses in two straight. This may be an upset by seed, but not by world power ranking, as Keller has more than a few wins over top IRT pros.
– #5 Mario Mercado dodges the landmines of local players and gets a straight-forward match against #12 Collins. Collins has played well this season but this is a win for Mercado here.
– #4 Andree Parrilla faces off against his countryman Eduardo Lalo Portilloand handles him in two, but not before Portillo makes some noise and gives Parrilla a scare.
– #3 Alvaro Beltran faces off against #19 Eduardo Garay Rodriguez, formerly from Mexico but now playing out of Cali, Colombia. This is a brutal draw for Beltran, as Garay has multiple wins over top 8 IRT pros and didn't have to make four flight connections to arrive in Bolivia. I think Beltran can win this, but wouldn't be surprised if Garay played him lights out.
– #6 Rodrigo Montoya celebrates easily his best ever tourney seeding by taking down countryman Gerardo Franco Gonzalez at this juncture.
– #7 David Horn is the unlucky seeded player who gets to face Moscoso, who has the talent to make the semis of any IRT event, full draw or not. They've met twice; Moscoso beat him in 3 at the 2017 US Open while Horn got him a the 2015 PARCs. I think Moscoso advances on home soil here.
– #2 Alex Landa starts his tourney against Bolivian World Junior 16U champ Diego Garcia, who can make some noise but doesn't have the game to beat Landa at this point in his career.
If the 16s go as I predict, we may have some quarter final match-ups for the Ages:
– #1 Carson vs #24 Keller Vargas: they've played before internationally, and while Keller can beat some players he's not going to beat Carson on this day.
– #4 Parrilla handles #5 Mercado and continues his relatively easy draw into the semis here.
– #6 Montoya takes out whoever advances between Beltran and Garay. If its Beltran, it'll be the third time they've met in the quarters in three months and the first two have been relatively easy Rodrigo wins. If its Garay … Montoya has beaten Garay twice in WRT events in the last couple of years, one of which was a pretty close 11-9 barn burner.
– #2 Landa vs Moscoso. Well, here it is. Sudsy Monchik tells me that Moscoso is one of the best in the world and deserves to be mentioned in the same breath as the tier of players just below Kane & Rocky; here's his chance. Landa has shedded rankings points all season (it was inevitable; with Kane back Landa wasn't going to win multiple events this season), and will have to really hustle to win here. I'm going to go with my gut and say that Moscoso wins this to advance and firmly cement his place among the game's elite.
Semis projection:
– #1 Carson vs #4 Parrilla: Parrilla had the match-winning point on his racquet and skipped the winner before losing 11-10 in Laurel to open this season the last time he played Rocky, and the two times before then Andree beat him. Four of Andree's five losses this season are to Kane. I think he's ready to take the next step. I'm going out on a limb here and predicting a Parrilla upset here.
– #6 Montoya vs #23 Moscoso. This is a heck of a match. Its also a re-match of a highly anticipated 2018 Worlds quarter final last November won by Montoya in a tiebreaker. Who would take this rematch? I'm tempted to go with Montoya again. But honestly I could see a Moscoso win on home soil in front of a frenzied packed house too, bringing all the energy of an international competition.
Final: Moscoso over Parrilla to shock the pro world. If the final comes down to this, its a rematch of a classic 2017 US Open round of 16 match, won by Moscoso 11-8 in the 5th. I can see a similarly close match here.
—————
IRT Doubles:
14 teams battling it out, and a whole slew of interesting teams playing. Beltran is teamed with Landa (not DLR, his regular partner) at #1, Carson is playing with Camacho and seeded 5th, Jake & Horn are seeded #3, the fantastic Bolivian #1 team of Keller & Moscoso is seeded 6th, and the semi-regular team of Parrilla & Montoya (who have more than a few pro titles together) are seeded 2nd.
I'm going with Landa/Beltran over Carson/Camacho in one semi, Keller/Moscoso over Parrilla/Montoya in the other, and the Bolivians winning on home soil in the final for a possible double for Moscoso on the weekend.