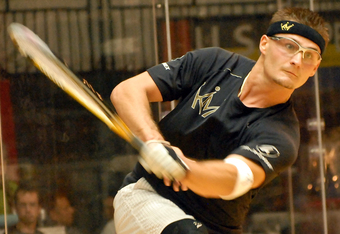 I wanted to do a quick post reacting to Kane Waselenchuk's shock loss last weekend in the quarters of the Florida pro stop to Alvaro Beltran , and then talk about the implications heading into the season's final event.
Kane's loss is historically notable for a number of reasons.
– This is Kane's first on-the-court, non injury or forfeit related loss since a semis Kansas City loss to Jose Rojas in 2013. Some may also point out a loss Kane took to Jake Bredenbeck in May of 2016, where Kane won the first two games, suffered an injury, then retired in the 5th. See this link for all of Kane's career losses: http://rball.pro/8F1B46
I'd like to point out how crazy it is that we're talking about a singular loss by a player in a one-on-one sport. Roger Federer is widely considerd the GOAT in Tennis; his best ever season by W/L was in 2006 when he went 92-5. That's 5 losses in a year … while Kane doesn't have 5 losses in the last decade. This situation kind of reminds me of the Russian wrestler Aleksandr Karelin, who went 13 years without losing (nor even dropping a point!) a match, and when he did give up a point it was so shocking that the officials went to video replay to confirm the referee's decision.
– this loss breaks a 74 game winning streak; http://rball.pro/D30B92 . This was the 2nd longest ever Game winning streak, 2nd only to Kane's 113-game winning streak that covered the whole of the 2016-17 season. This loss includes the first game loss Kane has suffered since the conversion to best-of-3 scoring format on tour.
– this loss also breaks an 83 match winning streak: http://rball.pro/569297 . This was the 3rd longest ever such streak (which skips fft losses), 3rd only to two longer streaks that Kane has achieved earlier in his career.
——————
I did not see the match live; only seeing texts and notifications after it had happened, so I went back and watched it on International Racquetball Tour's facebook page (tangent; what a great resource, having all these past matches available at the click of a button).
I watched it end to end, to see if there was evidence of an injury or some other root cause for this shock loss. Kane definitely seemed "off" his game, both in this match and against Thomas Carter in the 16s. And in a sport where the margin of error against top pros is usually measured in millimeters, it was enough to give Beltran (a very skilled shot-maker who can put balls away at any point when he can set his feet) the openings he needed to win.
I thought Kane really struggled with his serve on the day; I can't recall the last time I saw him leave drive serves coming off the back wall as easy setups (which Beltran dutifully buried), and I can't recall seeing him miss his lines or skip so many shots that he'd normally roll out.
I'm no pro, but I can tell very quickly when getting onto the court if i'm "on" or "off" that day, and sometimes there'd just nothing you can do about it except try to work around whatever struggles you're having. These guys play day in, day out for 8 months out of the year and their livelihoods depend on maximizing their talent without allowing for "off days" really, so its hard to criticize one particular outing versus another.
———————
Implications for the 2018-19 race heading into the Syosset event.
Next weekend's Syosset event is the final tier 1 of the season. However, there's four additional IRT non-tier 1 events listed on the schedule right now: https://www.irt-tour.com/events/ . Two of those are Tier 2s, which give 120 points to the winner (no small amount of points, given the analysis below):
https://www.irt-tour.com/singles-rankings/ has the current rankings, post Florida rankings and Kane has a 134 point lead over Rocky Carson for the season. The Syosset event is "new" and there's not corresponding points from last season to "defend," so its winner takes all here on out.
With a 138 point lead, Rocky basically has to finish two "rounds" ahead of Kane while advancing sufficiently deep this coming weekend to keep the title lead. Here's scenarios that could result in this situation:
– Rocky wins (400 points), Kane loses in semis (220 points): this is a net +180 for Rocky, enough to take over the title lead
– Rocky makes final (300 points), Kane loses in qtrs (150 points): net +150 for Rocky, enough to take the lead.
– Rocky makes semis (220 points), Kane loses in 16s (90 points): net +130 for rocky … NOT enough to take the lead.
Here's where it'd get interesting. It is close enough between Kane and Rocky that some of these lesser tier events may come into play. Lets say Rocky or Kane comes out of New York trailing by less than 100 points: if you win a Tier 2, that's 120 points. There's two Tier 2s remaining (in Costa Rica and Mexico), a Tier 3 in Kansas, and a Tier 4 in Arkansas.
There are some limitations as to how many non tier 1s that top pros can go to. I don't know the exact details. Kane went to the PAC Shootout earlier this spring (a Tier 4) and won it. Has Rocky gone to any non-tier 1s this season?
Things may be interesting down the stretch.