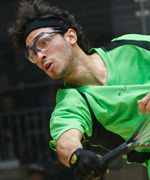 Congrats to the winners on the weekend:
– Men's Singles: Alex Landa
– Men's Doubles: Javier Estrada/Ernesto Ochoa
R2sports link for the tourney here: https://www.r2sports.com/tourney/home.asp?TID=31049
Here's a quick review of the tourney
In Men's Singles, no upsets to the quarters. In the qtrs:
– #1 Alex Landa topped #8 Ruben Estrada in an injury fft after winning the first game.
– #5 Alan Natera Chavez topped #4 Ernesto Ochoa in a tie-breaker fitting of the 4/5 match-up.
– #6 Alex Cardona took out #3 Javier Estrada in two close games. Was his amazing performance in Chihuahua earlier this year an aberration?
– #2 Eduardo Garay Rodriguez topped the veteran Polo Gutiérrez 10,2.
In the Semis;
– Landa and Natera battled in a close game 1, then Landa pulled away to take game two 15-3 and advance to the final of his namesake tourney.
– Cardona took two close games from Garay 13,12 to "upset" his 2nd straight seeded player and advance to the final.
In the Final:
– Cardona took the first game, then Landa took over, beating his frequent Juarez club playing partner (12),5,6 to win the singles title in his name sake event. Not a bad showing for Cardona, who has stepped back from competitive play but still remains a dangerous player in every draw he enters. For Landa, two solid wins over tough opponents and a good warmup for the new season coming.
————————
In Men's Doubles:
– #1 seeds Landa/Cardona were upset in the semis by #4 Estrada/Ochoa in a tiebreaker.
– #2 Natera/Garay downed #6 seeds (who got a walkover over #3 seeded team in the qtrs) Jose Martinez / Manuel Villarreal: to advance to the final.
In a good final entirely consisting of solid Mexican players who rarely feature in USA domestic IRT events, Estrada and Ochoa blasted their way to a win over Natera/Garay.
————————-
Next up; the start of the 2019-20 pro season with the LPRT heading to San Luis Potosi.
Federación Mexicana de Raquetbol
RKT
International Racquetball Tour