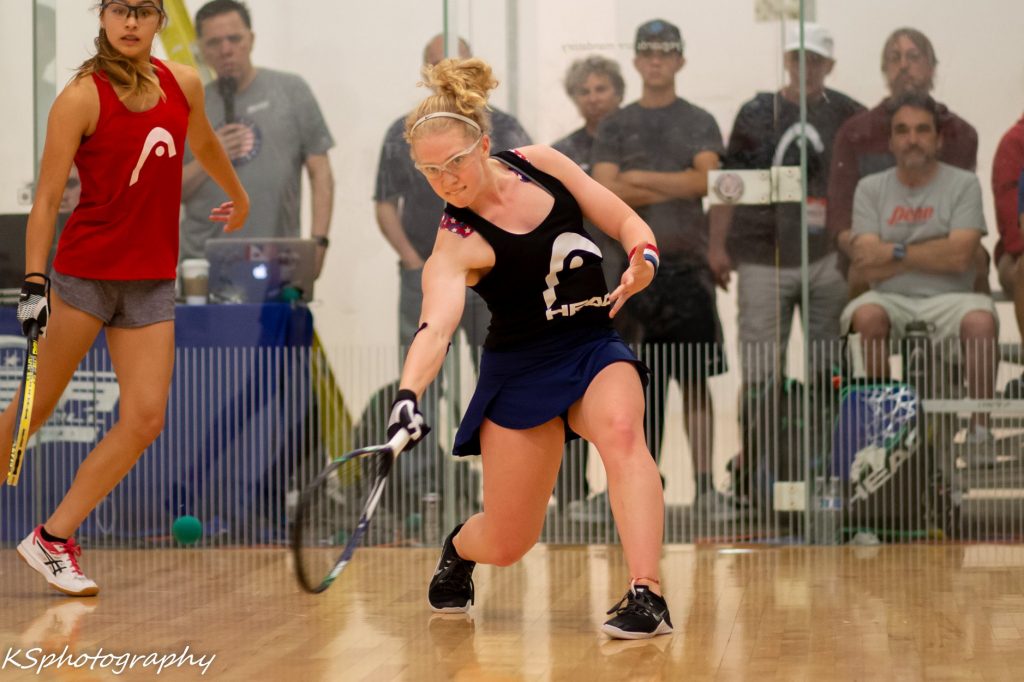 This coming weekend is the 33rd annual High School Nationals, being held in Portland, Oregon at the same Multnomah Athletic club that hosted last year's Junior Nationals and the annual John Pelham Memorial IRT event.
Fun Facts about HS Nationals:
– this is the 33rd event: the first was held in 1988 and won by Jim Floyd (Michigan) and Holly Grey (Virginia). Holly would later marry hall of famer Ed Remen and now lives in North Carolina.
– There's been two 4-time HS champions: Adrienne Fisher Haynes from 2000-2004 and Lexi York from 2012-2016.
– There's never been a 4-time male champ; the closest we got was Taylor Knoth, who took it 2007-2009. Knoth lost in the quarters his freshman year to the 2006 winner Chris Coy.
– The tournament has been dominated by players from California and Oregon: 30 of the 66 singles titles awarded in its history have come from these two states.
– The list of past champs is littered with eventual pro tour champions. Sudsy Monchik won this title in 1991, Jack Huczek won it twice, in 2000 and 2001. Michelle Gould won it in 1989, Rhonda Rajsich twice in 96 and 97.
– Three different members of the Rojas clan have HS national titles: Marco Rojas in 2010, Mauro Daniel Rojas in 2014 and 2016 and current title holder Antonio Rojas.
– Interestingly, current IRT pro Sebastian 'Patata' Fernandez took the title in 2015 as a freshman, then again in 2018 as a senior, missing the two events in-between. He would presumably have had a great chance of a 4-peat.
——————–
Here's a quick preview of the Gold #1 Singles draw, looking at the top 8 seeds. They're dominated at the top by players from Northern California.
In the Boys #1:
– Defending HS National champ and Stockton native Antonio Rojas is back and is the #1 seed. Rojas is the current reigning 16U and 18U US Junior national champ and is already one of the most decorated junior players in US history. He's going to be tough to beat. See this link for a matrix of all US Junior National boys title holders: http://rball.pro/68C60E
– Last year's finalist and East Bay resident Vedant Chauhan is the #2 seed. Chauhan has several junior national titles himself, was the runner-up in 14U in 2019 and lost in world 14U juniors in the quarters to the eventual winner Bolivian Jhonatan Flores. See this link for Chauhan's match history in the PRS database: http://rball.pro/1EB9AD
– #3 is the player who vanquished Chauhan in last year's 14U US final and who advanced to the final of 14U at Junior worlds, Fremont native Nikhil Prasad. Prasad himself owns 5 junior national titles and will be a favorite to make the final here. Prasad enters HS nationals for the first time.
– #4 Cody Boucher has competed at US Junior Nationals for the past few years, was the #3 seed here last year and was upset early.
– #5 is another Stocktonian, one with a great pedigree in Julius Ellis (son of long time IRT vet John Ellis. Ellis and Boucher met in the 2018 16U junior nationals event, and are slated to play into each other in the quarters here.
– #6 Cody Thomas made it to the quarters of the 2019 16U nationals event in 2019.
– #7 Rory Lampe was taken out of the 16U junior Nationals last year by #1 seed Rojas
– #8 Nathan Soltis made the 16s the last two years in the 16U draw at junior nationals.
Predictions: Its hard not to see Rojas repeating, and the #2/#3 re-match of last year's 14U final between Prasad and Chauhan could be great.
—————
In the Girls #1,
– Defending champ Annie Roberts is the #1 seed and is playing in her home-town. Roberts is the two-time defending US 16U junior national champ and had a great run to the semis of Junior worlds last November.
– Roberts will not have last year's finalist as a competitor, as Nikita Chauhan has graduated despite still having one year remaining in 18U. We look forward to seeing Chauhan at intercollegiates this year competing for UC Berkeley (my father's alma mater).
Roberts and Chauhan, coincidentally, were both just named the USA Racquetball 2020 scholarship recipients: see https://www.facebook.com/…/pb.164703169…/10158179520804529/…
– the #2 seed this year is Heather Mahoney, the two-time defending USA junior 14U champ and an incoming freshman for 2020. She already holds 8 USA junior national titles and is the reigning 2019 World Junior 14U champ and will be a favorite here.
– #3 is Alondra Canchola, a semi-finalist last year here.
– #4 is Arya Cyril, also a semi-finalist at this event last year and who lost 11-10 to Chauhan in the semis.
– #5 is Erin Slutzky, the 3rd seed last year and who is coming off a quarter final appearance at 16U junior worlds last November.
– #6 is Shane Diaz, who made the semis of US 18U junior nationals last year.
– #7 is Megan Carver, who lost in the quarters of last year's 18U junior nationals to Diaz.
– #8 is Karena Mathew, who holds 4 junior national titles but none since she was in grade school. She's coming off a 3rd place showing at last year's 14U nationals and is a rising freshman ready to make some waves.
click here for a full matrix of all US Junior girls title holders: http://rball.pro/6D7917
Predictions: I think Roberts makes the final but loses to Mahoney.
—————-
Follow USA Racquetball on Facebook for streaming, and look for Leo Ray Vasquez on the mike as always for US National events.