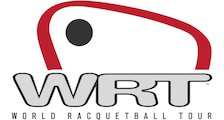 The World Racquetball Tour is back in action, hosting its 3rd tourney of 2018 and its first event since May. The tour is in Calgary … which is the first time (as far as I can tell) that pro racquetball has ever been hosted in this Alberta city.
There's 24 players in the Men's draw, including many IRT regulars. The draw represents a nice balance of Northern Hemisphere countries: 8 Canadians, 9 Mexicans, 6 Americans.
Lets take a look at the draw and highlight some notable potential match-ups and make some predictions.
In the 32s:
– Samuel Murray vs Taylor Knoth; Murray, the current #6 ranked IRT player, makes just his 2nd ever WRT appearance and is an early tourney favorite despite his #21 seed here. Knoth gets an unlucky match-up; he's got the potential to advance in any pro tourney he enters, as evidenced by the win he got over a regular touring pro the last time he entered a pro draw (Jan 2018). I expect Murray to advance but Knoth will play him tough.
– Eduardo Lalo Portillo vs Lee Connell: Portillo gets a tough match-up against the veteran Connell, who has been playing pro events since Lalo was 5.
In the 16s:
– the 8/9 match-up between WOR – World Outdoor Racquetball outdoor specialist Luis Avila and #8 seeded Justus Benson could be interesting. These two met on the WRT once before, in Sept 2016 with Avila advancing easily. Has Benson closed the gap?
– Murray v Alex Cardona. What a brutal round of 16 for both players; this is a semis quality match. Honestly, this is a great example of why you should have protected seeding for top ranked IRT players doing drop-ins to the WRT. Ironically, the only other time Murray played the WRT … he also met Cardona in the 16s. It was Atlanta 2015 and Cardona got him in a tie-breaker, but we're 3 years on and these players are trending in opposite directions. Murray advances in two solid games.
– Andree Parrilla v Tim Landeryou; a great match-up between one of Mexico's best and one of Canada's best. Both players are routinely making quarters or semis of their federation National events. Parrilla has made the quarters or better in 7 of the last 11 IRT events he's played in and is fresh off of a semis appearance in the US Open. Parrilla advances but it isn't easy.
– Coby Iwaasa v Christian Longoria; another tough round of 16 match-up here; Iwaasa excelled at 2018 Worlds, losing two very tight matches to IRT top-10 ranked player Mario Mercado. I think Iwaasa upsets Longoria here and advances on home soil.
– Gerardo Franco Gonzalez v Alan Natera Chavez; a great match between two country-men who are up and coming players. Natera beat Franco in Mexico Nationals earlier this year while making a huge run to the semis and has been playing very solid. Look for a Natera win again here.
Potential Quarter finals match-ups
– #1 David Horn v #9 Avila: Horn's slow start to the IRT season has dropped him to #12 there, but he remains #1 in the WRT. He should advance past fellow Californian Avila here.
– #21 Murray vs #4 Parrilla: Another great match here; Parrilla has met Murray already twice this year on the IRT and beaten him both times, including a solid 8,8 defeat at the US Open two weekends ago. Look for Parrilla to advance.
– #3 Jaime Martell Neri vs Iwaasa: Martell is the winner of the most recently held WRT event, beating both Horn and Bredenbeck to take the Atlanta Open in May. He played a couple of IRT Satellite events in Mexico in September with mixed results, but may have his hands full here. I'm not sure which way this potential match-up goes, but it'll be tight.
– #2 Jake Bredenbeck versus Natera: Jake has been snake-bitten at IRT events lately; he's fallen in the 16s or early in seven straight IRT tourneys. He's gotten pretty rotten draws, and has been "stuck" right in that tough ranking range where he is constantly playing into one of the top 3 players in the round of 16. But on the WRT he remains tough; making the finals of 3 of the last 4 WRT events and winning in January (a solid win over Rodrigo Montoya Solís ). Natera probably gives Jake a solid game but falls at this gate.
Semis projection:
– Parrilla-Horn: The 1/4 match here was the 8/9 match in Laurel, won by Parrilla before he dropped an 11-10 heart-breaker to Rocky Carson. I think Andree gets his number again and advances to the final.
– Jake vs Iwaasa: If Iwaasa gets this far, he'll try to take out both Bredenbeck brothers in one event (he faces Sam Bredenbeck in the first round). If this is Jake-Martell, it'll be a rematch of the Atlanta 2018 final. Jake is 6-1 lifetime over Martell but he's 0-1 this calendar year.
Finals projection: Parrilla over Jake. Jake is 3-0 lifetime over Parrilla … but all 3 matches were in 2015. Parrilla is on a tear and is the favorite for me to win this weekend in Calgary.
——————–
There's a solid doubles draw in Calgary; 10 teams. I'll go with the team of Murray/Jake over Cardona/Franco in the final.