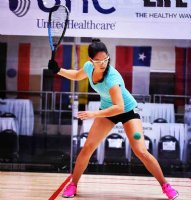 Here's a wrap-up of this past weekend's USA Racquetball Intercollegiate championships, held at Arizona State University in Tempe.
R2sports link: https://www.r2sports.com/tourney/home.asp?TID=30466
A reminder: we don't load this data into the database at current, but we do keep track of past champions for informational purposes. At the bottom i've got some school-based factoids including the 2019 champs.
———————-
On the Men's Singles #1 side, a couple of upsets in the 16s but the top 6 seeds all advanced. In the quarters, only one upset with #5 Jacob Matthews of ECU taking out 4th seeded Nick Buring of Oregon State.
In the semis…both top seeds advanced with ease, with #1 Erik Garcia of CSU-Pueblo topping #5 Matthews 3,7 and #2 Alejandro Almada from Texas topping #3 seed Jeremy Dixon from Baldwin-Wallace 2,5 to setup the anticipated final.
In the final, #1 Garcia downed #2 Almada in a tiebreaker to win the title. Garcia repeats as champion, becoming just the 10th male to hold more than one intercollegiate title.
———————–
On the Women's side, the top 8 seeds all advanced to the quarters. There, similarly to the Men's side just one upset in the #5/#4 match with Costa Rican international Melania Mela Sauma Masis (playing at her home courts at ASU) topping 4th seeded Lexi York from Oregon State in a tiebreaker.
In the semis, #1 seed Carla Muñoz Montesinos of CSU-Pueblo knocked out Sauma in two games, while #3 seeded Hollie Scott (playing out U of Washington), continued her solid form lately and topped 2nd seeded (and my pre-tourney pick) Erika Manilla from N. Arizona in dominant fashion 9,4.
In the final…Scott dominated Munoz for the win 2,8 to deny Munoz a chance at 4 straight intercollegiate titles.
————————
On the doubles side:
– Mens doubles went to Garcia/Le from CSU-Pueblo, who downed the Texas pair of Almada and his partner Jerry Yang.
– Women's doubles went to the CSU-Pueblo team of Riveros/Laime, who downed OSU's York & Natalie Lorati in the final.
————————
Some quick facts coming out of this event:
– Garcia's Men's #1 win represents the 8th Men's #1 title for players from CSU-Pueblo (formerly known as the University of Southern Colorado). They still trail University of Memphis (formerly Memphis State University) which had 12 Men's #1 winners in their history.
– Half of the now 47 Men's #1 intercollegiate title winners have come from just three schools: Memphis, CSU-Pueblo and Southwest Missouri state.
– Tim Sweeney remains the sole player in history to win four consecutive intercollegiate titles, a feat Munoz was attempting to match.
– Scott's victory for University of Washington represents the 25th distinct college to provide a #1 women's winner. Memphis remains the #1 school for Women as well, providing 7 titlists.
————————
Team winners:
Overall: 1. CSU-Pueblo 2. Oregon State. 3. BYU
Mens: 1. Oregon State. 2. BYU. 3. CSU-Pueblo.
Womens: 1. CSU-Pueblo. 2. Oregon State 3. BYU
CSU-Pueblo wins its 2nd ever overall title. Oregon State has been the dominant overall team leader here, having won 11 of the 16 overall team titles awarded since 2004.
Oregon State wins its 3rd ever Men's Title. They have a long way to go to catch CSU-Pueblo & Memphis here, as those two schools combined have won 31 of the 47 ever Men's team awards given out.
CSU-Pueblo wins its 1st ever Women's title. Memphis, BYU and Oregon State have dominated here historically, winning 31 of the 45 ever women's team titles given out.
————————
A side note: I know this tourney runs similarly to a tennis tournament, where schools provide teams seeded 1-6 … but the state of collegiate racquetball right now is such that the top rball colleges (specifically, CSU-Pueblo) are contributing such more dominant talent than other schools that I wonder if there wouldn't be value in changing the format so that more players from the top schools could compete in the #1 division.
To wit, the #2 female player from CSU-Pueblo was current LPRT #10 ranked player Adriana Riveros and their #3 female player was Brenda Laime Jalil, currently ranked 16th on tour. Both obliterated their respective draws, barely being scored upon (Riveros won the #2 draw giving up a total of 9 points in four matches, and Laime won the #3 final 0,0). It was the same to a lesser extent on the Men's side, with Lukas Le representing CSU-Pueblo in the Men's #2 and likely being the 2nd or 3rd best men's player in Tempe. Perhaps he was the sole example of a player who may very well have made the semis or higher in the Men's #1, but my point remains. International competitions feature two players from each country; maybe intercollegiates should as well.