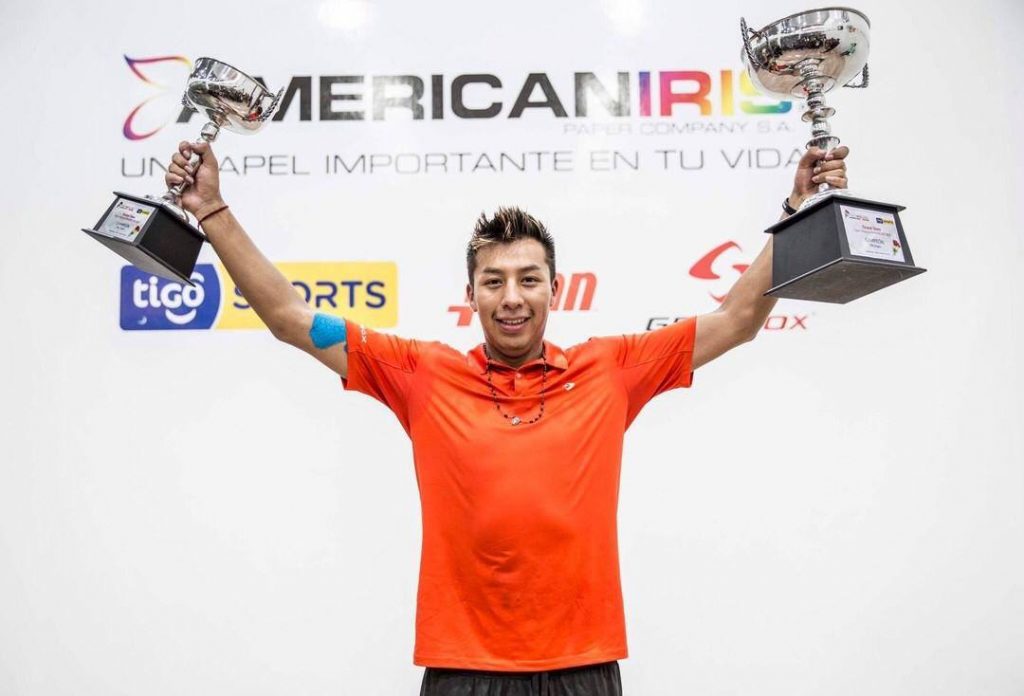 Now that we're all recovered from the weekend, lets take a quick look at Luis Conrrado Moscoso Serrudo's big win at the Open Bolivia American Irisgrand slam event.
Match Report for the tourney: http://rball.pro/273997
– In the final, he topped Rocky Carson (6),14,2. But the evolution of that final score was pretty fascinating to watch:
o Moscoso got out to a 6-0 lead.
o Carson scored 15 unanswered to win 15-6 in game 1.
o Carson got out to a 10-3 lead in game 2, at which point it looks like Carson is going to cruise to an easy 2-game win.
o Moscoso came all the way back, saving a couple of match points
o then Moscoso cruised to the 11-2 tiebreaker win.
So basically the final was a series of three huge streaks:
o Moscoso was 6-0 in points to start the game, then Rocky took a TO.
o Carson then went 25-3 in points
o Moscoso then went 23-6 to finish the match
I found this to be a pretty amazing set of streaks. As an outside observer, I thought Rocky tired in the tie-breaker while Moscoso got energized. There were several balls left up that I just don't think he had the energy to get to and he didn't adjust to the lob-Z that Moscoso settled on to run off point after point. Age, altitude, and court time (it was Rocky's 8th match on the weekend) all perhaps contributing factors … as well as the letdown of Rocky being in complete control of the match and letting Moscoso take Game 2. But hand it to Conrrado, who found another gear, just as he did in the 11-0 tiebreaker win over Landa in the quarters.
– Moscoso becomes the 40th ever IRT pro tournament champ. He joins Charlie Pratt, Alex Landa , Sebastian Franco, and Andree Parrilla as first time IRT tour winners in the last two seasons. He also joins an interesting group of one-tournament winners in the IRT's history, which includes Ben Croft, Rich Wagner , Mike Guidry, Tim Sweeney, and outdoor legend Brian Hawkes.
Here's a full list of all the winners on tour: http://rball.pro/CD8F49
– He becomes the first Bolivian to make a final, let alone win a tournament. He's the second South American to win a tournament (Sebastian Franco was the first), and just the third South American to make a final ( Mario Mercado and Franco being the first two). Its only the fourth time in IRT history that a Bolivian has even made the quarters; The first ever was MoMo Zelada making the Quarters of the Nov 2015 Atlanta, then Zelada made another quarter a few months later, and Moscoso of course made the 2017 quarters where he lost to Kane.
See this link for quarters/semis/finalists just by country: http://rball.pro/F834D0
– Moscoso represents just the 5th ever country to have won an IRT event: USA, Canada, Mexico, Colombia and now Bolivia.
– Moscoso beat the #1, #2 and #3 seeds en route to winning the event. That's kind of hard to do. The only real way to do this is to enter a tournament as a specific seed that feeds into either the #2 or #3 seed early and then beat the #1 seed in the final. Moscoso entered as #23, which played into the #10, #7, #2 seed quarter. Jack Huczek also accomplished this when he won his first event as the #10 seed in Jan 2002 in Boston. And Kane Waselenchuk , when he won as the #39 seed, also ended up taking the same seed "line" as Conrrado did, beating #26, #23 and #10 to qualify, then #7, #2, #3, and #1 to take the title.
– Moscoso, as the #23 seed, becomes the 2nd highest seed on record to win an event. He trails Kane Waselenchuk , who won his first tournament back after his 2-year hiatus in Sept 2008 as the #39 seed. These two are also the two highest seeds to even make a final, and #23 is the 3rd highest ever known seed to make a semi (Rodrigo Montoya made a semi as a #29 seed in one of his first ever pro evets).
Highest Seeds Report throughout all of history: http://rball.pro/EBD417
– Conrrado wins a pro event in just his 3rd ever pro tour appearance, which is by far and away the fewest appearances prior to winning that has ever been seen. I'm not sure we'll ever see this again, unless there's some international phenom who basically wins the first ever pro event he plays. Here's some of the other fastest known runs to a first title:
o Kane, Cliff Swain and Sudsy Monchik all won their 7th ever pro appearance.
o Marty Hogan won his 8th appearance.
o Jack won his 13th ever appearance.
You can run this analysis by selecting any player then running the "Player Firsts.." report. It will give their tour debut, first win and the number of tournaments inbetween (along with ages at each event).
—–
Anyway, hope you enjoyed some stat-based facts about Moscoso's big win! Hope to see him more on tour in the future.
—–
International Racquetball Tour Federación Boliviana De Raquetbol – Febora