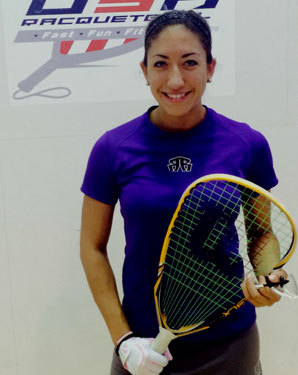 Congrats to your USA Racquetball 2019 Singles Champions:
Men's Open: Jake Bredenbeck
Women's Open: Kelani Lawrence
They take big steps towards putting themselves onto the plane to represent the USA at this August's 2019 International Racquetball Federation – IRFPan American Games, the biggest event in our sport. See this link: https://www.teamusa.org/…/2018-19-US-National-Team-Qualific… for the current Men's and Women's team standings. USA Racquetball plans on making an announcement soon on the official team delegation to Peru.
R2sports link: https://www.r2sports.com/portfolio/r2-event.asp?TID=30549
Here's a recap of the draw, noting results I found interesting:
————–
Men's Singles:
PRS Match Report: http://rball.pro/C39AD2
In the 16s:
– In the 8/9 game, Robert Collins got a solid win over Luis R Avila in a tie-breaker.
– #5 Adam Manilla took out hometown veteran favorite Woody Clouse and has a streamlined shot at the National Semis thanks to …
– #4 seed Jose Diaz, who I thought could win this event, was a no-show, giving Utahian Anthony Martin a walk-over into the quarters.
– Two IRT regulars met in Thomas Carter and Nicholas Nick Riffel, with Carter coming out on top in a tie-breaker.
In the Qtrs:
– #1 Jake Bredenbeck cruised past fellow IRT top 20 player Collins 4,2
– #5 Manilla similarly cruised past Utahian Anthony Martin 3,2
– #3 David Horn was stretched by #6 Carter, going 11-7 in the breaker. Another solid result for Carter, but a good step towards keeping his National team spot for Horn.
– #2 Charlie Pratt took out his local playing rival Dylan Reid 14,5.
In the Semis:
– #5 Manilla played lights out for stretches, but not enough of them to take out #1 Bredenbeck, falling in an 11-5 tiebreaker.
– #3 Horn got a great win over #2 Pratt, 11-7 in the breaker, to advance to the final and attempt to repeat as US Champion. Pratt has made the finals of the last two international events in which he's represented the US … but a national title continues to elude him.
In the Final … Jake could do no wrong, and Bobby couldn't do much to stop him. In an amazingly compete performance, Bredenbeck beat Horn 1,1 to take the US title. Its his third overall and he returns to the podium after a 3 year absence. Horn finishes runner-up for the 4th time.
—————
Women's singles:
PRS Match Report: http://rball.pro/3DB373
There was just one play-in/round of 16 match: 
– Annie Roberts, the current 16U National champ and who still has 3 years remaining in the junior ranks, took on regular LPRT touring pro Cassie Lee in the 8/9 match and came out on top in a tie-breaker.
In the qtrs:
– #1 Rhonda Rajsich took out the precocious Roberts 6,2
– #5 Kelani Lawrence, drastically underseeded in this event, made a statement with an 11,1 win over #4 Sheryl Lotts
– #3 Hollie Rae Scott took out LPRT touring vet Adrienne Fisher Haynes 7,10
– #2 Seed Erika Manilla was a no-show, depriving the draw of one of its top players and making the lopsidedness of the seeding errors involving Lawrence even more severe.
In the Semis:
– #5 Lawrence got a career win, beating the 8-time defending US national champ Rajsich in an a tiebreaker. These two had met in the singles finals of the last three major US national team qualifying events, and Lawrence got this breakthrough win on the same weekend that her mother Malia Kamahoahoa Bailey was inducted into the US Racquetball hall of Fame.
– #3 Scott downed the legendary LPRT pro Cheryl Gudinas in two. Scott is going for a rather rare double: Intercollegiates and National titles in the same year. It's only happened once before … in 1976, when Memphis State University's Sarah Green won both events in the same year.
(side note: the 3rd place game, which we often don't mention, thus is Rajsich vs Gudinas. Holy cow. That's a combined 19 (!) US National titles between them to go along with 8 pro titles. In case you're wondering … they've played no less than 50 times across pro, US nationals and IRF events now, with Rajsich leading 32-18. See http://rball.pro/A7470B).
In the Finals, Lawrence came from a game down and saved match point against to take the title 11-10 over Scott by running off two points at the end of the tie-breaker.
—————-
Congrats to all who played. Later this week we'll review the Canadian singles and Mexican Junior events form last week.
Next up on the rball schedule? There's some lower tier IRT events in early June, one last LPRT Grand Slam in mid-june in Kansas, then the US Junior Olympics in late June in Portland.